Add questions to your form
Under Website Pages, click Submission to access the submission form. By default, an event has pre-defined fields for the submission form:
Presenting author fields:
First name
Last name
Email
Submission fields:
Title
Authors
Submission types
Abstract
You can add new fields by clicking Add field.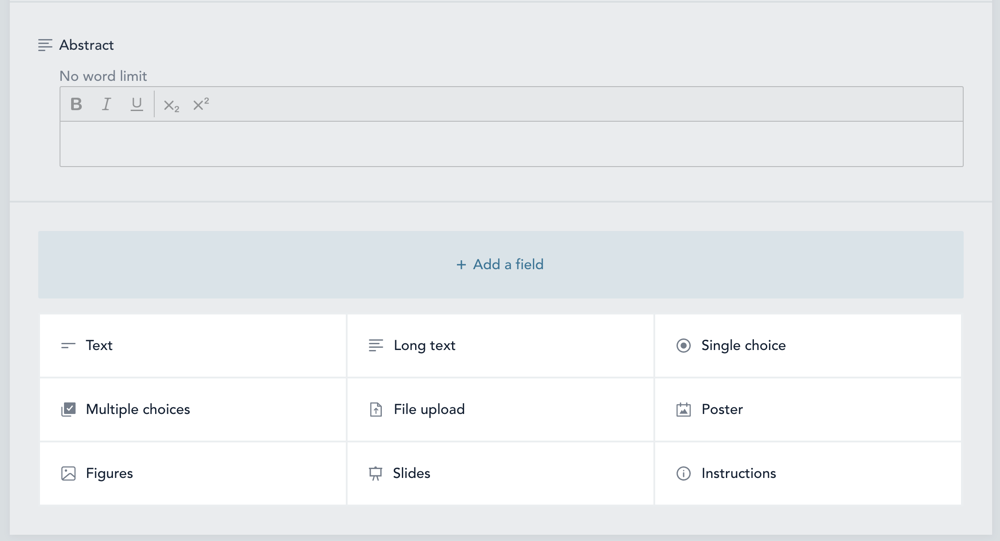 You will see a list of options. There are the same fields as the registration form, except for 3 fields which are specific to the submission form. Their content of these 3 fields can be viewed on the submissions' page.
Poster. They allow to attach a poster image.
Figures. The presenter can upload multiple figures, each with a title and a description.
Slides. The presenter can upload a PowerPoint presentation (10Mb maximum).
Set submission dates using the submission types field.
For submissions to be active on your event, you need at least one option in the submission type field. For each submission type (e.g. Poster, Oral, etc), you will be able to set a submission period.

Multiple choice fields can be used to filter submissions
Any field that is of type Radio or Checkbox can be used as a filter on the abstracts page of your event website. This is useful if you want participants to be able to filter by Tracks or Topics. Make sure to add such a field in your submission form.
You can select which fields will be used for this under Website pages -> Abstracts -> Configuration.
Add sections to organize your form
You can click on add section to add a new section to contain specific fields in your submission form. That allows the form to be more organized.
Set submission options
By clicking Configuration, you can set different options:
The form page name. This is the name of the form on your event website.
Whether or not the form is visible. This hides the form page on your event website.
Mandatory registration to submit. This requires that a registration exists for the event using the same email address.
Multiple submissions per participant. If there can be multiple submissions under the same email address.