Peer Review Software
An easy platform to manage your peer review process. From submissions to the final conference programme, authors and reviewers love Fourwaves.
Trusted by top organizations
Collect Submissions
Customize your abstract submission form and automate the submission process. Get uniform submissions by specifying the maximum word count for abstracts, the required fields, the submission types and their deadlines.
Allow authors to access their submission and make any last minute changes without bothering organizers.
Book a demo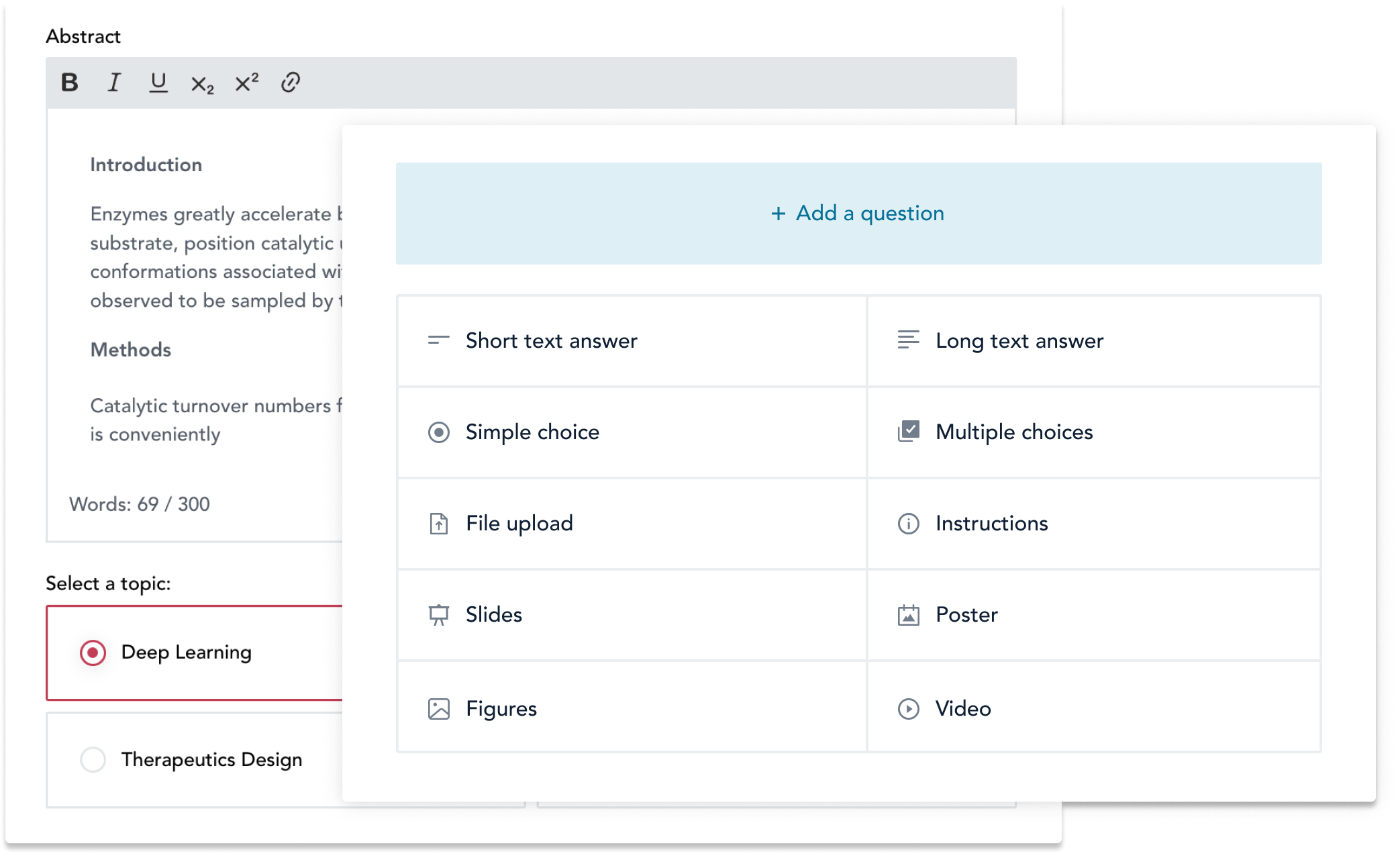 Build the Review Form
Allow a precise scoring of each submission by customizing the reviewing form. Add any number of qualitative and quantitative questions to collect the feedback from reviewers.
Choose which data from the submissions reviewers can access and select if you prefer a blind review or not.
Book a demo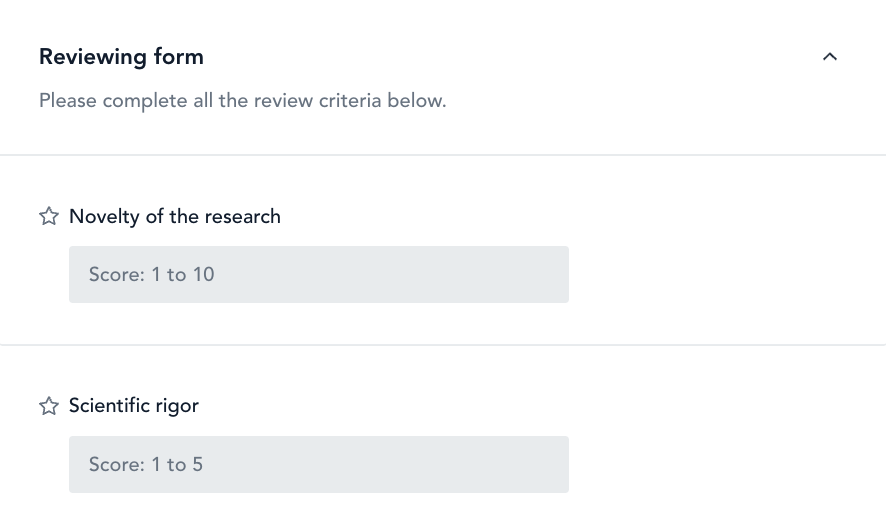 Assign Reviewers
Let our software do the hard work. Specify how many reviews each submission needs and Fourwaves will automatically distribute submissions to your selection of reviewers. You can also edit or manually assign reviewers if you want.
No external software or spreadsheet needed.
Book a demo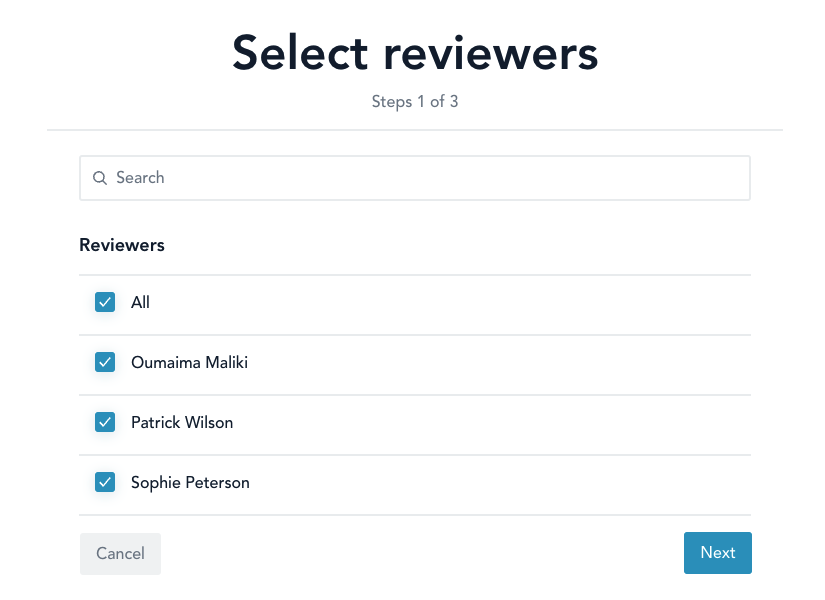 Manage the Peer Review Process
Oversee the review progress in your dashboard and filter submissions by score, topics or tracks.
Contact reviewers with pending assignments directly from the platform and stay organized by classifying submissions with your own criteria.
Book a demo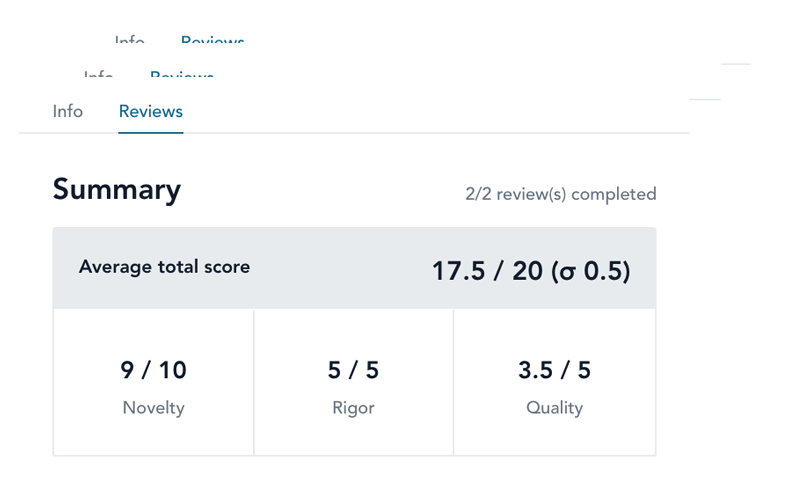 Notify Authors
Send acceptance or rejection notifications to authors with one click and personalize them if needed.
Allow presenters to upload their material which can be published online for the day of the conference.
Book a demo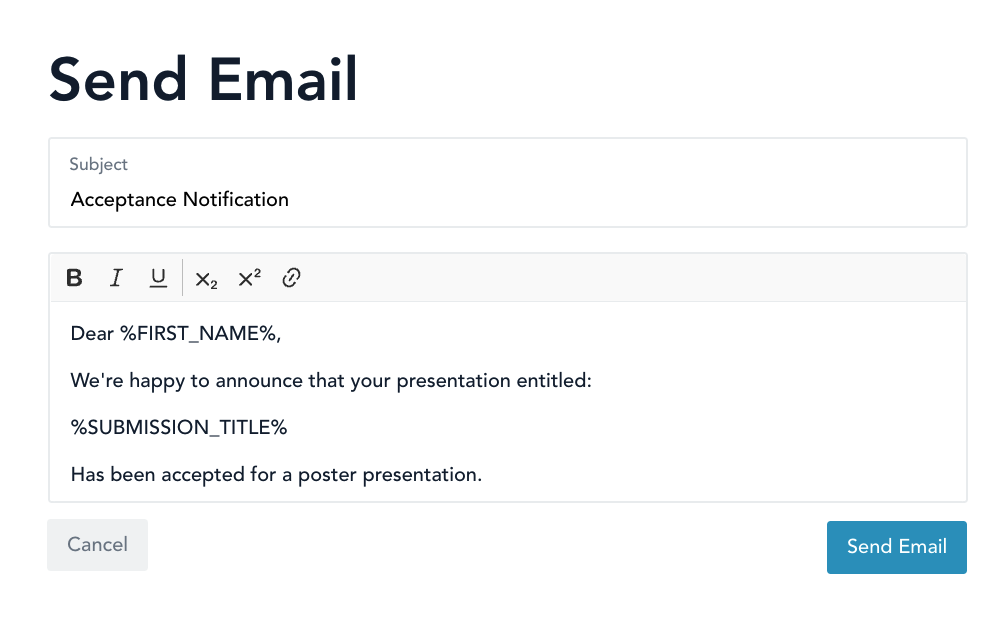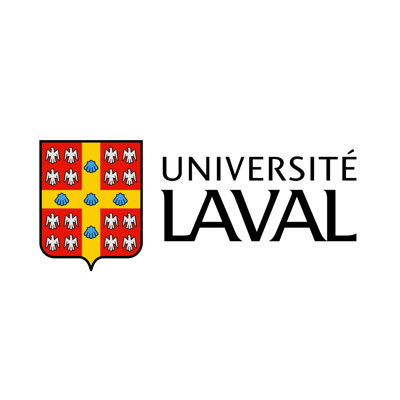 Benjamin Bouchard
Research assistant, Université Laval
Reviewers greatly appreciated the abstract review platform, which was simple and clear to use.
Included Features
For Reviewers
Reviewer Portal

See all assignments in one place and filter by status (accepted, pending or completed). The search bar allow reviewers to easily locate specific submissions.

Conflict of Interest

This functionality allows reviewers to easily declare a conflict of interest for a given submission. Organizers can easily spot them to replace the reviewer.

Fluid review process

On the evaluation page, reviewers have access to all the submission information along side the evaluation form making the peer review process fluid.
For Organizers
Custom Forms

The submission and reviewing forms are very flexible so you can adapt the platform to your abstract management and peer review process.

Centralized Data

Avoid being scattered on multiple platforms. Fourwaves brings your submissions and their reviews in one place. The standard deviation allows you to see how reviewers disagree.

Email Communication

Keep everyone in the loop using the email communication system to reach authors and reviewers directly from your dashboard.
For Authors
Intuitive Submissions

The submission form is easy to fill and allows authors to select preferred topics, tracks, and any other required information. They also get a customizable confirmation email for their submission.

Easy modifications

Authors can access their submission at any time. If within the submission period, they can easily login to make edits without needing to bother organizers.

Final Material Upload

Once accepted, authors can easily update their submission to add any required material: a poster, a Powerpoint, a pre-recorded video, a full paper and more.
Yes, you can choose to hide the author list from the reviewers so they can't see who they are evaluating, ensuring an objective evaluation.

The forms are very flexible. You can have any number of questions. These can be text answers, multiple choices, checkboxes, or a score field. Score fields can have different scales (eg. 1 to 5 or 1 to 25).

Sure. Once you have the final list of submissions accepted for your different presentation types, you can create your conference program and place presentations in your different sessions.

Yes, all the reviewing form data can be exported in Excel. All submissions and their final reviewing score and standard deviation can be exported to Excel as well. You can also export all submissions to uniform Word booklet.