Transparent and affordable pricing.
For in-person, hybrid and virtual events
Enhanced virtual and
hybrid experiences.
Add-on from 3$ per participant
Live streaming

Virtual Poster Sessions

Instant messaging

Networking

Works on all devices

Nothing to download
Book a demo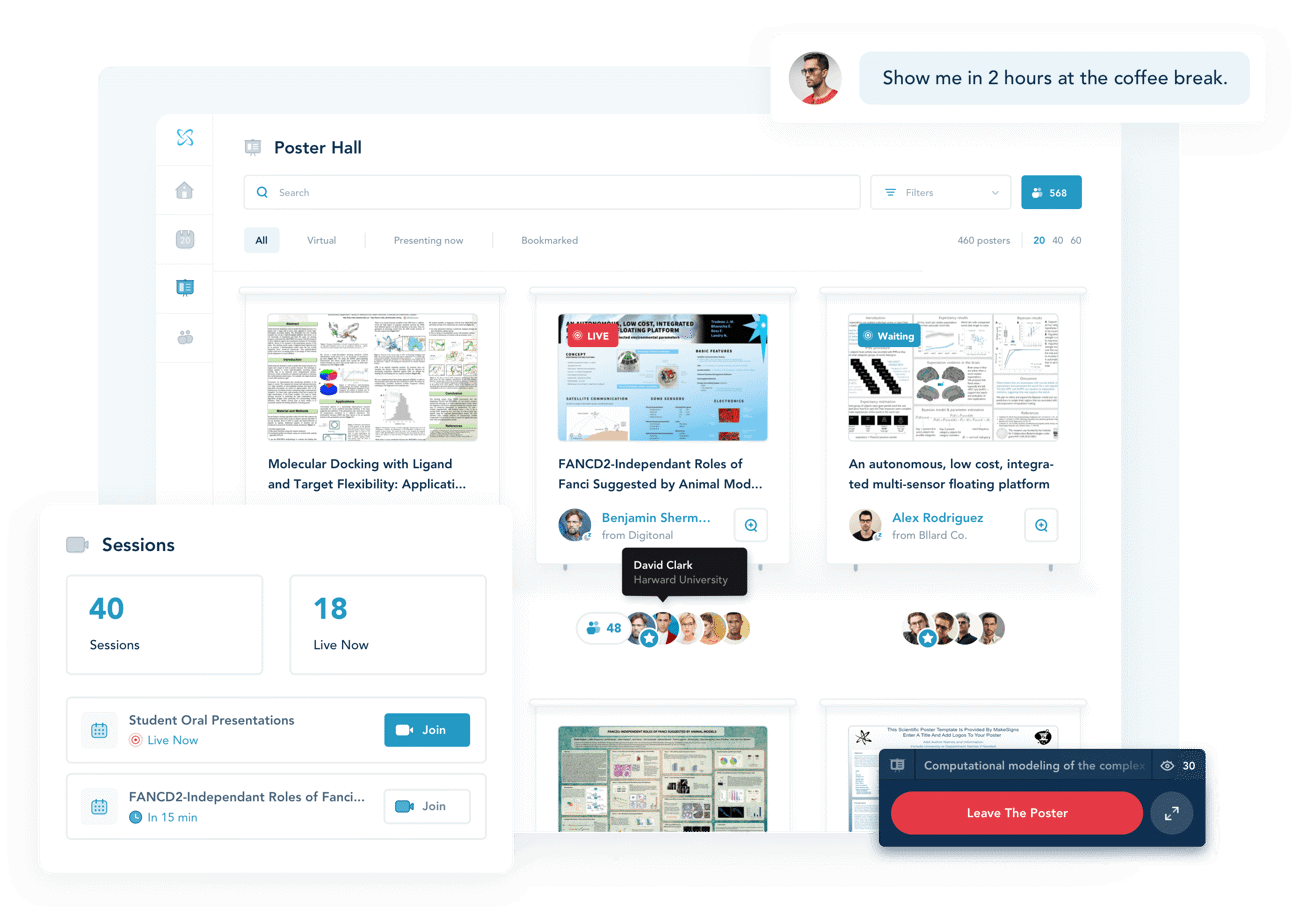 None of our plans fit your needs or budget?
Contact us, we'll figure something out.
Get in touch
Trusted by top organizations worldwide
Testimonials
See what our customers are saying.
Katrine Turgeon

Professor, UQO

Extremely easy to set up and intuitive. The support team is responsive. Participants found it easy to register and submit. I recommend to all my colleagues without any hesitation.

Meg Hughes

University of British Columbia

When I found Fourwaves I was delighted. Not only did their team understand the nature of scientific research events and poster sessions, but the pricing understood my academic budget.

Bettina Rausch-Malina

Coordinator, University of Zurich

The Fourwaves platform is perfectly designed for a researcher who wants to organize an in-person or virtual scientific event. Everything you need is just there – you don't have to search for anything.

Randy Gollub

Professor, Harvard Medical School

The platform is easy to use, reasonably priced and the support team is very helpful. We faced no technical challenges at all. Fourwaves is a pleasure to work with!

Cláudia Mendes

Project Manager, University of Oxford

It was very interactive and engaging, Fourwaves made it very easy for them to access the posters being presented virtually.

Beth Slater

Organization for Human Brain Mapping

We had a very short time to prepare for our hybrid meeting and my frequent question-filled emails were always answered promptly with great detail. I never felt as though we were just handed a product and left to figure it out. There was a constant support presence.

Grant McKenzie

Assistant professor, McGill University

Working with Fourwaves was a great experience from start to finish. The platform is modern and easy to navigate, and the team is incredibly responsive. I highly recommend.

Nicolas Doucet

Principal Investigator, INRS

Fourwaves eliminates all irritants that any conference organizer will inevitably encounter, i.e. managing registration and payments, generating the final program and name tags, managing the event website, etc. This is such an essential platform!

Joanne Auclair

Administrative agent, CRCHUM

It's a wonderful tool, I don't know how managed to do it all without it! Fourwaves decreased my stress level by 85% for our events. I appreciate the availability and rapidness to answer our questions.

Sylvie Lesage

Professor, Université de Montréal

I planned many Symposiums with the help of Fourwaves. They made it effortless. I highly recommend it for all of your planning needs.

Mylène Côté

Academic Coordinator, Université de Sherbrooke

An easy to use platform that saved us valuable time with registration and printing the proceedings. The platform adapted well to the specific needs of our scientific event. Congratulations and thanks for the amazing work and the fast support!

Pierre-Yves Savard

Coordinator, Université Laval

We often use Fourwaves for our events. In addition to the ease of use, it is well adapted, efficient and above all very reliable. Fourwaves is the perfect tool to save time and succeed in organizing our events.

Kim Gauthier-Schampaert

Université de Sherbrooke

The Fourwaves platform has become essential in the preparation of our summer schools in biology at the University of Sherbrooke. I really enjoy working with Fourwaves!

Deanne van Rooyen

Associate professor, Acadia University

Thanks for all the help with the AUGC conference, it was a huge success. Registration and abstracts submissions were seamless!

Rafael Najmanovich

Professor, Université de Montréal

I can only praise Fourwaves for their professionalism in developing this turn-key solution for conference management that allows academics to focus on the science of the event. I definitely encourage you to use Fourwaves.
Compare our plans
Customize registrations with our powerful form builder and collect online payments. Then view, filter, search and export all your data.
Unlimited
Unlimited
Unlimited
Unlimited
Centralize and simplify your submission process. Customize your submission form, classify submissions by acceptance and build a detailed event program.
Max 25
100 included
200 included
Unlimited
Credit card fees also apply (Stripe: approx. 2.9% +$0.30). Taxes can be charged on the Fourwaves transaction fee.
3%
3%
3%
Volume based
Basic: contains a home page, registration and submission forms, detailed schedule, presentation and participant lists. Enhanced: allows you to add logos, images, speaker bios, files on your home page. Complete: add custom pages to your event website for a more structured and professional looking site.
Basic
Enhanced
Complete Website
Complete Website
Public: anyone who visits your website can see its content. Private: based on your preference, make certain pages and their content accessible only to registered participants.
Public
Public
Private 🔒
Private 🔒
Mass email participants and submitters. For example, notify those accepted for a presentation or send important information to registrants. Insert variables to automatically personalize each email.
-
Basic: email support + 24/7 Help Desk with up-to-date articles and videos. Priority: we respond to your requests as a priority and can call you on Zoom. White gloves: we build your forms according to your instructions and you always have access to our team by video call at all times.
Basic
Basic
Priority
White Glove
Easily print badges on Avery compatible sheets with your logo, participant names and any collected information.
-
Generate a uniform Word document in a few clicks with all abstracts to create a booklet to download or print on the day of the event.
-
Easily manage the peer-reviewing of your submissions by a scientific committee directly from Fourwaves.
-
$799
$799
Get unlimited submissions.
-
$499
$499
Provide access to unlimited high definition videos (1 GB per video), hosted directly on Fourwaves and accessible indefinitely after your event.
-
$499
$499
Remove the Fourwaves logo and footer from your event websites.
-
$499
$499
Interactive app for hybrid and virtual events with live streaming, virtual poster sessions, networking and more.
3-5$ / participant
3-5$ / participant
3-5$ / participant
3-5$ / participant
We can import your data into Fourwaves easily.
-
$499
$499
Synchronize your current system to push data to Fourwaves.
-
$999
$999
Use your own authentication system.
-
$
$
$
Event Website
Registrations
Online Payments
Abstract Submissions
Event Schedule
Organizer panel
Fourwaves Live (Hybrid/Virtual)
Support
Included in all plans
Event Website
Easily editable
Detailed event schedule
Registration form
Submission form
Presentations list
Participants directory
Personalized theme
Mobile friendly
Bilingual support (french, english)
Customizable website url
Registrations
User friendly form builder
Any field types
File uploads
Custom confirmation emails
Conditions and logic
Limited quantity items
Availability dates
Participant limit
Wait list
Online Payments
Secure online payments
Offline (deferred) payment
Refunds
Coupon codes
Early bird and regular rates
Tax rules
Transaction reports
Abstract Submissions
Fast setup
Unlimited custom fields
Manage multiple deadlines
Custom confirmation emails
Abstract word limit
Authors can edit their submission
Collect Posters, Slides and more
Organize by acceptance status
Assign to sessions
Event Schedule
Accessible on mobile
Multi-day schedule
Session details
Parallel sessions
Presentations timeline
Organizer panel
Intuitive and fast
Unlimited organizers
Real time data
Search and filter
Pull data reports
Fourwaves Live (Hybrid/Virtual)
World's best virtual poster sessions
Integrated video conversations
Access to livestreams
Private messaging
Public event chat
Activity feed
Support
Live chat
Fast and friendly email support
24/7 help desk
Contextual in app help
Yes! Click here to create an event.

Here are some useful links and videos:

You are invoiced before the event. You can upgrade or add any option at any time.

You can pay by check, bank transfer or credit card.

Yes! Contact us if you want to pay by purchase order.

If you collect payments online, there is a 3% Fourwaves transaction fee.

There are also payment processing fees, for example ~2.9% + $0.30 with Stripe.

You can connect your own bank account via Fourwaves or use those of our partner universities to collect payments.