Virtual Poster Session Solution
The easiest way to host a poster session online to allow your attendees to learn, get feedback and connect with their peers. It's completely free for small events. No credit cards required.
Book a demo
Why choose to host a virtual poster session on Fourwaves?
From your call for abstracts to the integrated live video conversation rooms for participants to present their research, Fourwaves got you covered. 
With the exception of our free option, all our plans include:
Unlimited abstracts and poster submissions (any format)
Unlimited number of presenters, reviewers, and attendees
Unique and immersive video experience: get rid of Zoom links poster rooms are created automatically for you
Praised by the best universities, research centers, and associations worldwide, Fourwaves is the most reliable platform available on the market.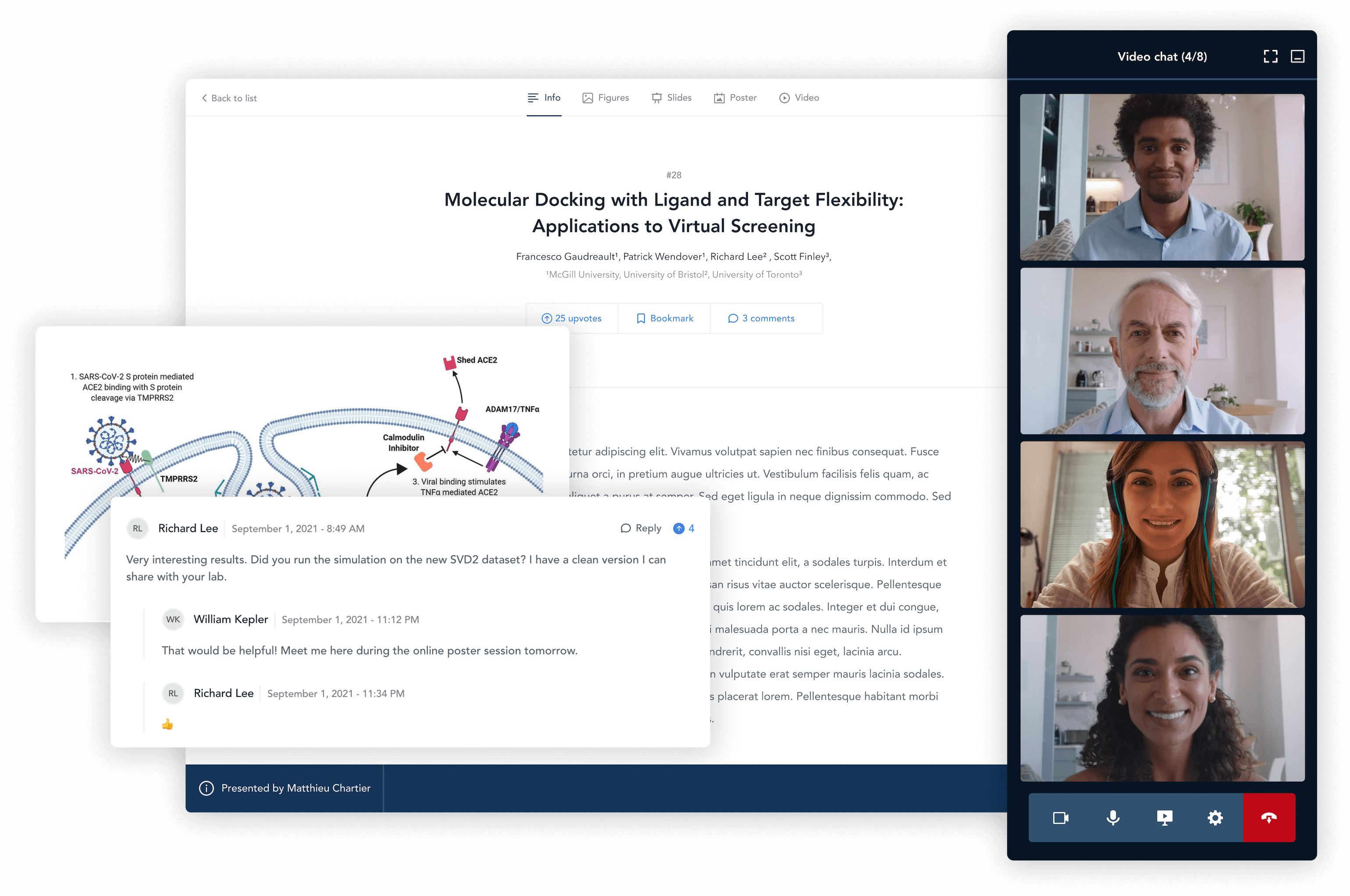 Poster submissions on autopilot
Save time by letting your participants submit their poster presentations and stay in control with our intuitive and efficient interface.
Customize the submission form from scratch or use our built-in template
Collect abstracts, posters, powerpoint slides, video files, and more
Accept or reject presentations from your dashboard
Group presentations by sessions, topics, or presentation types
Connect and send email notifications to authors to update them on their submission status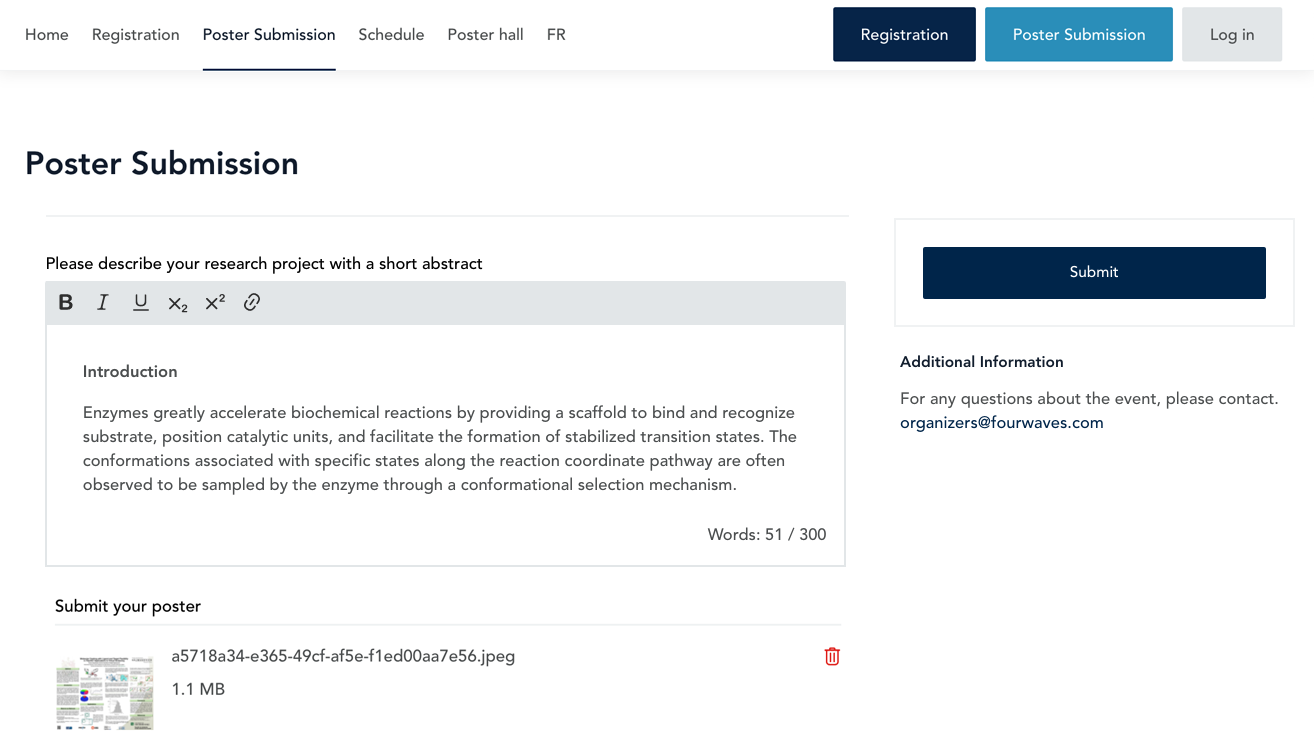 Increase connections between participants.
Get your participants excited and prepared by giving them access to posters ahead of your virtual event. With Fourwaves, participants can:
Search and filter through the whole poster hall content
Discover the posters, figures, and other content ahead of the event and bookmark the ones they don't want to miss
Upvote their favorite poster presentations
Explore the content through a beautiful full-screen interface
Ask questions to presenters to start the conversation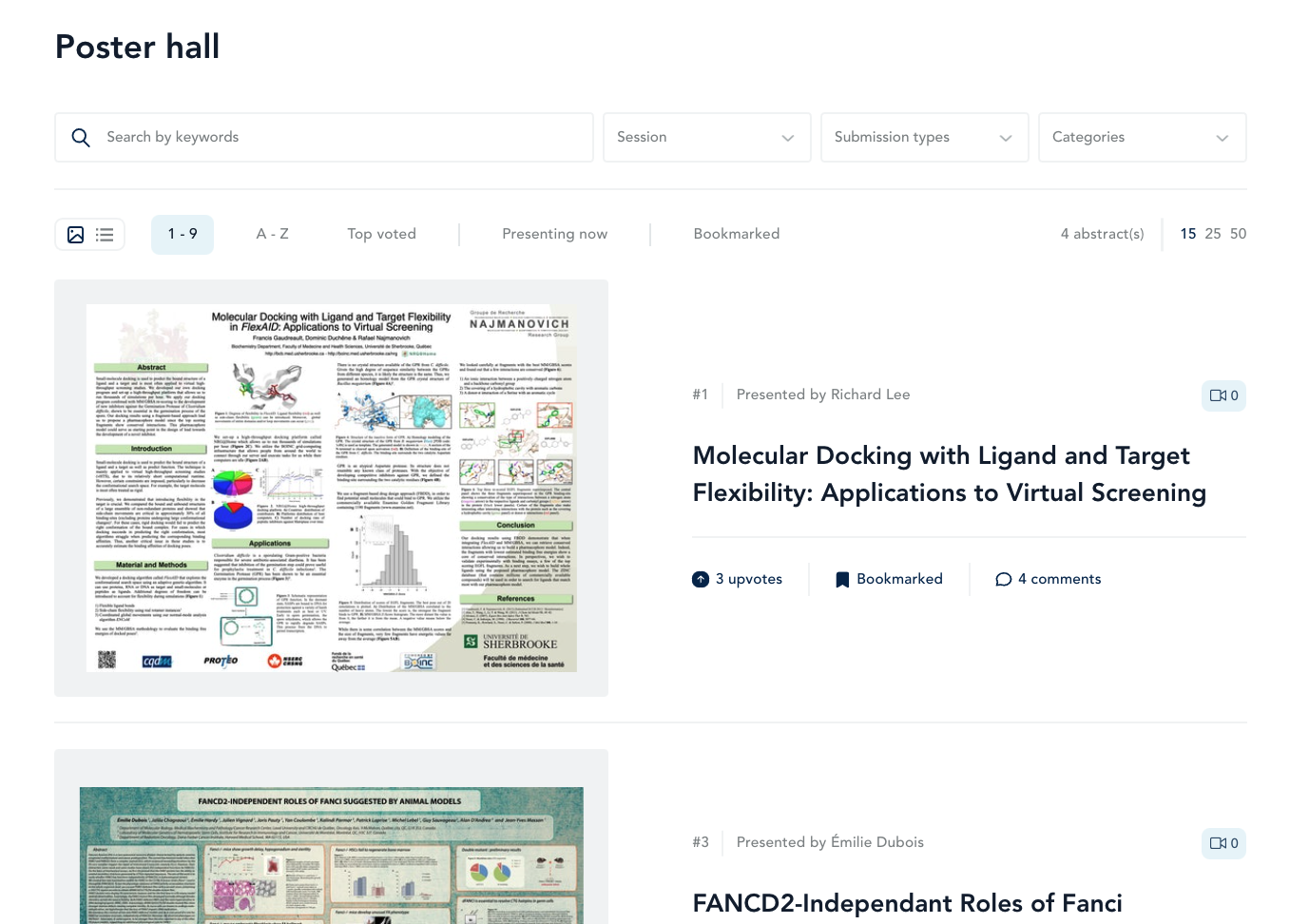 Make your virtual conference a success with enriching poster presentations.
Let authors present their work in real-time, get feedback from their peers, network and find potential collaborators during your event.
Interact through live video conversations
Browse through the submitted figures, powerpoint slides, zoom-in and out on posters
Ask questions through the live chat
Share their screen to point areas of interest on the poster
Manage poster judging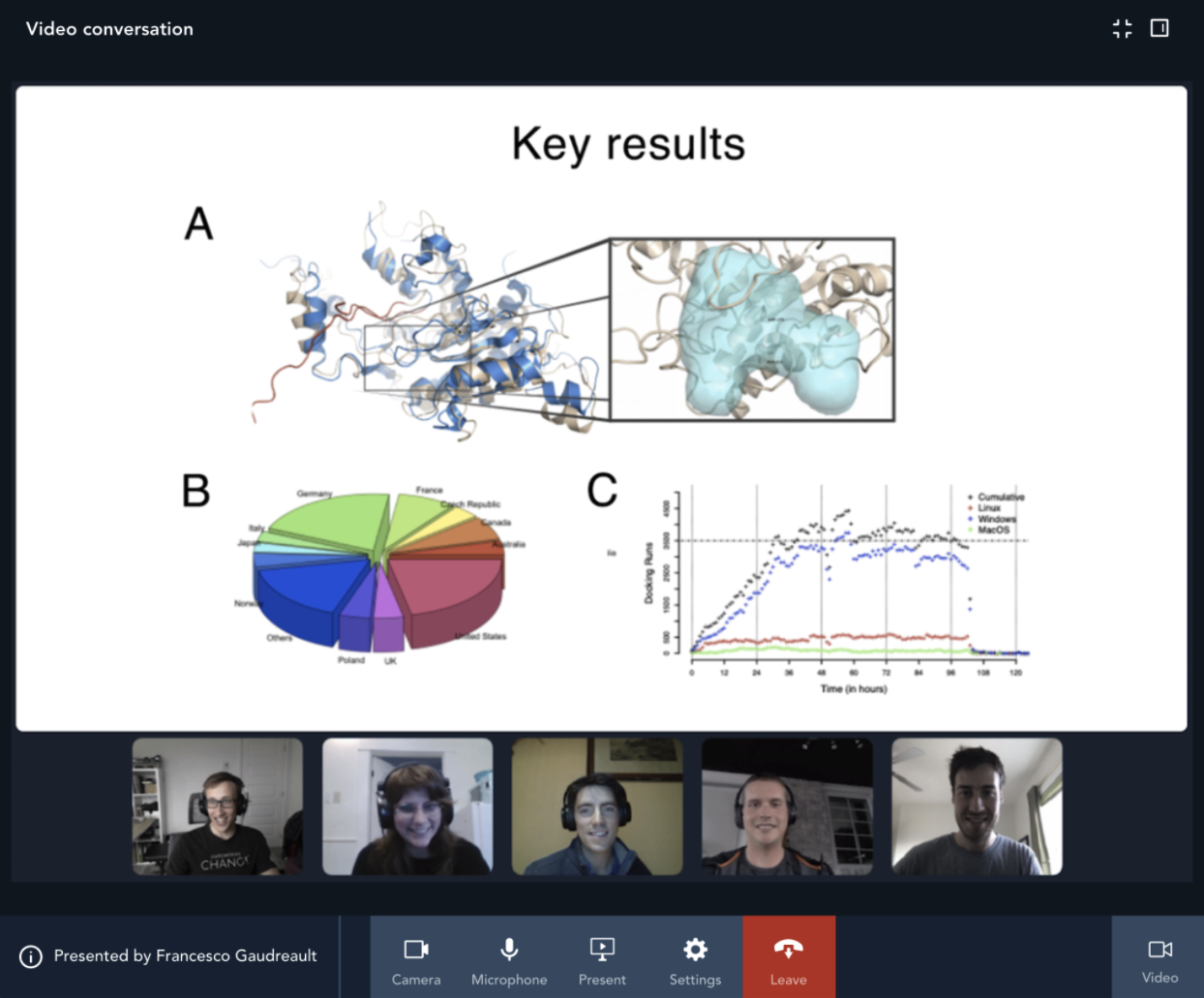 Keep your poster session alive
At Fourwaves, we believe that interactions do not stop when your event is over. We ensure that all presentations remain accessible long after your virtual meeting.
Continue interacting on the presentations via the question and answer section
Watch the video recordings again
Stay in touch with the poster presenters via email or social media
Add and share your event's highlights on the platform
Clone all your forms and content to get ready in minutes for your next edition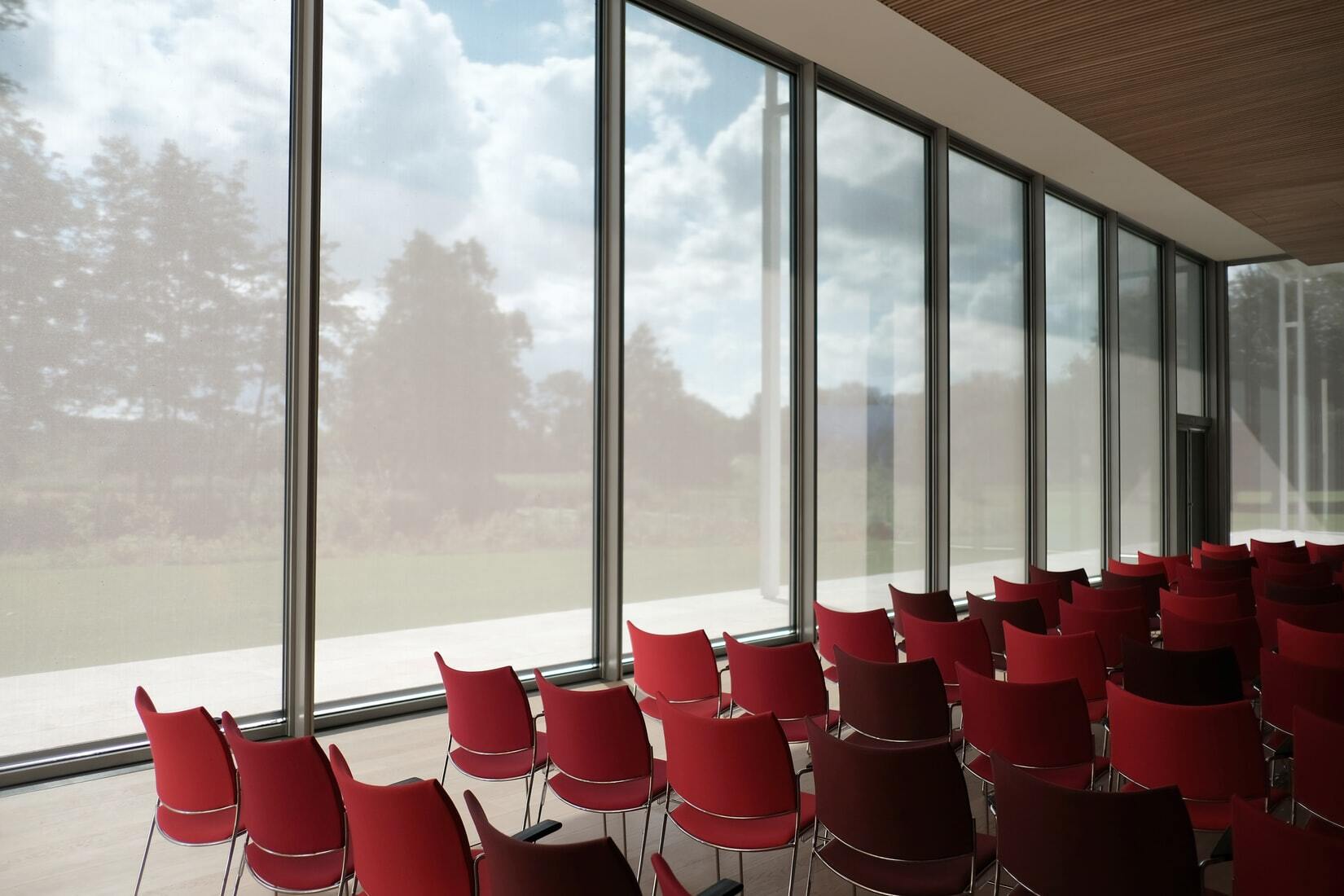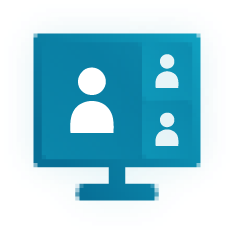 Included features
Posters, figures and slides.
Custom confirmation emails.
Public or private poster hall.
Filter by tracks, topics and more.
Unlimited posters and participants.
Integrated live video conversations.
Up to 360 participants per poster.
Live chat with reactions.
Questions and answers (Q&A).
End-to-end encrypted video conversations. "We loved the interface for virtual poster presentations - it truly helped make our event interactive for participants and greatly facilitated sharing of research. "
Nicole Perry
Columbia University Irving Medical Center
No! Presenters can make the most out of the poster session and visit other posters, start conversations, and get notified when someone comes by their poster to discuss.

No, we made it super easy so that you have nothing to setup. Video conversations work through our integrated video conversation tools and rooms are created automatically.

No need to create individual rooms or links for each poster. Participants never leave your event website for an optimal experience.

At Fourwaves, we prioritize quality before quantity. Hence, we decided to limit the poster video conversations to 8 participants. This limit does not apply to judges and presenters. We wanted to recreate those informal talks we have in front of poster boards at in-person conferences.

On top of the 8 participants in video discussions, up to 350 participants can join in listening mode and interact via our embedded live-chat feature.