You've created several sponsorship packages, and you want to approach as many organizations as possible to support your highly anticipated academic event.
There's just one problem.
You don't exactly know which companies to target.
In this guide, we briefly walk you through how to find the right sponsors and maximize your chance of securing them.
What is an Event Sponsorship?
An event sponsorship is a partnership where companies support your event for something of value, like brand exposure, speaking engagement, and an opportunity to connect with your audience.
It's a crucial part of event planning and can help host a successful event for nonprofit and for-profit organizations alike.
Types of sponsorship other than monetary
Sponsorships don't always involve monetary transactions. 
Here are four other types of conference sponsorships to consider if the sponsor you're setting on declines your sponsorship request:
Speaker: Doctors, professors, or scientists speaking at keynote sessions.
In-kind: Products and services instead of money. Examples include venue and food and beverages.
Media or press: Marketing content that advertises the event, such as sponsored articles, social media posts, and video interviews.
Brand: Corporate swag packs like T-shirts, pens, and tote bags.
Benefits of Event Sponsorships
Event sponsorships do more than expand budgets. 
At a deeper level, getting sponsors to back your academic conferences also:  
Legitimizes your event: Events backed by reputable sponsors, especially those that match your event's goal, vision, and target audience, instill trust right off the bat. 
Drives more registration: Organizations share the events they're sponsoring on their marketing channels and social media. With more people aware of your event, the more engagement you drive and attendees you'll likely attract.
How To Choose a Sponsor for Your Event 
Before choosing, understand your target demographic to determine their value to potential event sponsors.
Send a survey to find out what would make them join the event: 
What are their goals? 
What are they most interested in learning? 
What would make them feel like the academic event is worth their time? 
These insights help you narrow down your sponsors' industry or category list and customize your event sponsorship package to fit their needs.
Let's illustrate how this looks like.
Suppose the event registration system shows postdocs make up most of your attendees.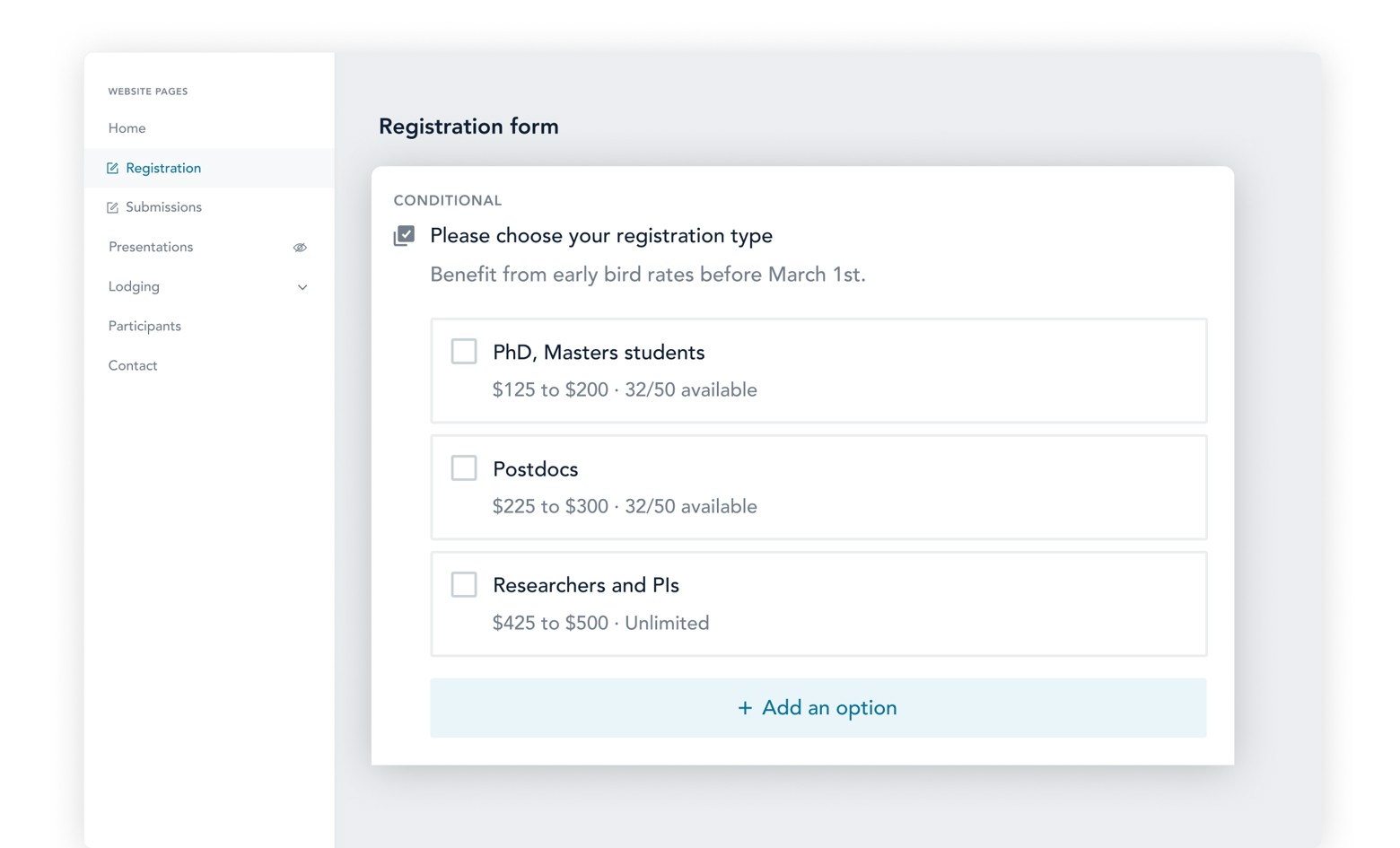 And you learned their primary goal is networking in-person after the panel discussions. 
Non-governmental organizations are a great pick in this case, because they're often looking to recruit postdocs to tackle recently funded projects. You might approach them to sponsor a lunch or dinner reception.
Or suppose you're planning the topics for an agri-food scientific symposium. You decide to send a popularity poll to find out what past event attendees want to learn this time round. 
The votes are in. 
A whopping 70% voted for alternative proteins and sustainable food production. 
Who better than a growth-stage startup that develops plant- and cell-based alternatives? You could invite its senior scientists to speak at a keynote session. 
3 Tips to Find Sponsors
Now that you've narrowed down your list, it's time to look for prospective sponsors that fit the bill. Here are three tips to make the search easier.
Tip 1: Investigate similar events
Explore similar events from other universities and organizations. 
Not only does it surface sponsors under your radar, but you also learn how to strategically approach your different sponsorship tiers. 
Note how the Committee on Space Research (COSPAR) introduces the sponsor logos on its event website. 

It tells you the type of organizations in your field receptive to sponsorship opportunities.
Now note again how the space symposium introduces its sponsorship packages.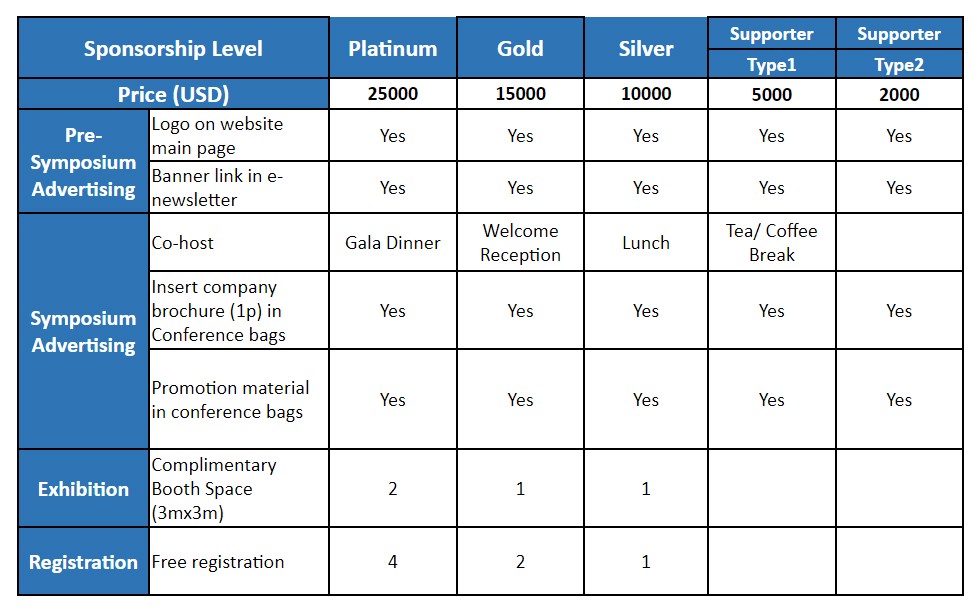 The rates provide a benchmark that helps you stack up your packages against the space symposium's and identify areas for improvement.  
Say you're running a similar event and you want to offer sponsors an additional benefit to sweeten the pot.
You could personally match professors from the sponsored organizations with postdocs for a 90-minute small group roundtable!
Tip 2: Identify decision makers and influencers
Understand who's involved in budgeting and at which specific stages. 
This means identifying (a) the decision maker responsible for funding and (b) the influencers who sway the final decision. 
Note the following titles—they're likely the ones controlling the purse strings:
Sponsorship manager
Sponsorship director
Events manager
Sponsorship executive
Other stakeholders that influence the final decision may include the PR specialist, marketing team, or community engagement team.  
Draft a sponsorship request letter, or event sponsorship proposal, along with your different packages. Pro tip: Sponsors may need more time to finalize their budget, so start your outreach to potential partners at least 6-12 months before the event. 
The bigger the company, the more hurdles you have to go through to get a yes. Don't be afraid to rally your board of directors to reach out if the decision makers in your sights are one of the higher-ups. 
Tip 3: Continue the conversation
You have a better chance of securing sponsorships from past sponsors who've seen ROI from your event. 
Cultivate relationships with them to foster long-term partnerships for future conferences.
First Aid Course Leicester continues its conversation with sponsors by gathering feedback and sharing the positive­ results of its first-aid events. 
"We highlight how their support positively impacts the­ community," shares Sarah Jeffries, the Managing Director, in a brief interview with Fourwaves. "We also collect feedback on how we can improve­ future events to align with the­ir corporate social responsibility goals."
Event organizers who reconnect with sponsors the most often succeed in not only getting sponsorships but also referrals. 
Check in with your sponsors periodically. 
Learn more about their goals. Share attendees' testimonials to show them the powerful impact of their support. Share past event data and metrics so they can see it was a successful event. These sustained dialogues help you stay on top of mind. 
The next time you reach out with a new sponsorship opportunity, they're more likely to say yes.
How to Showcase Sponsors on Your Event Website
The money is in—now it's time for you to hold up your end of the sponsorship agreement. In this section, we'll show you how to display your sponsor logos prominently.
Logos
Bigger sponsors get more real estate on the page.
Check out how Quebec Bio-imaging Network (QBIN) organizes its scientific event website. It categorizes its sponsor logos according to the different sponsorship levels, silver and bronze.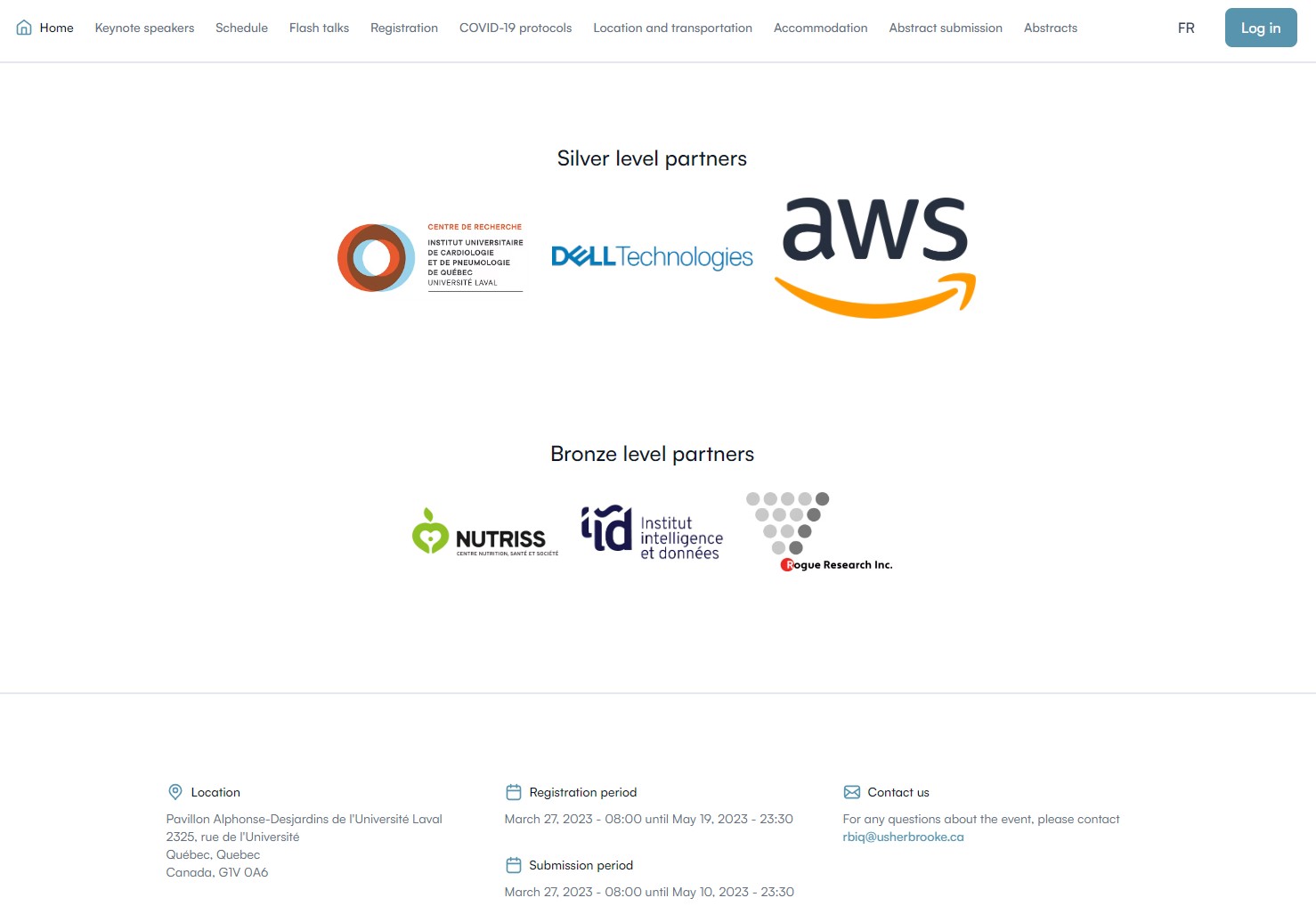 Notice how the silver level partners' logos appear larger? 
That's what you want to do for bigger sponsors.
You can easily differentiate your different sponsorship tiers on your event website using Fourwaves.  
After adding a sponsor (Configuration > Sponsors > Add a Sponsor), go to one of your website pages. Then:
Click Add Content
Select the Logos content block
Insert a title and description
Choose the size of the logos and select the sponsors you want to add from the dropdown menu. Drag and drop to reorder the sponsor logos as you desire.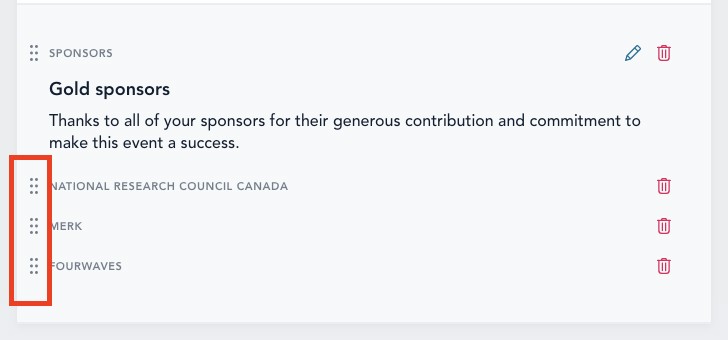 Sponsor page
If your upcoming event is in the early stage, then a dedicated sponsor web page is the way to go.
The 2024 ICCEC and CBS joint conference may be months away, but note how it calls out for sponsorships and lays out its various sponsorship packages on the partnerships page.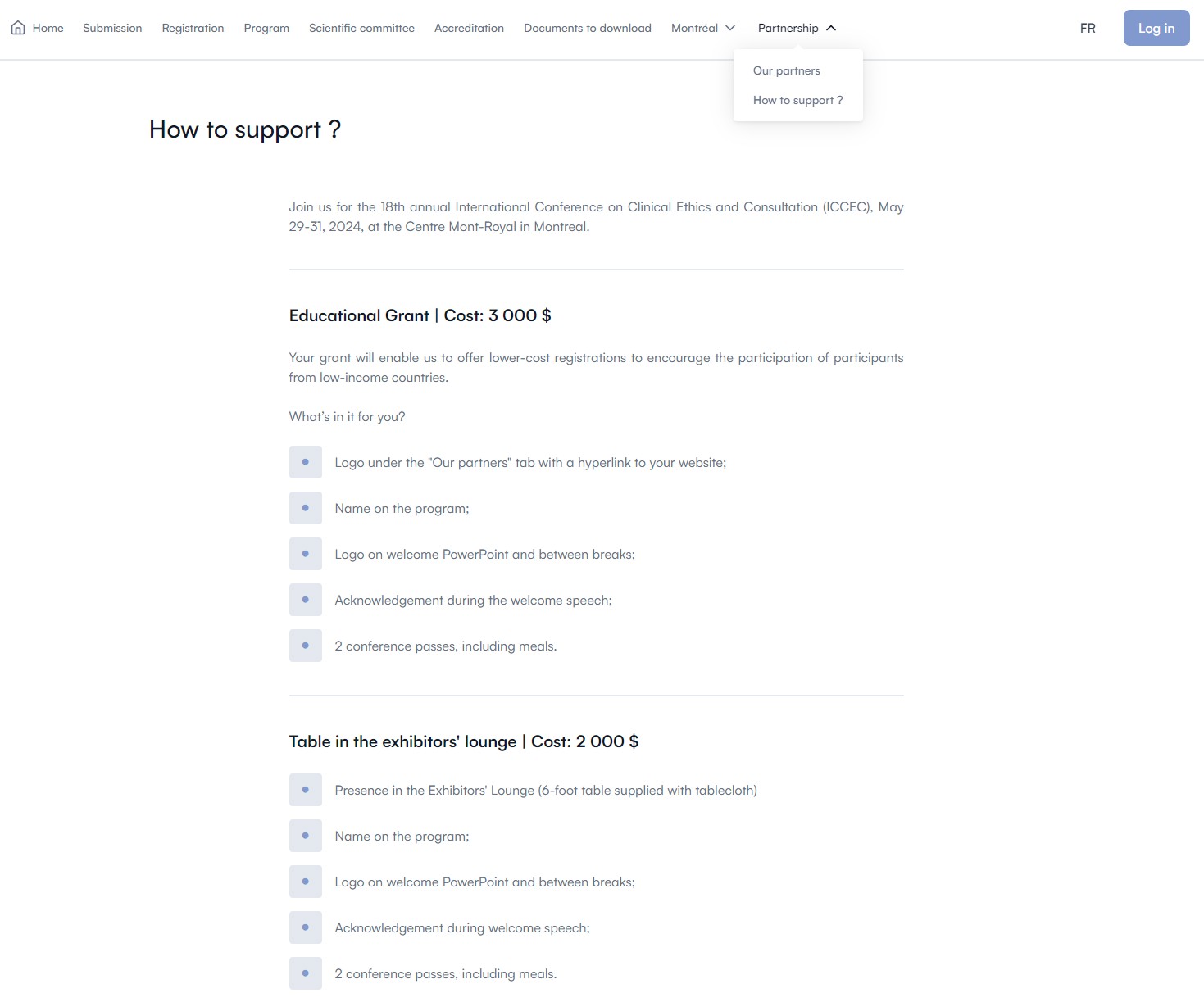 During sessions
Another way to showcase sponsor logos is during the entire run of the panel session. Show it on the monitor, projector screen, or even on a social wall for an extra boost of engagement.
There are tons of initiatives you can use to showcase the sponsor's name or services in different types of events. In virtual events and hybrid events you can showcase sponsors on screen during presentations, in live-chat, in virtual booths, or with different event marketing efforts (On Linkedin, follow-up emails, etc). Your event platform may even offer other tools to showcase them.
Get Started Today!
Event sponsorships are a win-win for event planners and companies, who can gain brand awareness while you gain monetary or non-monetary perks that improves your event ROI.
This guide shows you how to determine your audience's value to sponsors and securing them.  
Now that you have a better idea of which potential sponsors to approach, your academic event is a step closer to coming to life. All that's left is the whole event management part.
Fourwaves is an academic conference management platform that streamlines your events from beginning to end.
Start your free plan or book a 1-on-1 demo to spark discussions and foster collaboration today.