With the pandemic, many organizers transitioned to a hybrid (sometimes to an asynchronous hybrid) or virtual format for their poster session. For some, how to organize and host a virtual poster session is still a mysterious.
To host a virtual poster session, you need a platform to collect posters and presenter information. You also need a video conversation room for each poster on the day of the event. An asynchronous discussion thread on each poster can help participants break the ice before the event and stay in touch after.
This article explains how to organize a virtual poster session without Zoom.
How can I organize my virtual poster session?
With Fourwaves, you're in good hands. The robust platform was originally founded by former Ph.D. students in bioinformatics and structural biology that have extensive experience both in organizing and attending small and large research conferences.
The functionalities built within the platform by the engineering team provide you with an efficient platform to get things done:
Publish a professional event website to share information to your participants about the virtual poster session.
Collect abstract submissions including the poster upload. You can also peer reviews submissions.
Manage the event registration.
Send emails to attendees to inform them of important event details and send acceptance notifications.
Publish your posters online ahead of the virtual event in a beautiful poster hall with thumbnails.
Allow conference attendees to engage in live face-to-face video conversations in front of virtual posters!
1. Create your event
Get started by creating your event. Enter the basic event information and your name and email. You'll be redirected to your event dashboard where you can further customize your event.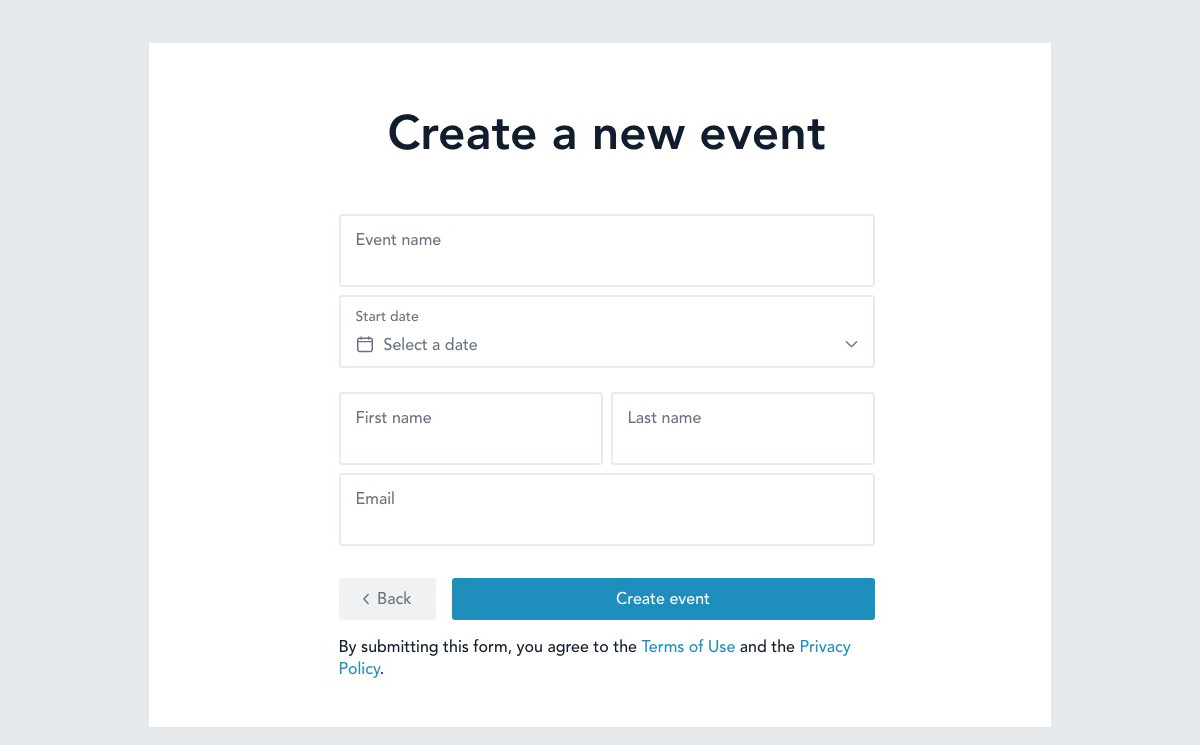 2. Setup the poster submission form
Under Website Pages -> Submissions, you will see the default submission form with the common questions: title, contributing authors, abstract and you can add other fields:
Poster file: participants can submit their poster in an image format. Each can be up to 30Mb which is plenty for high resolution posters.
Slides: a Powerpoint with slides that present the key results. You can even insert audio. Some events provide a template to presenters with an official conference heading.
Figures: participants can upload multiple figures, each with a title and a description. This is useful to highlight key results or graphs.
A pre-recorded video file.
Other custom fields of any type: text answer or multiple choice questions.

3. Specify when the live conversations happen
Through the schedule page, specify when the online poster session will occur. That is, when conference attendees will be able to have live group video discussions. This article provides more information on this topic.
You can create multiple sessions over multiple days. For example you could decide to group posters by topic.
Make sure to consider the different time zones of your participants.
4. Enjoy the poster session!
The day of the event, participants will be able to explore posters. They can search by keyword or filter by topics.
There is a section for asynchronous discussions where participants can leave questions and where presenters can answer.
They can also join, with a click of a button the group video conversation in front of each poster!
During that call, participants and presenters can share their screen to do a more formal presentation, go through the research poster or the Powerpoint.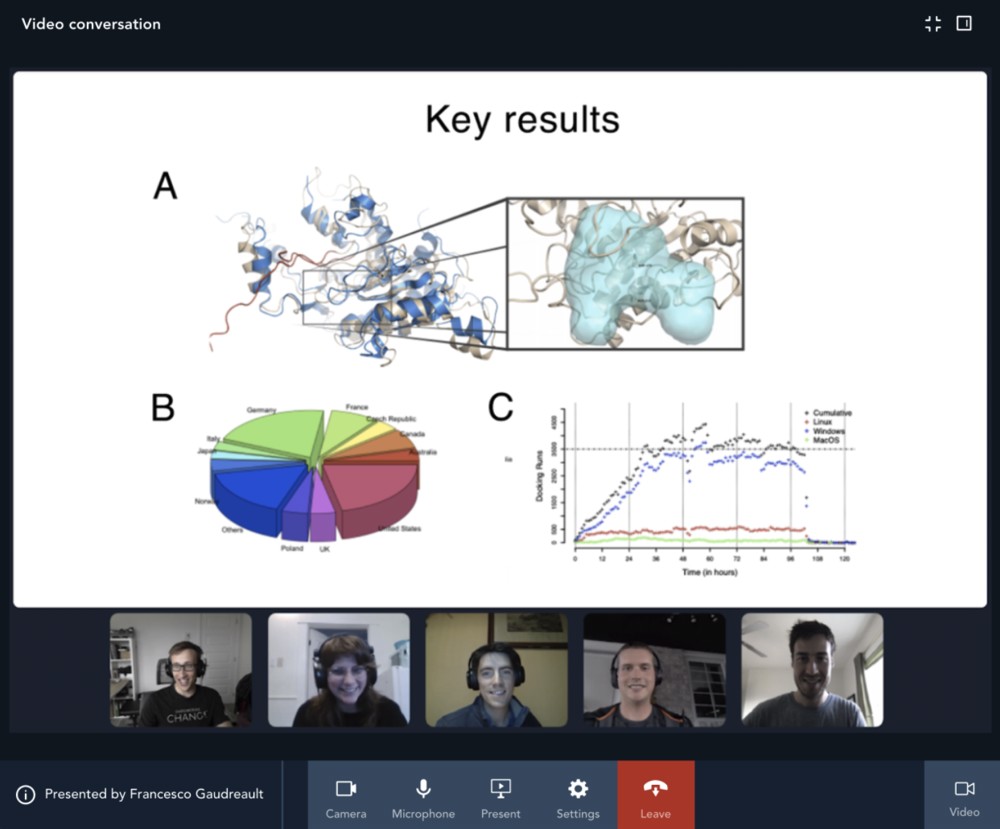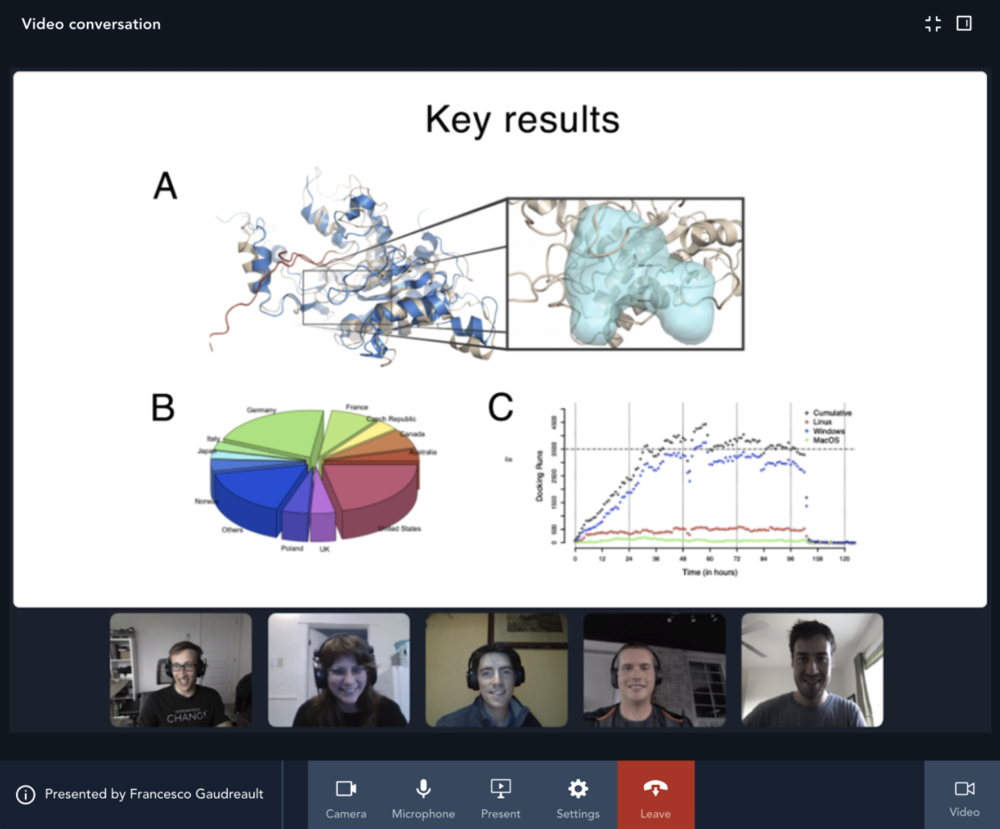 Don't underestimate the value of poster presentations at your virtual or hybrid event
When we decided to build virtual tools on Fourwaves for scientific conferences, we realized after talking to a lot of organizers and participants, that existing tools for virtual poster sessions were boring.
For online poster sessions, watching pre-recorded presentations does a mediocre job at communicating the latest research, but is better than just a simple poster pdf upload on a static website.
Some events livestream poster presentations through Zoom during a dedicated session, which allows many students to present. Although having too many one-to-all presentations on the program can lead to disengagement from your participants.
In the end, nothing replaces live group conversations with other presenters, because these interactive conversations are more personal and memorable. They allow participants to:
Present their work and practice their communication skills.
Have a more productive conversation where ideas can flow and emerge more easily.
Get insightful feedback from their peers in real-time to help advance their research projects.
Network and find new collaborators.
Have relevant presentation experience on their scientific curriculum.
Advantages of Fourwaves for virtual poster sessions
There are many advantages to using Fourwaves for your event:
Organizers save tremendous time with a fully integrated abstract and poster submission functionality.
Poster discussion rooms are created automatically and no need to use Zoom.
Presenters don't need to wait alone in front of their posters. They can go talk to others and when someone calls them they get a notification to join the conversation at their poster.
The content stays up as long as you want after the event and participants can keep the conversation going and stay in touch.