Poster sessions are an important part of most academic and scientific conferences. They allow students and researchers to present their work, get feedback from their peers, and network to spark collaborations.
In-person poster sessions are straightforward to organize, but when it comes to planning virtual poster sessions, things get more complex. 
Luckily, there are software solutions specifically designed to help you organize and run a virtual poster session.
For this article, we analyzed 5 virtual poster session software options. We'll list the pros and cons of each, helping you to make an informed decision when it comes to choosing one for your event.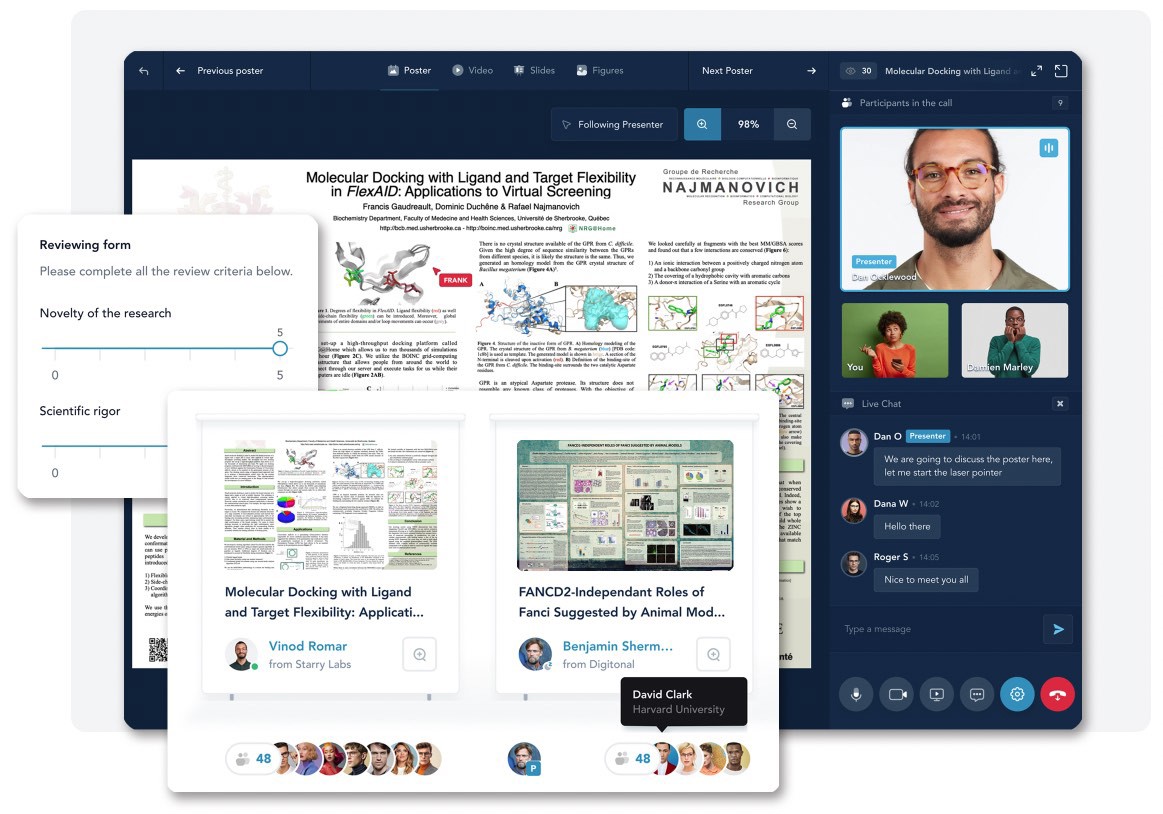 Understandably, this is our favourite platform, but not just because we built it. It provides the best experience for virtual poster session participants while being very simple for organizers.
Fourwaves can be used for small and large virtual poster sessions (accomodating thousands of posters). It also comes with all the tools needed to manage other aspects of your conference, including the event website, registration and payments, schedule, mass emails and more, providing one unified experience.
Fourwaves includes a custom submission form, which allows presenters to submit their poster material, including:
An abstract, a list of authors and their affiliations.
The poster in image or PDF format.
A Powerpoint presentation (with audio).
A pre-recorded video file (no need to upload to YouTube).
Unlimited number of images with a title and a description.
Any other supplementary information or files.
Fourwaves also provides a dedicated poster hall that offers a clear menu of all posters. There is a search bar which can be used to filter by topics, tracks, etc. Participants see in real-time who's "walking" by each poster, giving a sense of activity and a feeling of participating in a real event.
When viewing a poster, participants can browse through all the material in full-screen. Anyone can use the live chat to discuss in real-time. Presenters can stand in front of their posters and anyone can start a video conversation. Everyone else who's passing by this poster can listen to the conversation and decide to join and participate in the conversation or click to see the next poster.
Presenters can use the built-in laser pointer to present. This makes presenting posters very fluid. Presenters can also share their screens if they want to showcase material that wasn't uploaded to the platform in advance.
Another interesting feature is that presenters don't need to wait alone in front of their poster. They can go talk to others and if someone requests a conversation they will be immediately notified. This allows presenters to make the most of their time.
Posters are also accessible any time before the event and indefinitely after. Their access can be public or limited to registered participants. The Q&A section allows participants to keep the conversation going. And if a participant missed the chance to browse all the posters? No problem. They are still available to browse after the event.
Video conversations are fully integrated in the platform. This means you don't need to use Zoom and you don't need to create individual video rooms. Everything is taken care of automatically. You can decide when video conversations can happen and which posters are part of the virtual poster session.
You can also use the built-in judging system to customize a reviewing form and assign judges to specific posters (for example, based on topics). Judges have a reserved spot at every poster video conversation and can fill the judging form online. The scores are automatically calculated so you can find the top scored posters. This can be used for initial peer review of the submissions or on the day of the event. Participants can also vote for their favorites.
Pros
Dynamic experience to encourage conversations and encounters.
Integrated video conversation solution.
Built-in laser pointer.
Part of a full conference management system.
Content accessible before and indefinitely after the event.
Affordable for small events and scalable to very large poster sessions.
Cons
Not free.
Requires participants to register to participate.
Try Fourwaves for free or book a demo to learn more.
2. Gather Town
Gather Town was very popular at the start of the pandemic, when everyone was craving the feeling of being in a physical space with others. The top view, the 2D pixelated video game look, and the customizable avatars give a playful feeling.
Gather Town users can create rooms and add decor like plants and tables and arrange them to build a warm and inviting virtual space.
Using the keyboard arrows, users can explore the space and find rooms with livestreams, networking tables and posters. When participants bump into each other or when they are in front of the poster, the video conversation automatically starts. This somewhat mimics in-person encounters at physical events.
For poster sessions, users manually create the poster hall and place each poster in a dedicated area. This means posters must be collected manually by email or through a Dropbox folder, making the sessions with many posters more tedious and time consuming to organize.
Gather Town works well for small poster sessions if you want to provide your participants with a playful, video game-like experience, and if you have time to spend customizing the interface. It is less ideal for larger academic and scientific events for which you require built-in registration and submission functions and a more professional look.
Pros
Playful feeling.
Highly customizable rooms and decor.
Serendipitous encounters.
Cons
Posters need to be collected with an external platform.
Posters are unavailable before and after the event.
Tedious and time consuming to set up.
The video game feeling doesn't resonate with everyone.
3. Zoom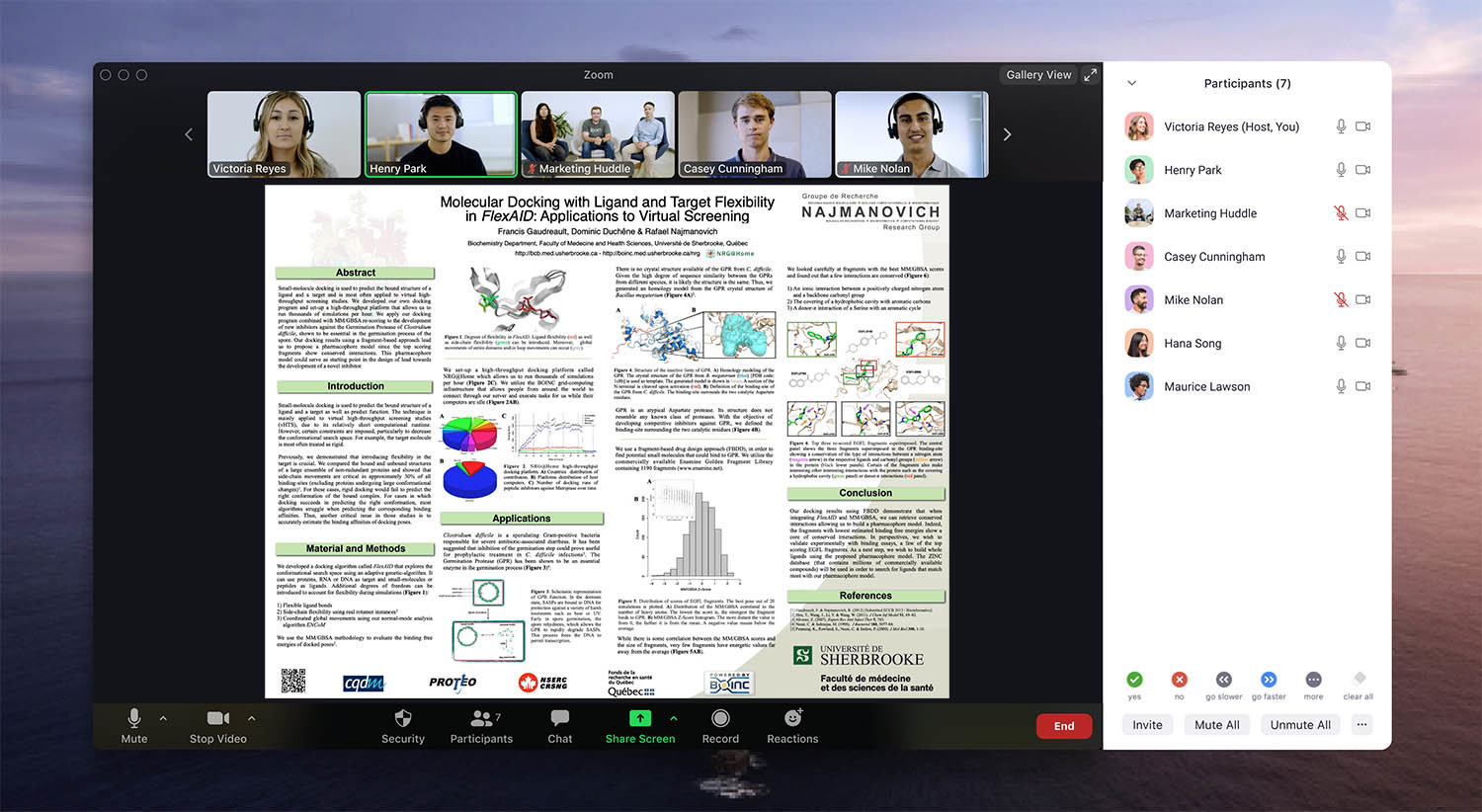 There is no need to introduce Zoom. This video conferencing solution has been adopted worldwide, including for virtual conferences and poster sessions.
However, you can't fully rely on Zoom when organizing poster sessions. You will need an external software like Dropbox or a dedicated inbox to collect all the poster material.
You will also need to have a separate website to list the posters and their Zoom link where participants can discuss and present their poster using the share screen feature. 
Ideally, each presenter will provide their own Zoom link. For large poster sessions, this manual process is prone to errors if you copy-paste the wrong Zoom link to the wrong poster.
Some organizers who want to use Zoom for virtual poster sessions leverage the breakout rooms feature. They have everyone join the Zoom meeting, provide instructions, then dispatch participants and presenters in breakout rooms for, say, 10 minutes, giving time for discussions. Then organizers can shuffle participants for a next round.
If you have a longer poster session (1h +) and you want participants to roam freely from poster to poster, Zoom is not ideal because you can't see at a glance if participants are in the Zoom room, which creates silos and gives a sense of loneliness for presenters waiting alone in their Zoom meeting.
At first glance, Zoom doesn't seem ideal for virtual poster sessions, but it does have many advantages, including:
It's widely adopted. Everyone knows how to use it, meaning there will be a minimal learning curve for your participants. 
The audio and video quality of the conversations is excellent, even for those with a poor internet connection. 
Zoom is very robust and it's unlikely that it will fail the day of the virtual poster session.
It's affordable because you can use the free plan to host individual sessions if you have a short poster session.
Pros
Widely adopted and robust.
Short learning curve.
Free to use.
Excellent video and audio quality.
Cons
Requires an external platform to collect posters and individual Zoom links.
Posters are unavailable before and after the event.
Can feel lonely for presenters who are waiting alone in their Zoom link.
4. Virtualpostersession.org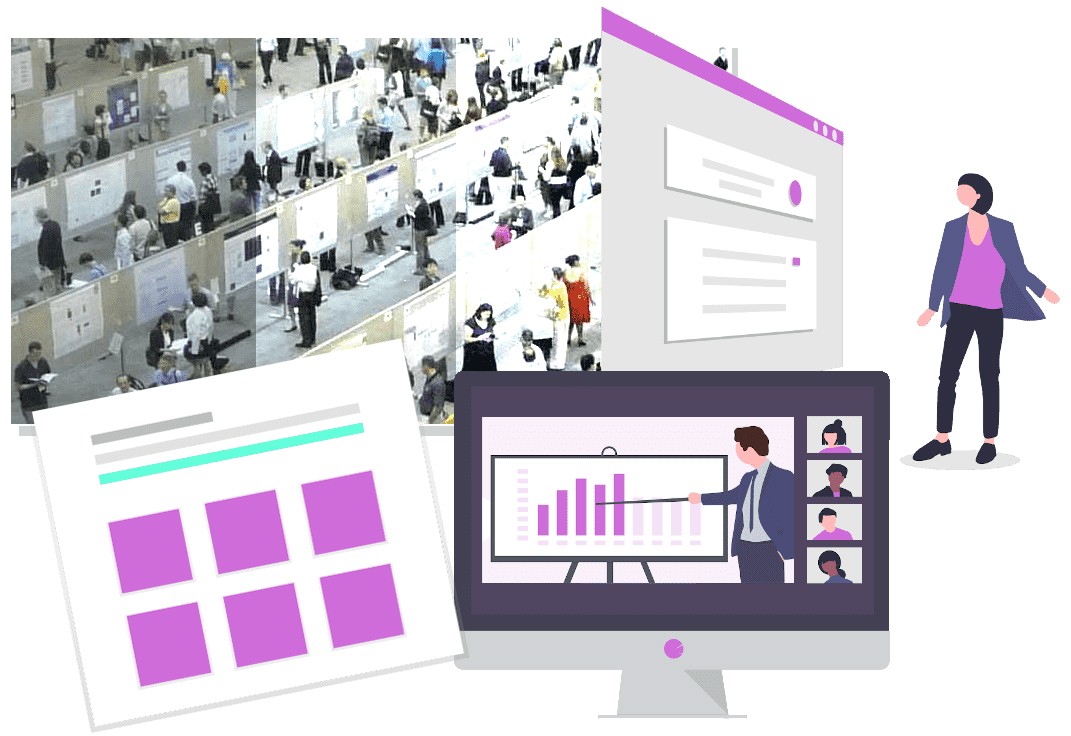 Virtualpostersession.org was built during the pandemic, to facilitate poster sessions. It contains useful customization options.
While there is no customizable submission form, organizers can manually import presenters into the system and send individual links where they can upload their poster material in PDF format and specify a link to a prerecorded video. 
Unfortunately video files can't be uploaded directly. Instead, presenters need to upload their videos to an external provider like YouTube and provide the link. It's possible to decide when presenters are allowed to edit their material.
This platform allows the posters to be uploaded on a public list. Depending on your plan, you can also make it password protected if presenters have sensitive information. Visitors can search posters by keywords or filter by track.
In terms of interactions, communications don't go through any specific video conversation provider. Presenters are required to provide a link to an external platform themselves (e.g. Zoom or Google Meet), offloading organizers from this task. While this is simple and affordable, it doesn't provide an immersive experience. 
For instance, it's impossible to see if presenters are in their conversation room and ready to talk, or who else is attending the poster sessions until you click on the Zoom link.
If you're looking for a simple list of posters with video conversation links, you'll get everything you need with virtualpostersession.org. The posters stay online up to one or two years after the event, depending on your plan. The basic plan starts at $50 for 10 posters and can go up to $2,500 for 100 posters with the Enterprise plan.
Pros
Easy to get started.
Has a desktop app.
Participants can upload their own material using a private link.
Can link to pre-recorded videos and has asynchronous Q&A.
Cons
Requires an external platform for video conversations.
Less immersive experience.
Can be expensive for a large number of posters.
5. Microsoft Teams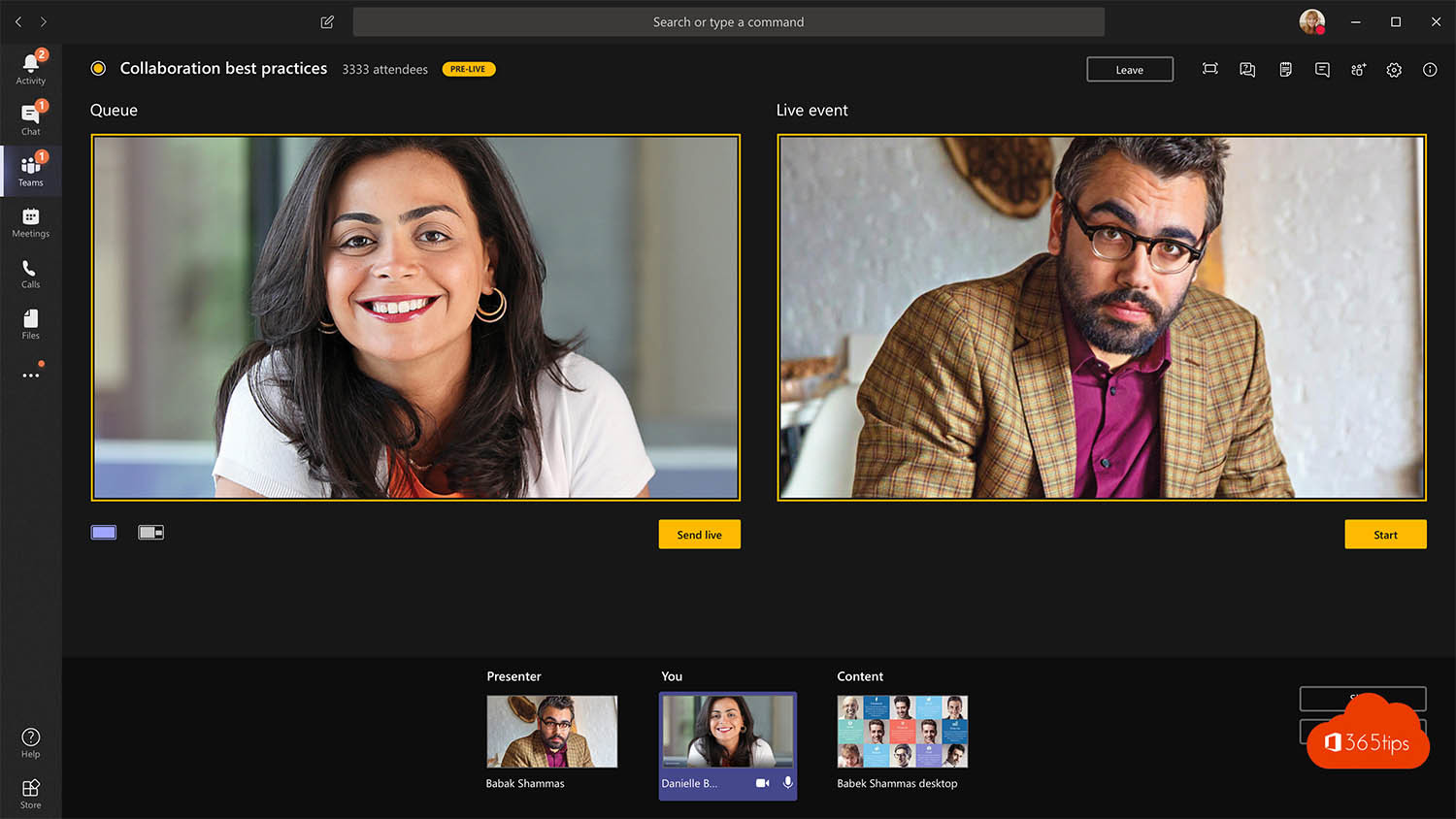 Microsoft Teams is not the first platform you'd turn to to run your virtual poster sessions, but it provides many advantages.
If you're organizing a small poster session with participants from your university, chances are your campus already has a Microsoft Teams license, which will make it free to use. If needed, you can also give access to other folks inside your organization.
To create your poster session in Teams, you'll first need to create a Team, include all participants, and send calendar invitations directly from Microsoft Outlook.
You can upload Posters that will be accessible through the Files section. Presenters can also write an update with their Poster attached. The platform will allow other participants to ask questions and comment on the posters, even outside of the actual event dates. 
Presenters need to turn on notifications for posts that they're mentioned in, so they can be notified if someone is interacting with their poster. 
Microsoft Teams is not ideal for live video conversations at the Poster, but presenters can post time slots where they will be available for a video chat.
Teams also provides the ability to livestream oral presentations. Participants can live chat in private or start video calls which add networking options.
As you can see, Microsoft Teams wasn't built for poster sessions, but if your goal is to create a small event on a tight budget while also providing additional features for live streaming and networking, Microsoft Teams is not a bad option.
Pros
Free with a University license.
Private text or video chat for networking outside of poster sessions.
Integrated asynchronous Q&A.
Cons
No poster video conversation rooms.
No poster submission form to collect poster materials.
Not ideal for medium or large poster sessions.
Conclusion
Tools for virtual poster sessions have evolved a lot since the pandemic started and there are now many options, each with their pros and cons. There are free options for those on a tight low budget and paid ones if you want to improve the experience for everyone and save time.
If you're organizing a virtual poster session and want to learn more about how Fourwaves can help, book a demo today.