Organizing a virtual event is no easy feat.
No matter your level of experience and skills, you'll need a virtual event platform to help you out.
The only problem is…There are thousands of platforms on the market, all offering different features and functionalities such as video conferencing, event management, audience engagement, live streaming, submission management and even gamification.
But what's the best tool for your needs?
Let's dig into it.
What is a virtual event platform?
A virtual event platform is a software solution that empowers individuals to host, coordinate, and participate in online events. These versatile tools empower organizers to craft captivating and engaging virtual experiences that bring together a global audience.
Virtual event platforms can be used for multiple types of events:
Symposiums
Conferences
Seminars
Summits
Keynotes
Trade shows, Career fairs and Expos
Virtual poster sessions
Networking events
Trainings
Depending on the type of event you are looking to host, you'll need different features from your event solution. So make sure you choose the right event management platform that fits your needs. In this article, we'll focus on academic, research and scientific conferences. 
Without any further ado, let's jump into it.
8 best virtual event platforms for scientific events
Whether you're an event organizer, a scientist or simply someone looking to host a conference, there's a virtual event planning software for you.
Here are the best choices for academic and scientific events.
1. Fourwaves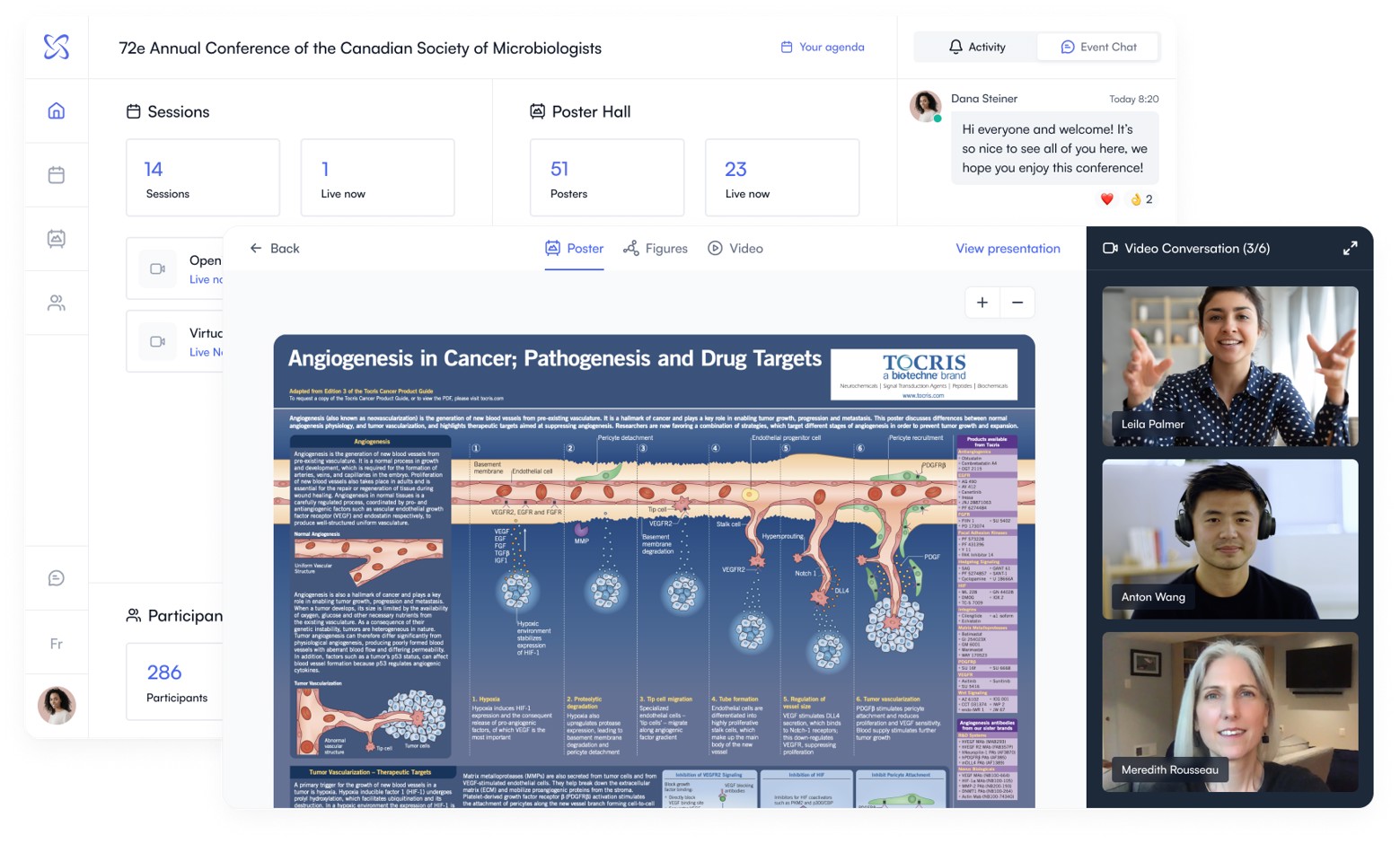 Fourwaves is an all-in-one conference management software aimed specifically at the academic and research community. With it, you can create an event website, manage registrations, online payments, abstract or paper submissions and peer-reviews.
It's a complete tool that you can use to manage everything before the event, including email communication and program building as well as to host the actual virtual conference. Your program can contain multiple tracks with parallel sessions and an unlimited number of virtual rooms for live streaming.
Virtual Poster Sessions
It contains the best virtual poster session tools. You can host an unlimited number of posters at the same time. Video conversation rooms are created on the fly using a built-in tool, so participants and organizers don't need to provide any zoom links. You can see participants move in real-time from poster to poster and you can start a video conversation in one-click.
After the virtual event, your event website and content stays online indefinitely and you can upload session recordings for on-demand viewing to increase the reach and impact of your event.
Some features included:
Video conferencing 
Live chat 
Free for up to 25 submissions with unlimited registrations. Otherwise between $799 and $4,999 per event depending on the features and submissions. Custom plans are also available.
Pros:
Created specifically for academic events; it includes anything you need for conferences, symposiums, and more.
The prices are among the most affordable on the market for this type of tool while providing the most value.
Modern user experience with a very user-friendly interface.
The best virtual poster session experience with integrated video and laser pointer.
Quick, responsive support from a team that feels like a local company, always ready to help and truly understands your needs. 
Cons:
You need to bring your own Zoom license (or other streaming tool of your choice) for oral sessions, except for virtual poster sessions where everything is integrated seamlessly.
Not a lot of event attendee engagement tools and gamification features like scavenger hunts.
No mobile event app on the iOs or Google play store. However the tool is easily accessible and perfectly optimized for mobile and tablet use from the browser.
Try Fourwaves for free or Book a 1-on-1 demo to know more.
2. Zoom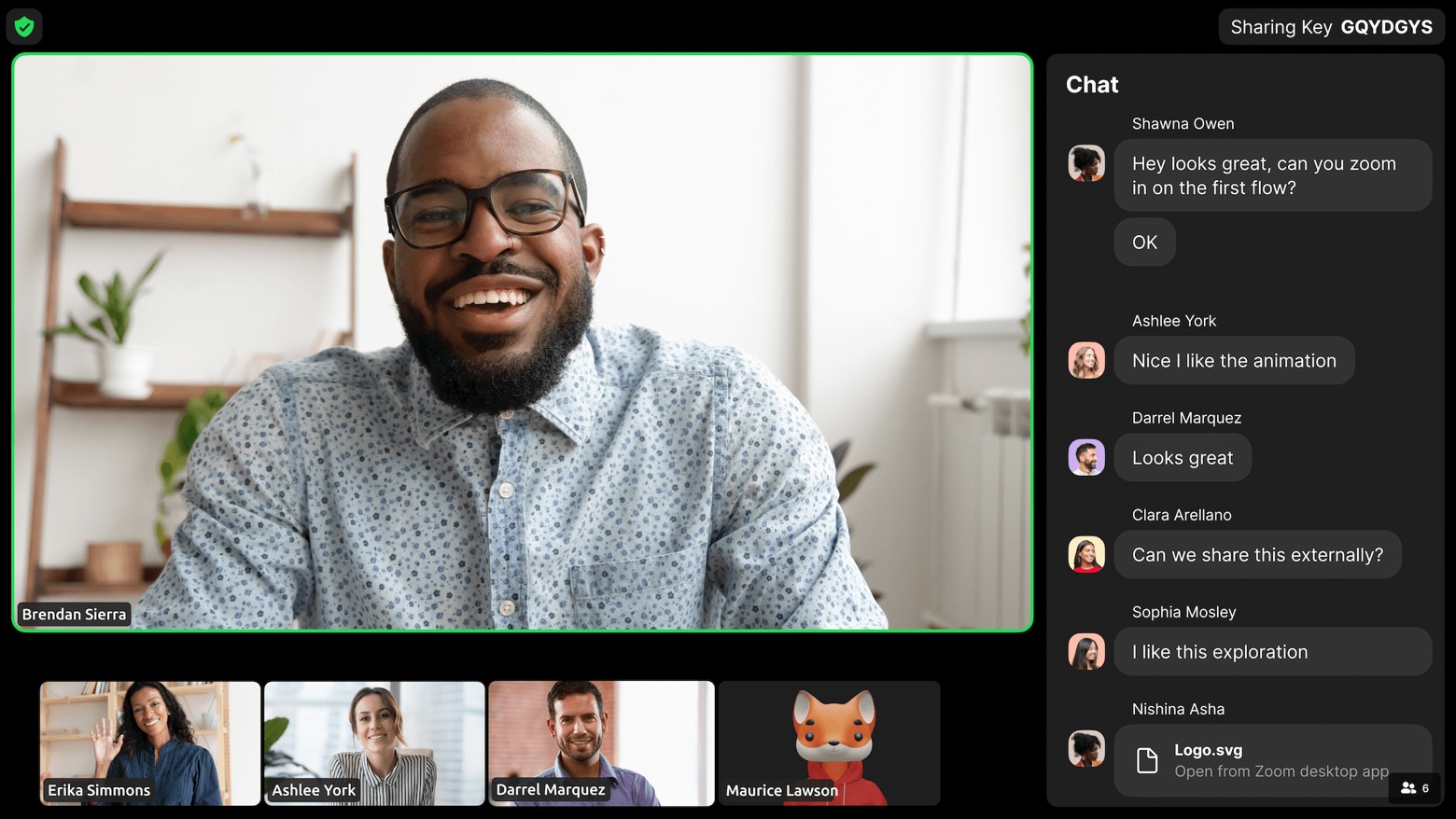 Zoom is a well-known video conferencing platform that has gained immense popularity in recent years. It offers a range of features suitable for conferences, including video and audio conferencing, screen sharing, breakout rooms, and chat functionality.
Pricing: Zoom offers a free plan with limitations on meeting duration and participants. Paid plans start at 1,280.00/year/license.
Pros:
User-friendly interface.
High-quality video and audio.
Robust screen sharing capabilities.
Integrations with other productivity tools.
Customizable meeting settings.
Cons:
Limited free plan.
Security and privacy concerns in the past (though they have improved).
Best suited for small virtual meetings than for larger scale conferences.
No features for submissions or peer-reviews and limited registration features
3. Microsoft Teams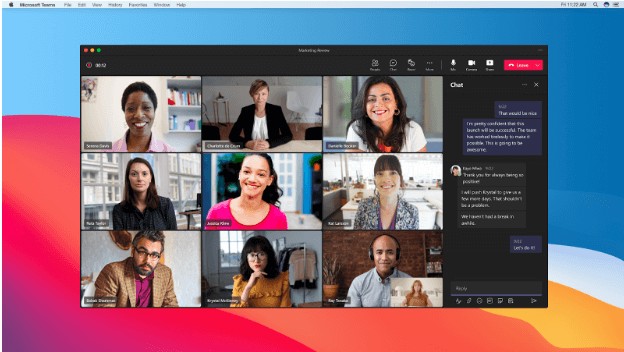 Microsoft Teams is a comprehensive collaboration platform that includes video conferencing, chat, file sharing, and integration with Microsoft 365 apps. It's a versatile choice for hosting virtual scientific conferences.
Pricing: Microsoft Teams is included in Microsoft 365 subscriptions, which varies greatly depending on the license you need.
Pros:
Seamless integration with Microsoft 365.
Screen sharing and chat capabilities.
Security features.
Customizable backgrounds for video calls.
Record meetings for future reference.
Cons:
May be more suitable for organizations already using Microsoft 365.
Can be resource-intensive on older devices.
Best suited for smaller meetings rather than large scale conferences.
No features for submissions or peer-reviews.
4. Hopin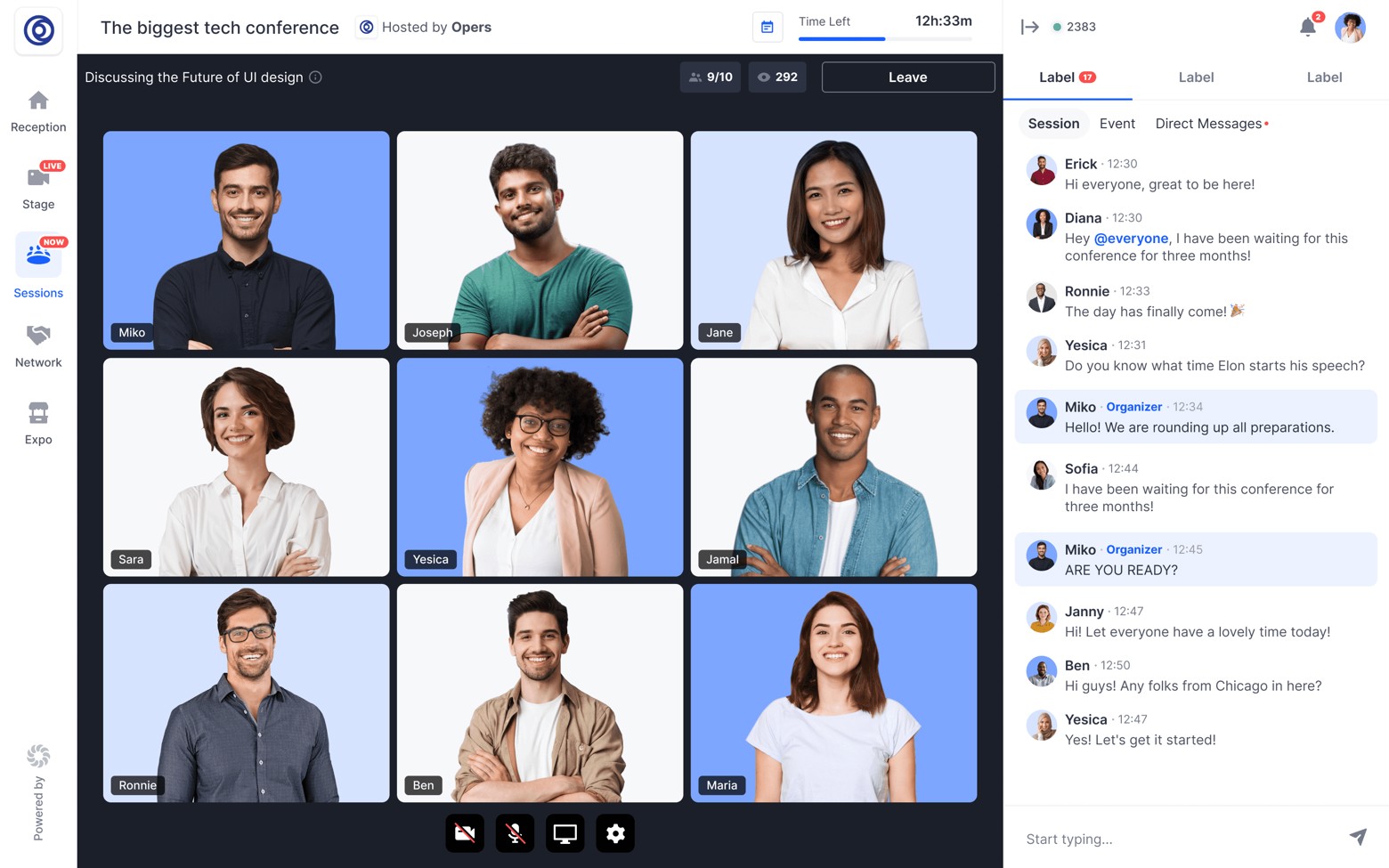 Hopin is a dedicated virtual event platform designed for hosting conferences, expos, and workshops. It offers features like customizable event stages, virtual booths, networking, and interactive sessions. It's a tool catered for event planners as it's a monthly or annually subscription.
Pricing: There's a free plan for events of 2 hours or less, otherwise plans start at 99$ monthly for one organizer and 3-days events.
Pros:
Tailored for virtual events with multiple interactive features.
Networking opportunities for attendees with random match-making.
Analytics and reporting.
Integration with various event tools.
Easy-to-use interface.
Cons:
May be expensive for smaller events.
Not ideal if you need it for one single event, or for scientific events.
No submission management or peer-review feature.
Some learning curves for first-time users.
5. Webex Events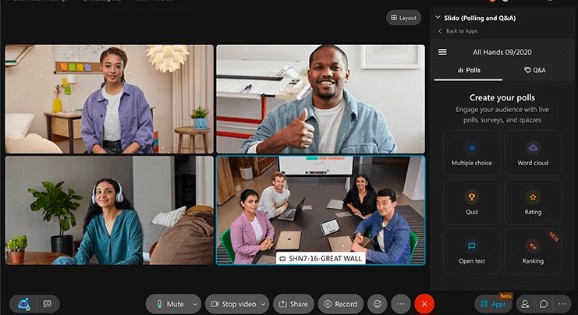 Webex events (formely Socio) is a video conferencing and virtual event platform known for its security and reliability. It offers features such as screen sharing, whiteboarding, breakout rooms, and event registration.
It contains powerful gamification and reporting features and is built using the well-known Cisco Webex streaming technology.
Pricing: Webex offers a free plan with limitations. Paid plans start at $14.50 per host per month.
Pros:
Strong focus on security and privacy which can be good for scientific events that share early stage research results.
Interactive whiteboarding.
Robust video and audio quality.
Event registration and reporting.
Integration with productivity tools.
Cons:
Free plan has limitations.
The interface may not be as intuitive for some users.
No submissions or peer-review tools
6. Remo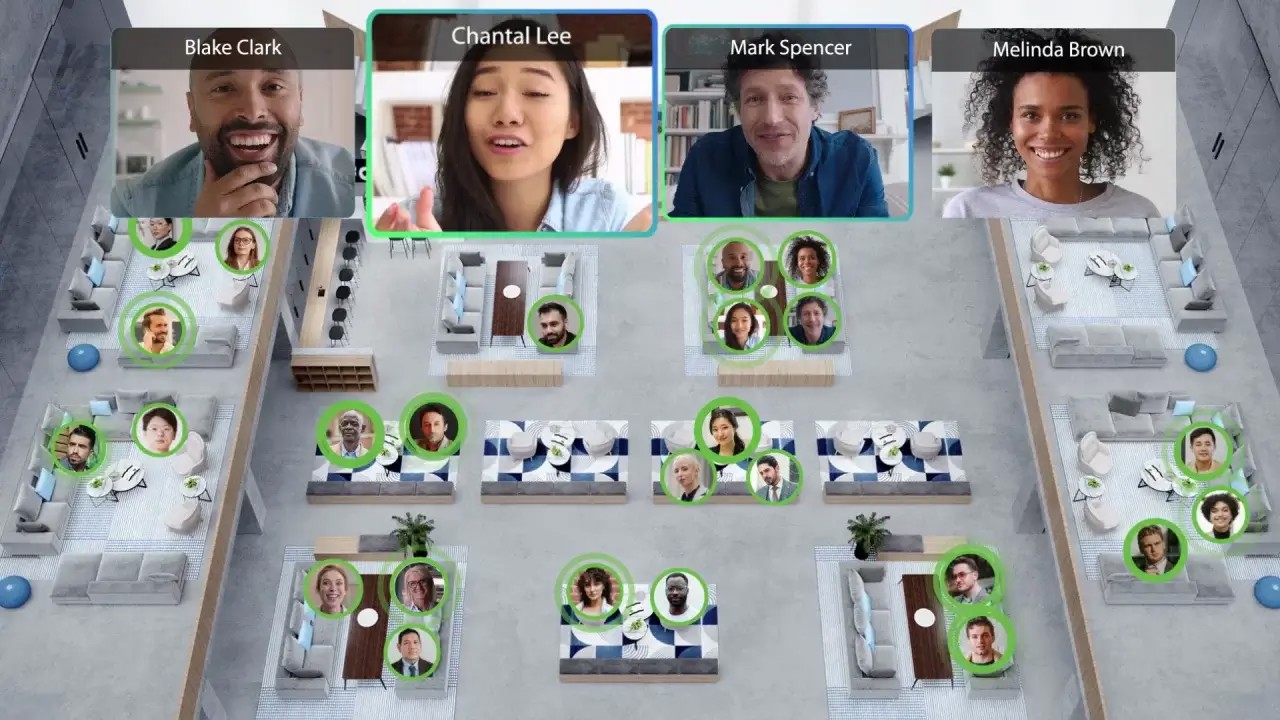 Remo is a unique virtual event platform that simulates the experience of physical conferences. It features virtual tables where attendees can have face-to-face conversations, making it ideal for networking-focused scientific events. It's a great virtual event software if you need tables for exhibitors, networking sessions, games or happy hours.
It is not geared towards scientific events (like most platforms out there), but the networking capabilities can bring an interesting touch to your event.
Pricing: Pricing starts at $380 per month for small events.
Pros:
Innovative virtual table format.
Emphasis on networking and engagement.
Customizable event spaces.
Screen sharing and chat features.
Analytics for event organizers.
Cons:
Limited scalability for larger events.
Not suitable for most scientific conferences.
On the expensive side.
7. Vfairs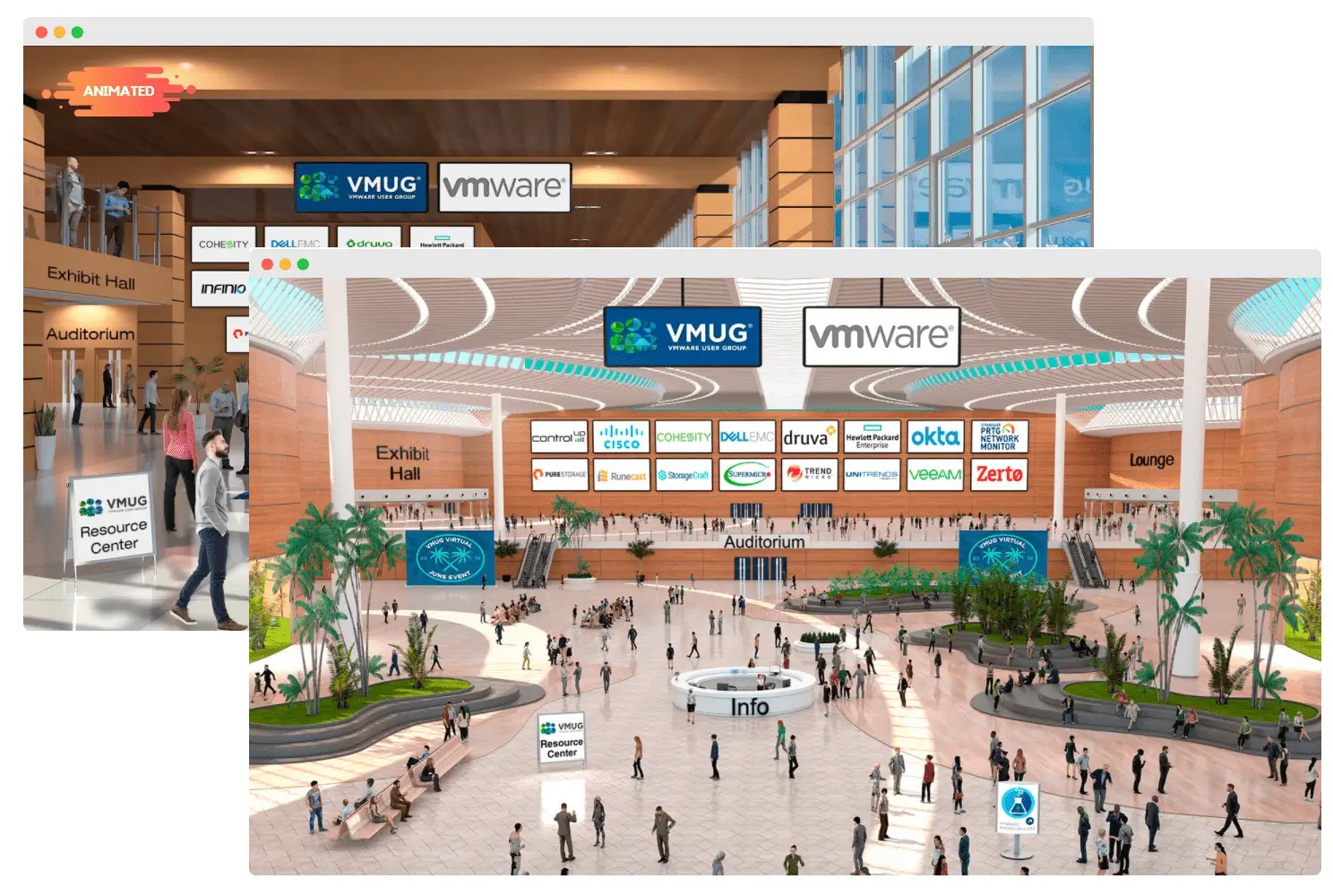 Vfairs is an all-in-one virtual event platform that offers a wide range of features, including virtual booths, webinars, and networking lounges, making it suitable for hosting scientific expos and conferences.
The virtual environments created are impressive and offer one of the most immersive experiences.
Pricing: Vfairs requests a quote. Pricing varies depending on event size and requirements.
Pros:
Customizable event spaces.
Networking opportunities.
Robust analytics and reporting.
Integration with marketing and CRM tools.
Easy setup and management.
Cons:
Costs can vary widely depending on event size.
Learning curve for event organizers.
8. Swapcard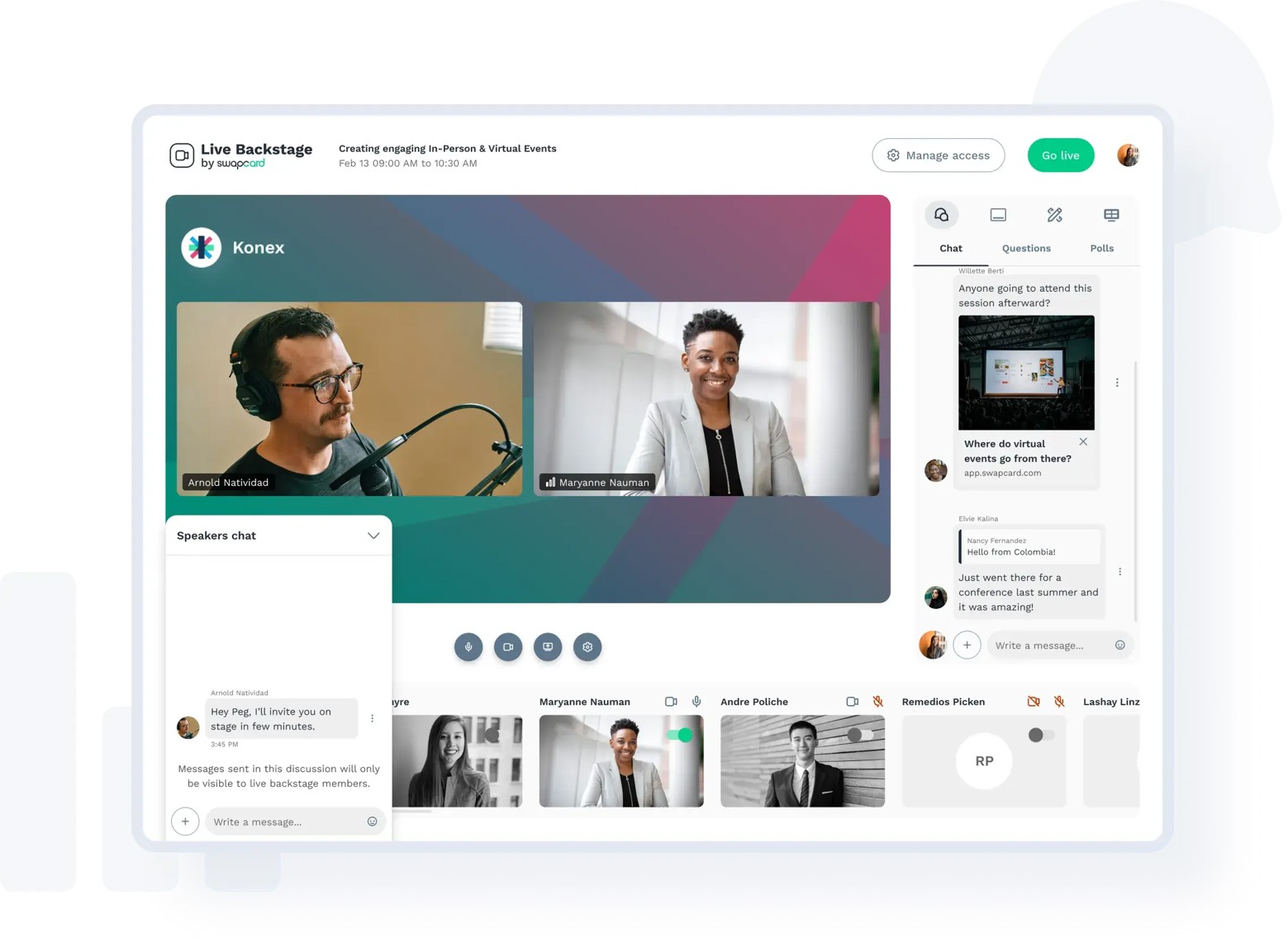 Swapcard is a comprehensive event management and networking platform designed to enhance the experience of virtual and hybrid events. It offers a wide range of features to streamline event planning, engage attendees, and facilitate meaningful connections.
Their exhibitor module and networking features are particularly interesting, but they don't feature any tools for virtual poster sessions (like Fourwaves) which is an important aspect of scientific conferences.
Pricing: There's a free plan for smaller events, otherwise plans start at 1,090$ per year.
Pros:
User-Friendly Interface.
Robust features for meaningful interactions among attendees.
Distribution and accessibility of event content.
Interactive Features like Q&A sessions and polls.
Cons:
Can be costly particularly for annual events.
Some advanced features may require time to master.
Bonus: 4 tips to improve attendee experience
Improving attendee experience during a virtual conference is paramount for event organizers. In today's digital landscape, attendees expect seamless, real-time interactions and engaging content. 
Ensure your event experience is just as pleasant and engaging as any in-person or hybrid event by using these few tips to your advantage.
Create a variety of engaging content: Provide diverse and engaging content formats, such as live sessions, Q&A discussions, interactive polls, and pre-recorded videos, to keep attendees interested and involved.
Use interactive features: Incorporate interactive tools like live messaging, polls, and networking features to encourage active participation and connection among attendees.
Have clear communication: Communicate event details, schedules, and technical requirements clearly and well in advance to ensure attendees are informed and prepared. You can use email marketing, social media, or in-events communications.
Publish post-event resources: Make on-demand event recordings and materials accessible after the event, allowing attendees to revisit content and continue learning at their own pace.
Unlike on-site events, virtual platforms offer the advantage of tracking attendee engagement in real-time, allowing for quick adjustments and enhancements to ensure a memorable and interactive event for all participants. So take advantage of the engagement features provided with your event management software to make your event a roaring success. 
Get started today!
In the rapidly evolving landscape of virtual events, selecting the right platform can make all the difference in the success of your gatherings. The eight virtual event platforms we've explored offer diverse features and functionalities to cater to various needs, from large-scale scientific conferences to intimate webinars and everything in between.
Whether it's the robust networking capabilities of Hopin, the user-friendly interface of Zoom, or the immersive virtual tables of Remo, there's a solution for every event type and scale.
And if you organize scientific or academic events, the right solution for you may be Fourwaves, as it not only includes everything you need to host the virtual conference, symposium or virtual poster sessions, but it also includes powerful tools for a promotional website, registrations and abstract submissions. 
Simply try it out for free, or book a 1-on-1 demo to get started!