A conference management system is a software platform that helps organizers manage their events.
For academic conferences, a conference management system ideally allows users to collect registration fees, communicate with participants, manage abstracts, reviews and content uploads, and facilitate live streaming and virtual poster sessions if the event is hybrid or virtual.
With academic and scientific conferences, most of the event program is devoted to providing participants the opportunity to present their own research to their peers in the form of oral presentations or poster sessions. Participants are often a mixture of tenured professors, scientific researchers, graduate students and postdoctoral fellows. In order to properly manage an academic conference, organizers need a conference management system that is tailored to their event.
In this article, we present you with what we believe are the five best conference management systems available in 2023.
In 2012, I founded Fourwaves alongside three other bioinformatics researchers. We had all attended many academic conferences over the course of our academic careers. This led to a deep understanding of what event organizers and participants need and the recognition that there was no all-in-one conference software solution available at the time.
After completing our PhDs, we shifted focus from pursuing our research careers to the development of a new event technology meant to simplify the academic conference event planning process for scientists and event planners.
Fourwaves is a one-stop-shop for all the features that event organizers need.
These include:
The ability to create an informative, mobile-friendly event website with the option to keep the site live indefinitely to maximize the impact of the event.
A complete registration system and online payment system with mass emailing capabilities.
Flexible abstract management and peer review features to find the top scored submissions and communicate with authors directly from the software.
A detailed event program with links to livestreams and the ability for participants to build their own agenda.
The ability for organizers to download a uniform abstract booklet, poster board tags with QR codes, and name tags that are ready-to-print.
Multiple communication options allowing participants to contact each other privately or have asynchronous public discussions about the content presented.
An advanced virtual poster hall complete with laser pointers and the ability to facilitate integrated video conversations.
A nifty web-based event app that you can use to streamline your virtual conferences planning and have a very successful event online.
One thing that sets Fourwaves apart from other Conference Management Systems is the functionality to support in-person, hybrid, and virtual events including virtual poster sessions. Poster sessions are an important element of most academic conferences, and with the increased popularity of hybrid and virtual events, conference organizers require tools that allow them to host poster sessions in a variety of formats.
Another unique aspect of this platform is that Fourwaves event websites are actually a mobile web application that can be used for on-site and virtual attendees. It allows them to access the schedule, a dynamic list of presentations and a complete participants list.
The event management platform can be fully customized to meet any unique needs.
What customers like best: 
An all-in-one solution - this means one vendor to communicate with, one bill to pay, one support team to collaborate with, and one pleasant, cohesive customer experience using features built to work together
Offers fast, easy, intuitive setup with a website template and optimised workflow
Readily-available, helpful support team and 24/7 help center
A conference management tool so easy and intuitive that organizers rarely face technical hiccups
One of the only management solutions that facilitates virtual and hybrid poster sessions
2. Swapcard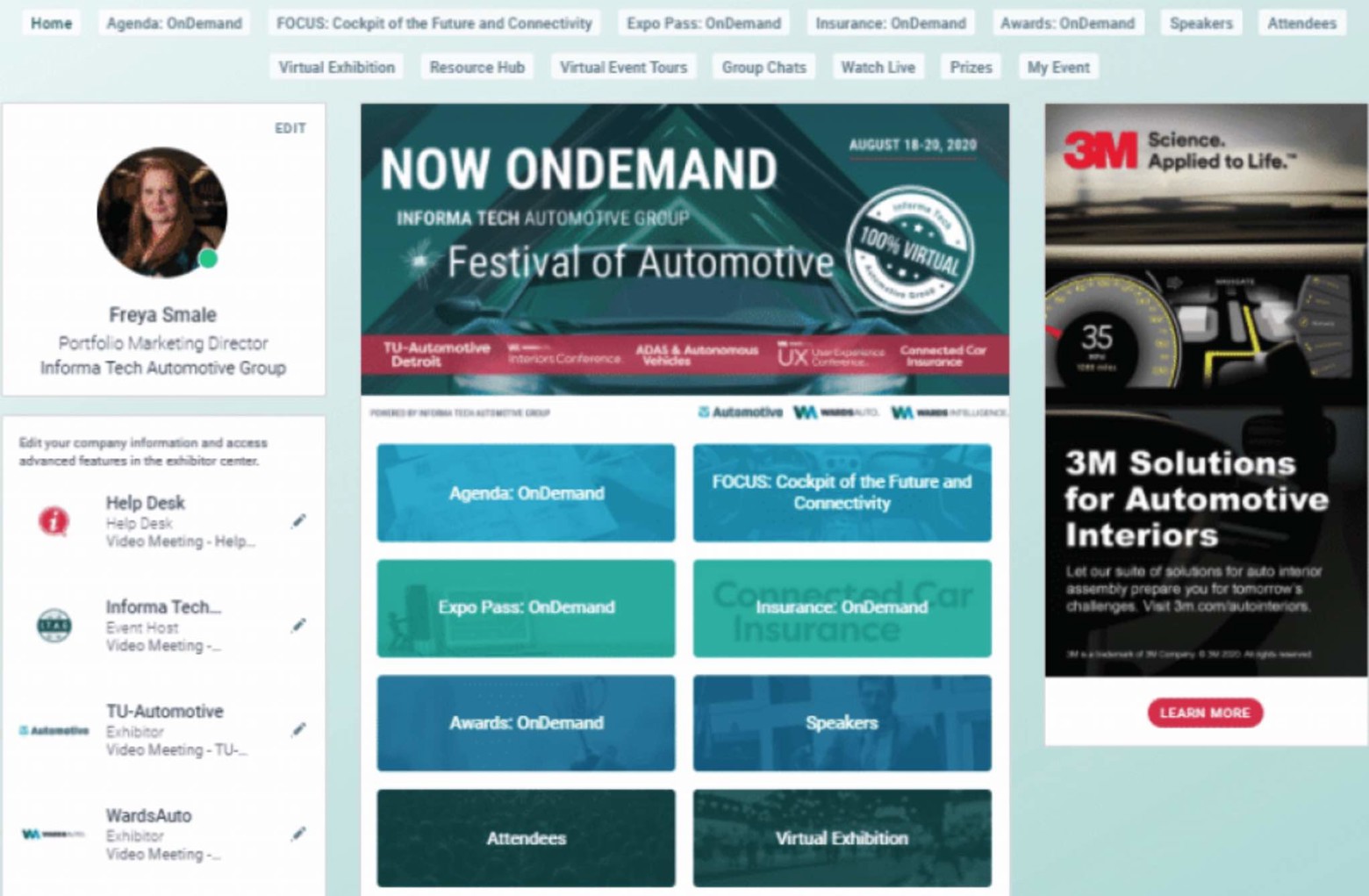 Founded in 2013, the Swapcard team refers to its software as "an AI-powered all-in-one event and matchmaking platform that runs impactful in-person, virtual, and hybrid events."
While Swapcard does lack some primary functions needed by academic conference organizers like abstract submissions, poster sessions, and reviews, this is a great event management system for networking sessions.
Here are the main functions of Swapcard:
The ability to host in-person, virtual and hybrid events.
AI-powered matching functionalities that connect like minded people and businesses operating with similar missions, creating networking opportunities and generating leads for event sponsors.
Promotion functionality including search engine optimization, customer communications and notifications, easily embeddable widgets, and simple whitelabelling to allow users to apply their own organizational branding to any materials.
A dashboard that enables the tracking of ROI and participant event programs.
Features that make it easy for participants to communicate, like video calling and direct messaging.
The ability to monetize an event by managing all registration and sponsorship payments, supporting a variety of discount options, and allowing organizers to choose between one-size-fits-all or tiered payment options.
Easy integrations with over 25 software providers offering functionality not included in the platform like social media event marketing tools, invoicing, mobile apps, cherck-ins, AI etc. Notable partners are Personify, Eventbrite, Zapier, and Cvent.
What customers like best:
Helpful, friendly customer service
Intuitive and easy-to-use platform
Support events in over 30 languages
Easy integrations with a wider variety of other software platforms and event ticketing platforms

3. Cvent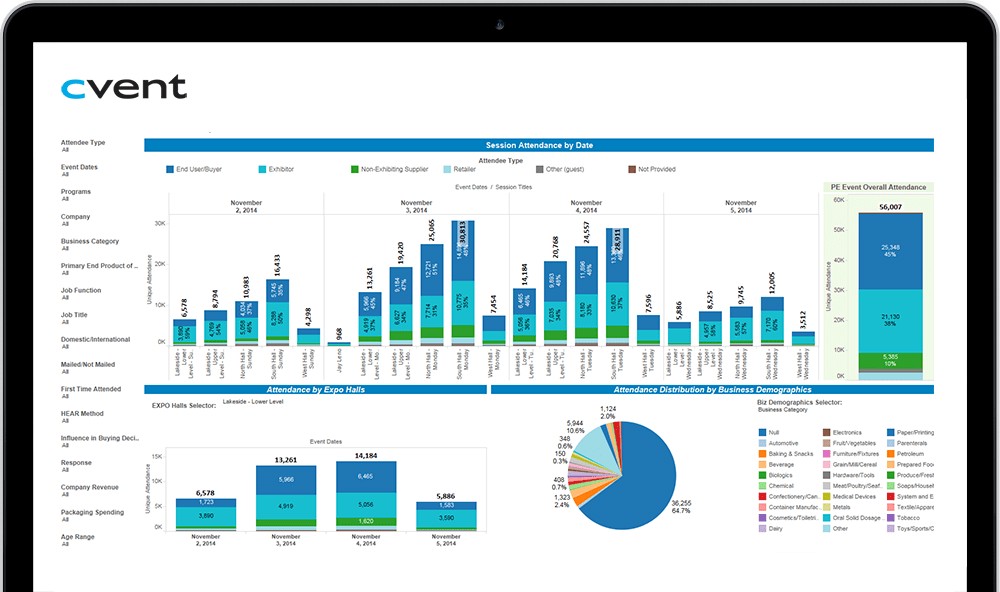 More than 5 million events have been managed using the Cvent platform since its launch in 1999. With over 21,000 customers and 4,700 employees around the world, Cvent is a large, multi-functional conference management platform that includes all of the functions needed by event organizers from any industry or focus, including academia to do event scheduling, online ticketing, payment processing and more. With a higher price-point than other all-in-one solutions, Cvent includes the following functions:
The ability to host in-person, virtual, and hybrid events.
Webinar hosting functionality.
Full registration functions including payment management features, attendee scheduling, attendee accommodations, and revenue tracking and post-event reporting.
Assistance finding a venue and accommodations and managing the logistics involved through Cvent's network of over 290,000 venues around the world.
Integration with organizer's CRM software to track leads, future partnerships, and keep organizer's sales and marketing teams in-the-know.
An attendee hub that allows participants to connect, interact, and share information.
AI-powered networking opportunities that help event participants find potential research and business partners through the identification of common areas of focus, interest, and funding.
An on-demand content library that provides participants access to event-related content throughout the conference and after it ends.
Supports every stage of the conference organizer's journey from planning the event, to attracting participants through marketing and promotions, to increasing attendee engagement, and finally following-up and gathering feedback.
What customers like best:
24/7 tech support
Support for events in 15 languages
Personalized survey options
The ability to clone event setup from previous years
4. Ex Ordo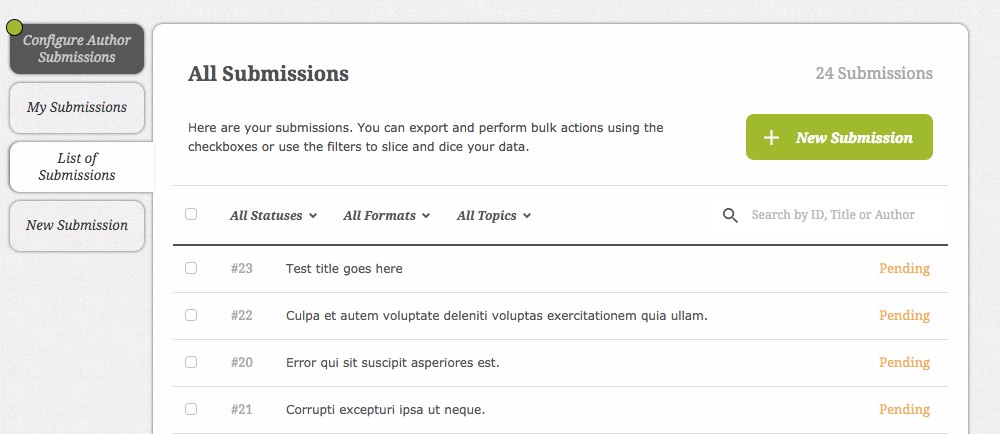 Founded in 2011, Ex Ordo has become a major player in the conference management software industry. With a specialized focus on facilitating academic research conferences, the platform supports conference organizers with most of the important functions they need, but does not currently offer the option to host hybrid and virtual poster sessions.
Here are the main features included in the Ex Ordo software platform:
The ability to automate the process of managing abstracts and conducting peer reviews.
A simple way for conference organizers to build a customized registration process with a registration form covering everything from accepting payments via credit card or wire transfer, to managing who has paid, to limiting ticket sales for certain sessions.
The ability to efficiently review analytics, so you can analyze every element of your conference in real-time, helping you make data-driven decisions for continuous improvement.
The ability to set customized access levels for individual conference organizers, presenters and attendees, ensuring that each person has easy access to the information they need, but nothing they don't.
A communications hub that makes it easy for organizers to communicate with anyone affiliated with the event, like exhibitors.
A heavy focus on data protection and security.
What customers like best:
The ability to publish a mobile conference app on both iPhone and Android.
A simple abstract-review process, even when there are many reviewers.
5. Easychair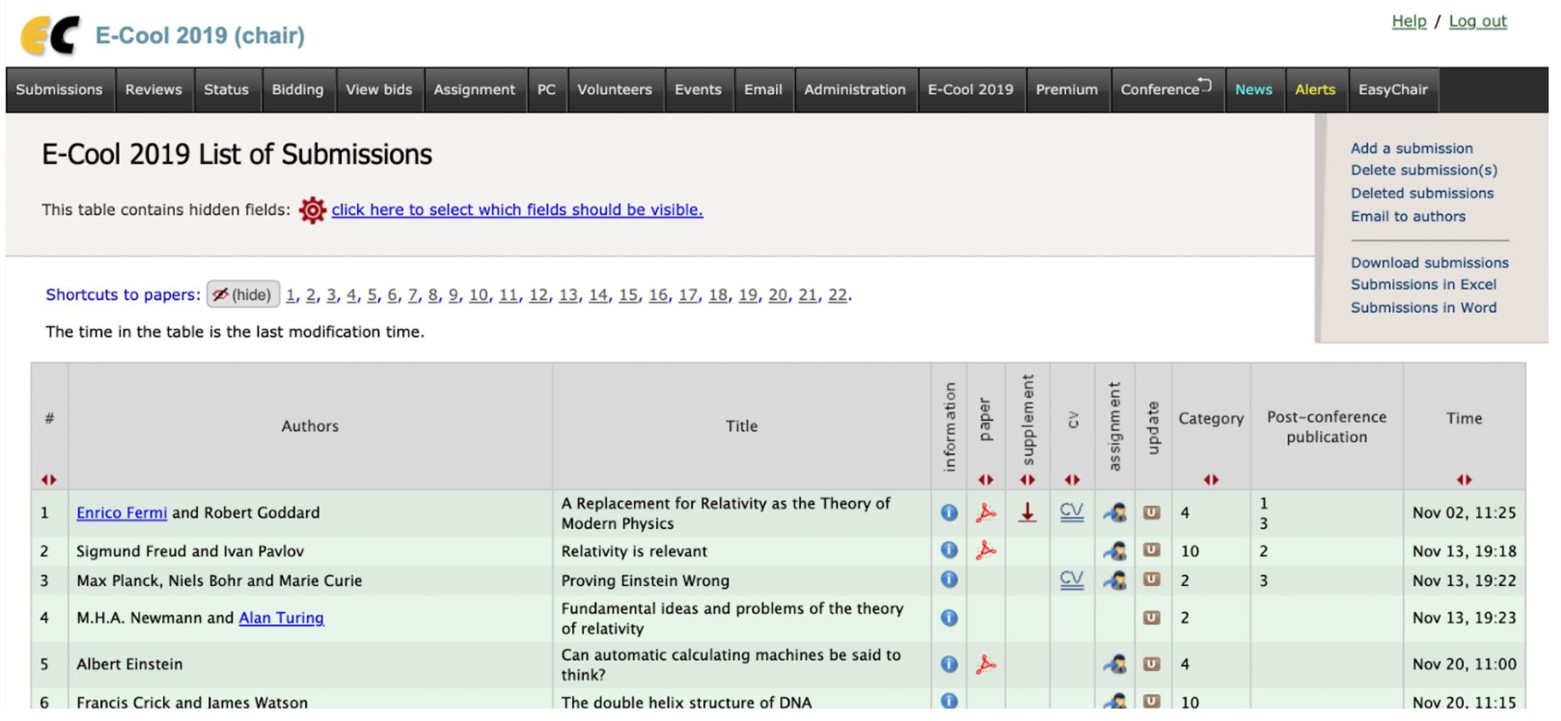 Founded in 2006, EasyChair can now boast over 3.7 million users and over 101,000 events managed. This platform facilitates events of all sizes, from just a few participants to conferences with thousands of attendees. 
EasyChair services include:
Full registration management including payments
An automated abstract management and peer reviews process
The ability to host in-person events, online events and hybrid events simultaneously.
The Smart CFP platform that makes it easy for organizers to distribute their call-for-papers to over 2 million subscribers.
The Smart Slide feature that allows users to publish presentation slides within the platform for attendees to download and share before, during, and after the event concludes.
Publication services that make it easy to disseminate conference research papers to scientific publications to be published.
Automated conference program creation.
What customers like best:
A product team that is responsive to feedback, making improvements based on customer requests and recommendations.
A matching algorithm that assigns research to reviewers with interest and expertise in that specific area.
Conclusion
There are many conference management systems available on the market with varying features and functions. There are typically a few different event management tools and features for each event planning software depending on their target audience.
You can find functionalities such as online registrations, attendee management or project management tools. All of which are created to help you schedule, manage and host any types of events.
The goal of this article was to bring all these important option and information in one place so you can identify which platform is right for you.
Whether you're looking for an event management solution for your next seminar or conference, or trying to find the best event management software for your online poster session, we hope this guide will help you find the right event platform to provide the perfect event experience to your attendees.
If you're interested in learning how Fourwaves can help you plan and organize your academic conference, book a demo to see it in action today.
For in-person, hybrid and virtual events
The conference management system for scientific events
Try Fourwaves