Academic conferences are a great networking opportunity for scientific researchers, students, and professors alike. These events bring together a group of engaged, like-minded people, providing researchers like you a perfect venue to get to know others in your field. They also expose you to new and exciting research and trends, valuable information that could even inform your own work. 
The people you meet at an academic or professional conference could potentially become partners or colleagues down the road. In fact, when delegates of the 3rd and 4th International Marine Conservation Congresses (IMCCs) were surveyed about the benefits they enjoyed from their participation in this conference, 91% reported meeting new contacts, 64% reported learning new ideas that could lead to a future publication, and 36% reported making contacts that could lead to funding down the road. 
What is an academic conference?
An academic conference is an event that brings together scientific researchers who share a particular area of interest. These can be single-day or multi-day events that provide researchers with the opportunity to present their work, solicit feedback from the academic community, and network with their peers. In these events, higher education studies can be presented and discussed. It can be in the form of in-person conferences, virtual events, international conferences, webinars, poster sessions, and more.
What makes a good academic conference?
A good academic conference has a well-organized program, attracts the top researchers in a given field, is packed with interesting, valuable, peer-reviewed content, and provides ample opportunities for peer networking. A dedicated, well-rounded organizing committee is key to successfully operating a good academic conference. It can provide interesting keynote speakers, online conferences, panel discussions, roundtables, and other learning activities
How to make the most of an academic conference
All academics attend and participate in academic conferences at some point in their careers, from graduate students, doctoral students, to researchers and mentors. These events can be extremely beneficial in helping young researchers make a name for themselves in their chosen field, and to learn new concepts, and make contacts that could lead to new projects or funding in the future.
Academic conferences are an investment of your time and money, so it's important to get the most out of these events. Whether you're participating in the conference as an attendee, a presenter, or a member of the organizing committee, there is a lot you can do before or during the event that will help you maximize its value.
1. Do your research
Before selecting which conferences to get involved with, it's important to be certain that the event you're attending or applying to present at is legitimate and well-received. Not all academic conferences are created equal. There has recently been an increase in fake conferences, or predatory conferences, which lack the peer-review process that is so important for the legitimacy of the work being presented. It is important to carefully research an event before deciding to participate. Sign up for notifications from reputable conference announcement websites to be alerted about upcoming events in your field. 
There are many academic conferences to choose from, and attending a conference that's in any way related to your field of interest is usually a good idea. However, if you're hoping to present, make sure the subject matter being discussed at the event is a good match for the research you're conducting before you apply. You will significantly increase your chances of having your paper accepted by presenting it in a way that works well with the overall theme of the event.
2. Get familiar with the presenters
Once you've decided to attend an event, review the conference agenda and identify the presentations that interest you most. Get familiar with the associated researchers by becoming acquainted with their work, past and present.  At the event, go up to them and introduce yourself when you get a chance. Your prior research will lead to great conversation starters that can help you make valuable connections. 
Meeting world-renowned members of the academia and fellow researchers is one of the most valuable elements of attending an academic conference, and there's a good chance that these researchers with interests similar to yours would welcome the opportunity to network with you, too.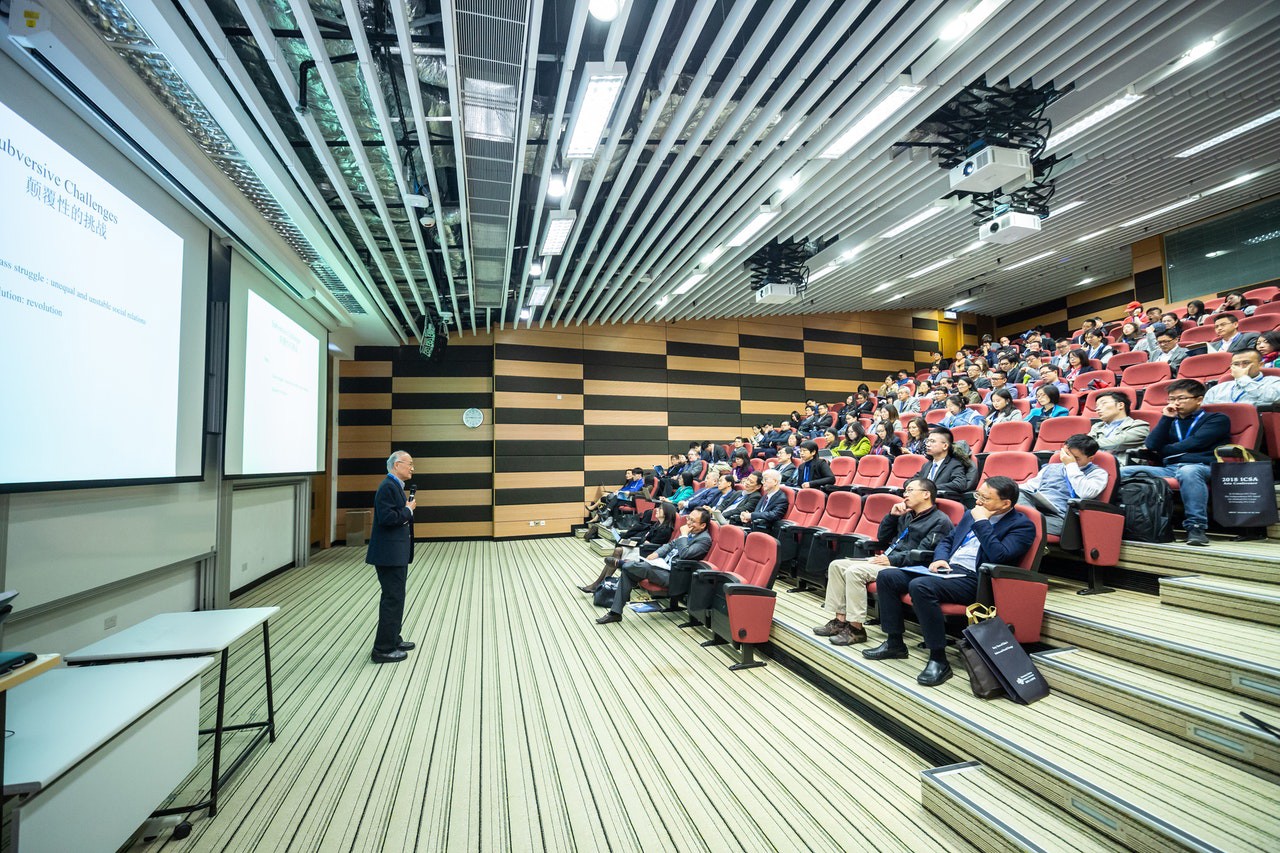 3. Get to know the other attendees
It can be tempting to stay close to people you already know when you run into them at these events, but avoid this urge. Step out of your comfort zone and introduce yourself to people you've never met before. They are at that conference to network as well, and there's a good chance that you'll have a lot to talk about. Whether it's a virtual conference on Zoom or on-site, you'll likely have networking sessions as part of the conference, so take advantage.
If you're an introvert, know that you're not the only one. Prepare a few 30-60 second elevator pitches so you feel ready and confident to answer questions about yourself and your work when you're meeting new people. Write one elevator pitch about yourself and your background – a verbal CV of sorts, and one about the research you're currently working on if that's the reason you're there, and another about what you're interested in learning from the event. This will help prepare you to articulate yourself smoothly and confidently, and give a good impression to the new people you are connecting with. Who knows – they could be your next research partner, colleague, or department chair. 
Networking is one of the main benefits that researchers can take away from a conference, but networking doesn't usually end along with the day's agenda. Some conference organizing committees will plan post-event social activities or tours of the city where the event is taking place. If they do, consider taking part. This is a great way to get to know other researchers in your field outside of a work environment. If you don't hear of any official events, approach someone whose work you find interesting and invite them for a drink or a meal. 
4. Arrive early
If you're unfamiliar with the city or venue where the conference will be hosted, it's highly recommended to arrive early to ensure that you know how to get there and you're familiar with where you need to be and when. The same goes with virtual events, log in a few minutes earlier than when the conference starts to you can familiarize yourself with the virtual event software and ensure you don't have any technical issues.
5. Don't take it personally 
Academic conferences attract a lot of researchers with similar areas of focus, but within that group there are a wide range of interests. When you're networking, there will be people who are simply not interested in the things you want to discuss – don't take it personally. Take the opportunity to talk about your research both during plenary sessions, and in the networking opportunities outside of the planned presentations. 
One of the most valuable things you can get out of witnessing others share their work at an academic conference is observing the feedback coming from other experts in your field. Some of that feedback will be positive, and some will be negative, but it's all valuable, and being exposed to this process before you attend a conference as a presenter will help make you more comfortable with that experience when the time comes. 
Don't be shy about providing your own feedback either. Presenters are expecting a wide range of feedback from different people. By sharing your thoughts with your peers, you can help introduce new hypotheses and methods that may not have occurred to them before. This could add to the development of their current work, helping them get the paper they've been working on ready for submission to an academic journal, or spark ideas for new research projects to come back to in the future. It could even lead to a new partnership or employment opportunity down the road.
6. Balance your day
Conference agendas are available online in advance of the event. Take the time to review who is speaking about which topics and when, and make note of the sessions you definitely want to attend. 
Most academic conferences include plenary sessions, panel sessions, and keynote sessions. There is a lot of information to take in at these events, so plan which sessions you want to attend well in advance of the event date. It can be tempting to focus mainly on keynote sessions and learn from the big names on the organizing ticket, but there are benefits to attending a variety of session types. 
Don't be afraid to sit in on plenary sessions that are outside of your specific stream. These sessions are open to all conference attendees, and they can provide interesting and unexpected insight that will impact your research. 
7. Follow up
There's a good chance that after a few days of learning and networking, you're going to come home exhausted and wanting to put everything you've learned out of your mind for a few days. Not so fast. To maximize the value of the time and money you spent attending that conference, take an hour or so at the end of the day to document what you've learned and the contacts that you've made. Most conferences provide a book or agenda with a collection of abstracts from the various discussions presented. This book is a great tool to record the details of the event. 
Keep track of the people you met and what you spoke about. These conversations may or may not be relevant right away, but you may be working on a project week, months, or even years down the road when it would be relevant to reconnect.
Keeping these notes will give you the opportunity to reach out to the notable connections that you made once you get home. It's a small world, and your field of study is even smaller, so there's a good chance that your paths may cross again someday. Taking the time to reach out and thank them for their feedback and insights can leave a lasting impression. 
8. Don't miss the poster sessions
Poster sessions are an additional opportunity to network with others in your field and learn about research projects that may not be accessible via a keynote or other presentation. Researchers apply for a poster session in a similar way that conference presenters apply, and, if accepted, they present their work visually in the form of a hard-copy poster to be displayed at the conference. Then, during the poster session which usually lasts between 1-2 hours, the researcher will be present with their poster to explain their work and answer any questions.
Large conferences will often present a significant number of posters, so to avoid missing the sessions on the topics that interest you most, be strategic and check out the posters in advance of their sessions. This way, you'll know which posters you want to visit during the session and organize your schedule accordingly. 
But what about virtual conferences? 
Virtual conferences are more common than ever before, and while many of the tips provided above don't make sense when it comes to attending a virtual conference, there are some that apply much the same as they do to an in-person event.
These include:
Before registering for a virtual conference, look carefully into the event and its organizers to make sure it's a real conference and not one of the fake conferences that were discussed earlier on.
Research the presenters in advance and be prepared with questions. There are opportunities to provide feedback at virtual conferences just like when you're in person, so be sure to ask questions and share your thoughts.
Don't be afraid to introduce yourself. Virtual conferences usually set aside time for breakout rooms and networking sessions, so take advantage of these as much as you can. It can feel awkward to network through a screen, but in our increasingly digital world, this is something that we are all going to have to get comfortable with quickly. 
Make sure your surroundings are conducive to a day of quiet focus. Give yourself the best opportunity to learn and make connections by ensuring you won't be distracted by children, pets, household responsibilities or work. 
Put your phone on do not disturb and pause the notifications that will otherwise come through on your computer. All of these things can detract from your learning, and prevent you from getting the most out of your conference participation. Consider whether your home environment is the best place for you to be during the conference hours. It may be worthwhile to seek out an alternative location that can allow for greater focus. 
Presenting at an academic conference
Academic conferences are more apt to accept research papers that are not quite as polished as they need to be for acceptance to an academic journal, making conferences a great place to solicit feedback that will help you refine your work and get it ready for journal submission. 
It's normal to be intimidated, or maybe even afraid to present at an academic conference, especially if you're in the early stages of your career. Try to remind yourself that once you arrive at the event, you will be surrounded by the top researchers in your area of study, and at some point, every single one of them attended or presented at an academic conference for the first time. You're not alone. 
If you're going to be presenting at the conference, here are additional guidelines to get a spot and make the most of your experience.
1. Review the call for papers and peer review process
Before submitting your work to the conference organizers so it's added to the conference proceedings, carefully review the call for papers issued by the event and pay attention to any details provided. These details could include the length of your paper, the length of the abstract, citation guidelines, and more.
Conference organizers can choose between a variety of peer review processes through which they assess the submissions to present at their event. Be sure you're aware of the review process being used by the conference you're applying to in case the selection has an impact on the way you structure your submission. 
2. Practise your presentation
This seems like a no-brainer, but many academics are so accustomed to speaking in front of classrooms full of students and so confident that they know their subject matter inside and out, that practicing their presentation may not seem worthwhile. Do not make this mistake. Speaking to a classroom of students is a very different feeling than speaking to a room full of peers and mentors, and even the most confident speakers can easily lose their cool when faced with this new, more intimidating audience. 
Related read: 15 Tips for Presenting at a Conference
Conclusion
Academic conferences are a wonderful way to share your research, solicit important feedback, learn about trends in your field, and network with like-minded people. Attending, presenting, or organizing these events are each a valuable experience that can help you enhance your CV and build your career.