In today's digital age, the success of any conference hinges not just on the content and speakers but also on the integration of technology that enriches the attendee experience. Enter the conference app: an event organizer's virtual sidekick.
Here, we dive into the world of conference apps, illustrate their benefits, and review five essential apps that promise to elevate your virtual, hybrid or in-person event from mundane to extraordinary. Whether you're planning a tech-savvy trade show or a scholarly symposium, we've got an app that aligns with your vision, ensuring that your conference resonates with every attendee long after the final keynote concludes.
What is a conference app?
A conference app is a specialized mobile (or web) application designed to enhance the experience for attendees of a conference. It serves as a digital guide, providing users with essential information about the event, such as schedules, speaker bios, session descriptions, venue maps, and other vital updates. 
The best conference apps often include features for networking, allowing attendees to connect with one another and with speakers, as well as tools for organizing personal event agendas. Additionally, conference apps may offer interactive elements like live polling, session feedback, and social media integration to engage users and facilitate communication between attendees, organizers, and presenters. If you're organizing a conference, be sure to check for these features (especially if networking is important for your prospective attendees). 
The benefits of using a conference app
These days, most attendees at larger onsite events and conferences expect a user-friendly mobile or web-based app to help them navigate and interact. However, that expectation isn't the only reason to invest in a good conference app. Here are a few of the well-known benefits:
Streamlined Communication: Conference apps can allow you to send real-time updates and push notifications to attendees, ensuring everyone is informed of changes and announcements without delay, and allowing for instant feedback or inquiries.
Efficient Scheduling: Some apps help you provide a digital schedule that can be easily updated, which helps in minimizing conflicts and confusion, and allows attendees to filter and find sessions that match their interests.
Enhanced Networking: Many apps contain features that facilitate connections between attendees with in-app messaging and attendee profiles, making it easier to foster professional relationships and exchange information without the need for physical business cards.
Interactive Attendee Engagement: Polls, Q&A sessions, gamification features, and feedback options are often included in conference apps. Features like these make sessions more interactive and help you gather valuable insights on participant engagement and content effectiveness.
Eco-Friendly: Digital apps reduce the need for printed materials, making the event more sustainable and cost-effective, and providing attendees with the convenience of online access to all event resources.
Analytics and Insights: Conference apps make collecting and reviewing data much easier. You can track attendee behavior and gather feedback for future event planning, which helps in understanding attendee preferences, improving the overall event structure, and sourcing relevant content (based on empirical evidence).
Personalized Experience: The ability to create personalized agendas and bookmark sessions of interest can enhance the user experience. It allows attendees to curate their own event experience tailored to their professional needs.
Resource Centralization: When all event-related materials and information are in one accessible place, including interactive maps, session handouts, and exhibitor information, it makes it easy for attendees to find what they need without the hassle of carrying physical documents.
Sponsorship Opportunities: Conference apps often provide an event platform for sponsors to showcase their brands and reach out to attendees, offering targeted advertising and lead generation tools within the app to maximize their visibility and ROI.
Accessibility: Some apps help you ensure information is accessible for all attendees, including those with disabilities, by incorporating features like screen readers, adjustable text sizes, and clear, intuitive navigation, fostering an inclusive event environment.
The best conference apps for 2024
Even a high-quality event app can feel like a flop if it's not the right fit for your event or your budget. So, we've put together a list of five great conference apps (and highlighted the best use cases for each) to make sure you find the right tool for your unique event.
1. Fourwaves
Best for… scientific and academic events.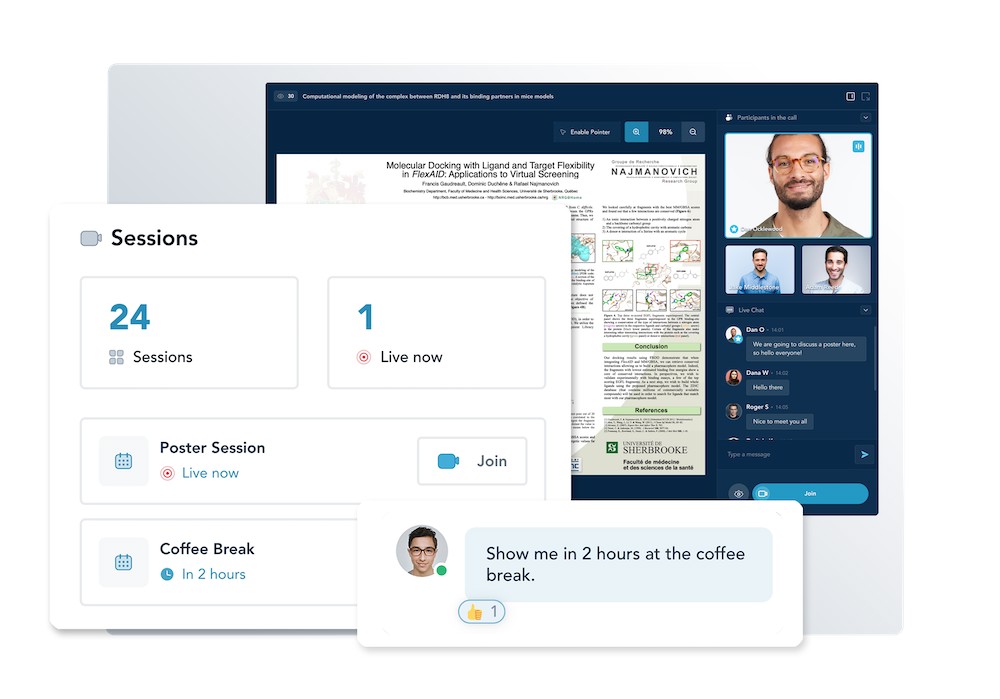 Fourwaves is an all-in-one event management tool that can help you create a professional looking and mobile-friendly event website in minutes. It's designed with scientific conferences in mind and includes features for abstract management, scheduling, presentations, virtual poster sessions, and registration. Its customizable site design function allows you to showcase sponsors, integrate registration and submission forms, and share the event schedule all in one place.
The web app enable you to access and filter the schedule, read abstracts, browse posters and contact other participants from your mobile device.
Pros: Easy to use, responsive, and clear. Presentations are easy to accept, review, and manage. Conversations among organizers, speakers, and participants are well-supported.
Cons: It's a web app, so even though it's mobile-friendly, it's not downloadable on app stores.  
You can get it for free or book a call to learn more about the solution. 
2. Eventbrite
Best for… general event ticketing and promotion.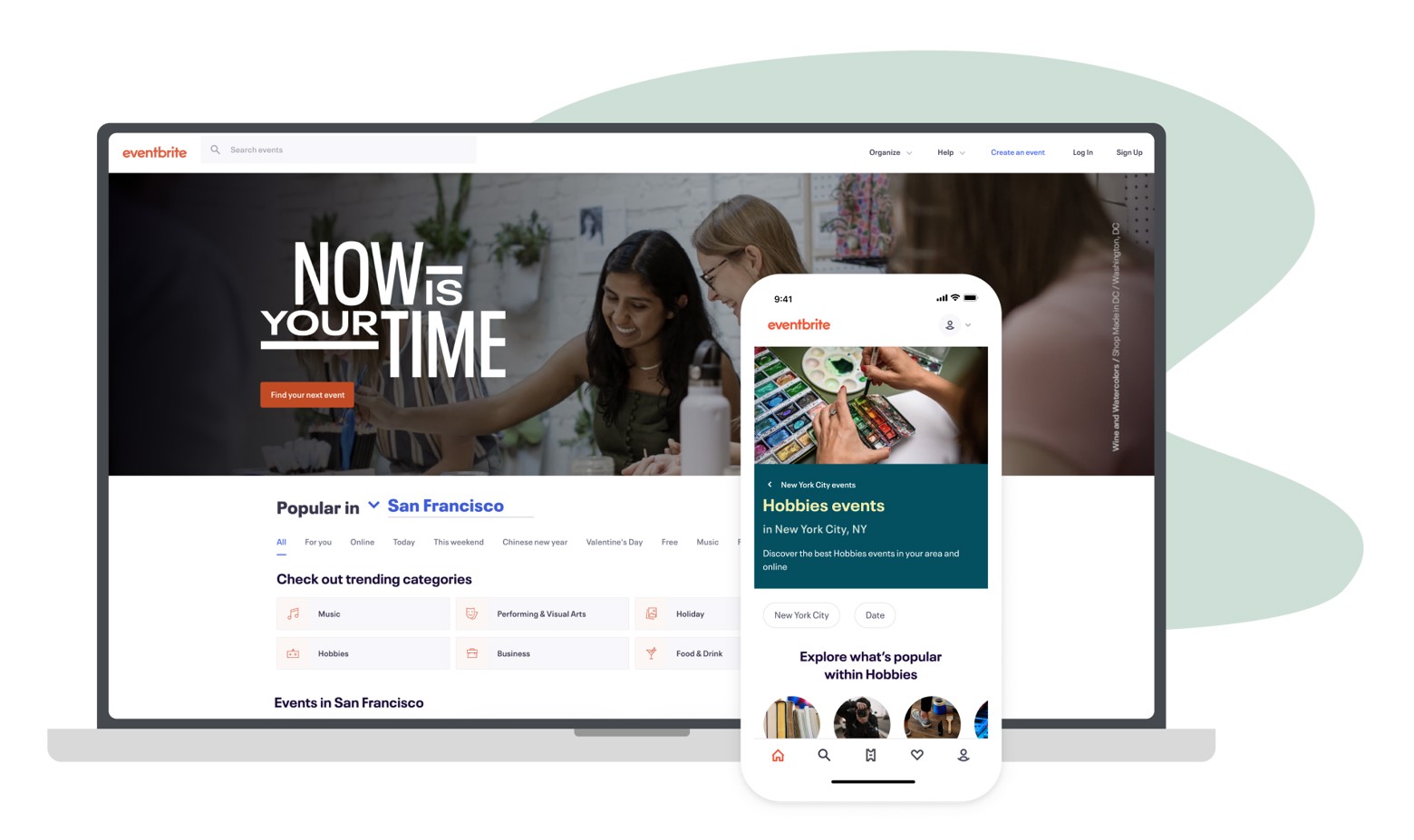 Eventbrite is a ticketing and discovery platform trusted by millions of event planners and attendees worldwide. It allows organizers to easily create and manage events in one of the world's largest and most trusted event marketplaces. Advanced plans also include features to help you host online events and automate marketing/promotions.

From check-in to last call, the Eventbrite Organizer app helps you oversee your event, monitor real-time ticket sales, check-in attendees with a scan, track up-to-the-minute attendance, and accept secure payment for event tickets and merchandise on-site. It's available on IOS and android.
Pros: Customizable event pages and checkout process. Real-time analytics and reporting. Unique mobile app experiences for organizers and attendees.
Cons: Primarily focused on event ticketing and promotion for straightforward, single-session events (it doesn't support other functions for hosting or organizing complex virtual events).
3. vFairs
Best for… large trade shows and job fairs.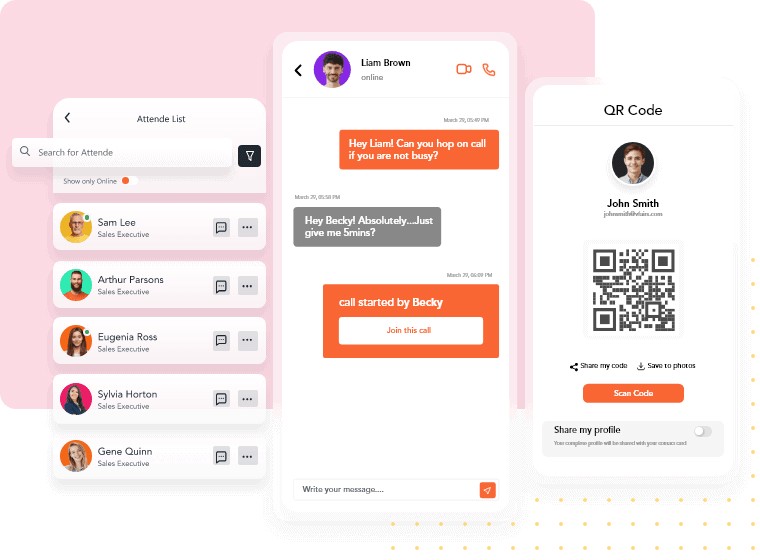 vFairs offers organizers a complete mobile event app and interactive virtual event hosting. From smooth check-ins to lead retrieval and networking, this tool is all about delivering a top tier attendee experience at trade shows, expos, sales conferences, job fairs, and other, similar events.
VFairs app has features such as QR codes check-ins, sponsorship features, live polls, exhibitor booths, and more. You can download the app on IOS and android.  
Pros: Immersive experience for virtual attendees. Excellent networking features. Good options for sponsors and virtual trade show booths.
Cons: High price tag with limited options to save money for those organizing smaller events.
4. Attendify
Best for… keeping tabs on event attendance.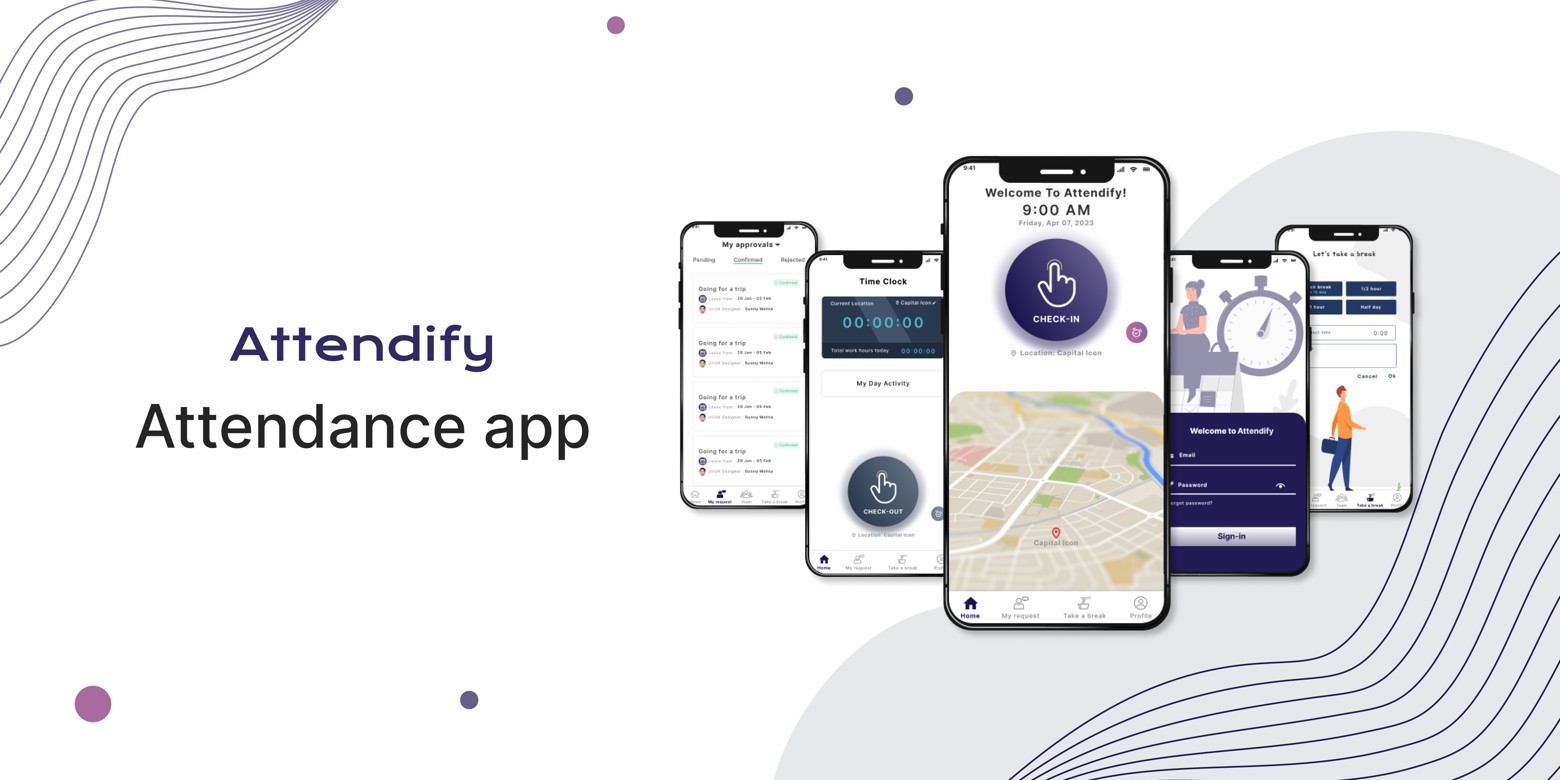 Attendify is a mobile event app with various features designed to track and improve attendance (and the attendee experience) at events. It's great for conferences that require proof of attendance as part of ongoing certifications. It simplifies the process by taking attendance with the tap of a button and it has top tier capabilities for drafting attendee reports.
Pros: Good data and reporting features. Functions well on multiple devices and browsers. Well integrated with other event apps.
Cons: Issues with the user interface and access controls can make some tasks difficult.
5. Whova
Best for… small events that need a basic mobile app.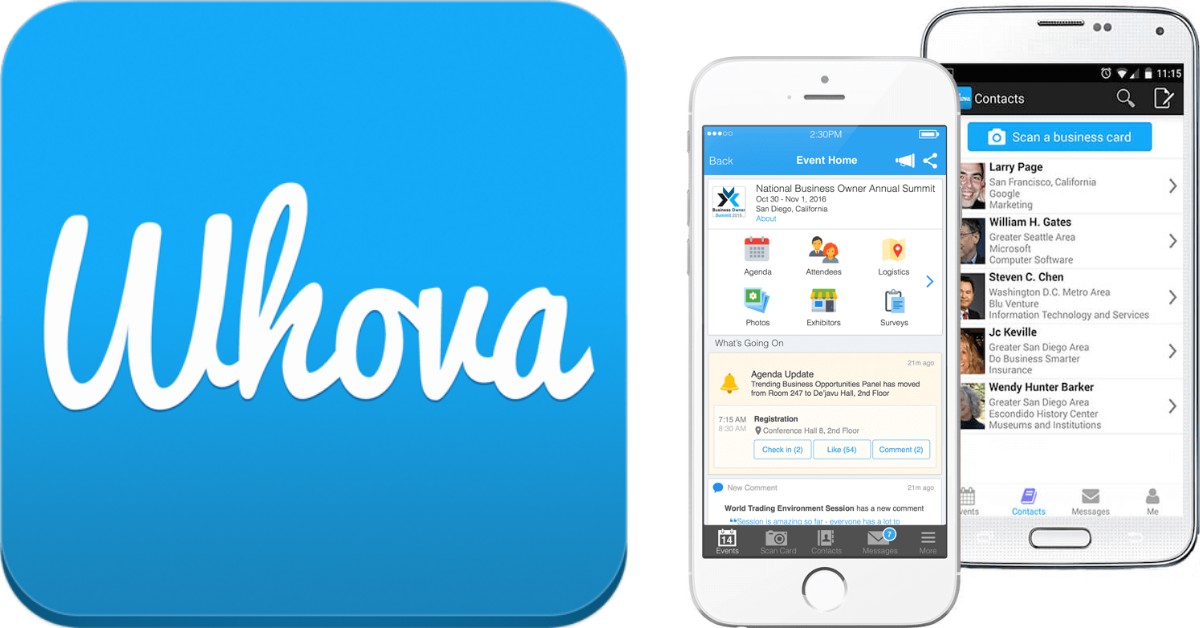 Whova is an event management platform with various features to improve the attendee experience. It can help organizers manage event registration, agenda creation, networking tools, and more. It allows attendees to easily access event information, customized schedules, real-time updates, and early networking opportunities via Whova's mobile app. Finally, there are various lead generation opportunities embedded in the event app for sponsors and exhibitors.
Pros: Good networking features and lead generation for sponsors. Simple packages available for relatively low prices.
Cons: Limited detail on event metrics and attendance. Few options for branding customization.
Selecting the best conference app for your event
The heartbeat of a modern conference no longer lies in the bustle of the meeting rooms or the chatter of the networking lounges; it pulses through the circuitry of the conference apps that have become the cornerstone of event planning. 
As we've explored, these apps serve as extensions of the event experience, each with its own flair and function. The five apps profiled offer a variety of features that cater to different event types and attendee expectations. By harnessing the power of these apps, you can transcend traditional in person, virtual or hybrid event limitations to create a more immersive and interactive gathering. So, as you embark on your planning journey, consider how implementing a great conference app could completely change the game for your event attendees.
And, if you're planning a scientific or academic conference, be sure to check out Fourwaves.
Fourwaves can make the planning process of your next event a breeze with abstract management, peer-reviews, a complete event website, and much more.