In today's rapidly evolving scientific landscape, conferences play a crucial role in sharing knowledge, forging collaborations, and pushing the frontiers of research. But the road to planning a scientific conference can often be overwhelming (especially if it's your first time leading an organizing committee).
In this guide, we break down the process into manageable steps, equipping you with the knowledge you need to host an unforgettable event. Buckle up for a crash course on planning a successful scientific conference that's bound to have your attendees buzzing with excitement!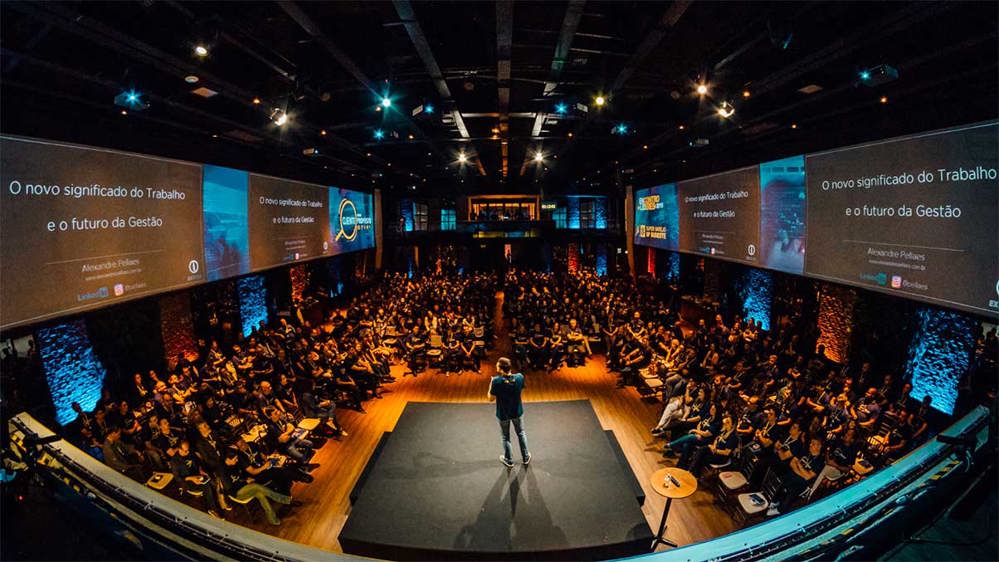 What is a scientific conference?
A scientific conference is a structured gathering where researchers share insights and discoveries in their respective fields, foster collaborations, and keep up-to-date with cutting-edge research.
Scientific conferences can have a variety of topics, they tend to be larger in size and wider in scope than symposiums, which are more focused on a particular subject or issue. They are also different from professional conferences as they are aimed at academia and the scientific community.
The hallmark of a great scientific conference is the quality and relevance of its content, paired with a dynamic, inclusive environment that encourages meaningful connections and exchanges. Having good coffee doesn't hurt either!
13 Steps to plan a great research conference
Planning a research conference requires strategic vision, careful execution, and a meticulous attention to detail. Let's dive into the key steps you'll want to consider as an organiser:
1. Define your theme and objectives
Every great scientific conference starts with a clear purpose. Set clear objectives, whether it's facilitating knowledge exchange, providing networking opportunities, or showcasing innovative research. Consider your target audience, which may include researchers, academics, postdocs and graduate students, industry professionals, or a combination. This is also a good time to discuss the theme of your academic conference as it will inform other decisions and promotional plans you may make later on.
2. Form a conference planning committee
Assemble a diverse conference planning committee with expertise in the event's subject area. Assign core responsibilities to different members of the team, from program development and logistics to marketing and financial management. This distribution of roles helps ensure that every aspect of the upcoming event is given the attention it needs.
3. Build your event budget
Creating an event budget is crucial to ensure the financial success of your scientific conference. Estimate your expenses, including venue costs, speaker fees, marketing, catering, audiovisual equipment, and staff. Allocate funds wisely, as even the smallest overlooked details, like those sneaky coffee break expenses, can add up!
Identify the financial resources you have available and consider other potential revenue sources such as registration fees, sponsorships, and grants. Set registration fees that cover your expenses and determine sponsorship packages to attract funding from organizations interested in supporting scientific research and innovation.
4. Choose your conference format
Choosing a scientific conference format isn't your typical 'this or that' scenario—it's a 'this, that, or both!' Choose from a traditional in-person conference, a digitally savvy virtual one, or the best of both worlds: a hybrid model. Each format has its unique advantages, so choose the one that best suits your audience, budget, and objectives.
In-person conferences offer traditional networking opportunities and more varied sponsorship options.
Virtual conferences provide access to wider audiences and cost savings. It's also a more popular approach post-pandemic.
Hybrid conferences combine these benefits, enabling both physical attendance and online participation. But, they're a bit more work (it's like planning two events in one).
Whatever conference format option you choose, make sure you find event management software that can support it.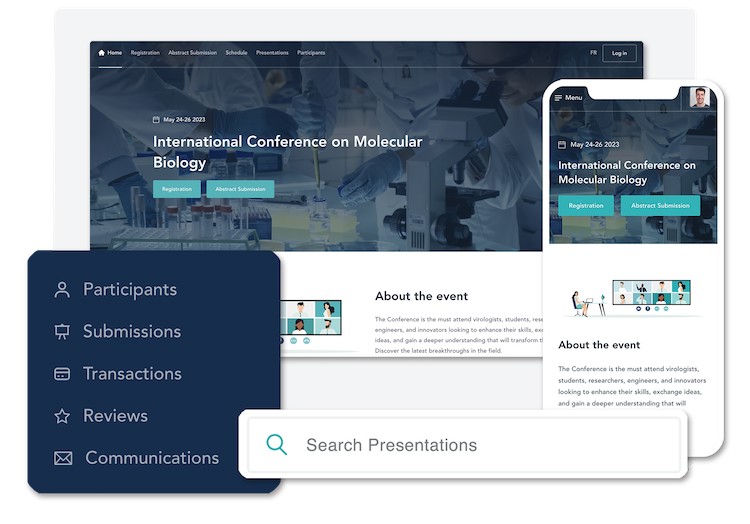 5. Set a date and secure an event venue
Selecting an appropriate date and venue is critical for the success of your conference. Consider factors such as the availability of potential attendees and speakers, accessibility, and cost. Avoid date clashes with significant events or holidays (nobody wants to choose between Christmas dinner and a keynote speech!).
When choosing a venue, determine whether you need to book a conference center, hotel, and/or university facilities. Ensure the chosen venue has the necessary infrastructure, including audiovisual equipment, internet connectivity, and sufficient space for sessions, exhibitors, and networking. Also, remember to evaluate whether it aligns with your chosen conference format.
6. Select your scientific conference software
Choosing an efficient conference planning tool is essential for streamlining administrative tasks. Look for an abstract management platform that allows you to manage registrations, speaker submissions, poster sessions, scheduling, and attendee communication. Research available options, considering features, user-friendliness, pricing, and customer support.
Luckily, there's plenty of software out there that is designed specifically for scientific events.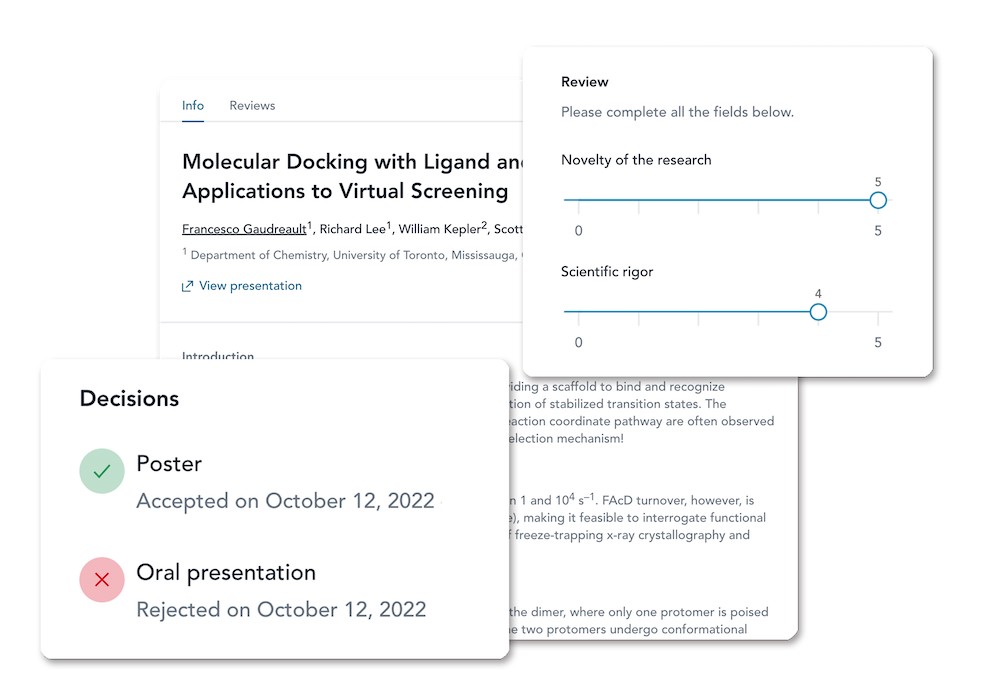 7. Find the right keynote speakers and presenters
Keynote speakers play a vital role in attracting attendees and enhancing the quality of your scientific conference. Identify experts and thought leaders in your field who can deliver engaging and informative presentations. Reach out to them early in the planning process, providing details about your conference and the benefits of participation. Consider diverse perspectives and ensure the speakers align with the conference theme and goals.

In addition to your keynote speakers, you'll need other presenters to bulk out your scientific conference program. So set up your peer review software and start accepting submissions to your conference early. Then, use that same software to facilitate the review and selection of high-quality presentations.
8. Plan your event program
Create a detailed event schedule that outlines session topics, speaker presentations, networking breaks, poster sessions, debates, and any additional activities. Allocate sufficient time for each session and ensure a balance between different topics and presentation formats. If it's a multi-day conference, create tracks or parallel sessions to cater to diverse interests.
Be sure to craft a conference program that balances riveting keynote speeches, illuminating workshops, and engaging panel discussions. And don't forget to incorporate social events and networking breaks—these are your conference's intermissions, where attendees can mingle and mull over the knowledge they've gained.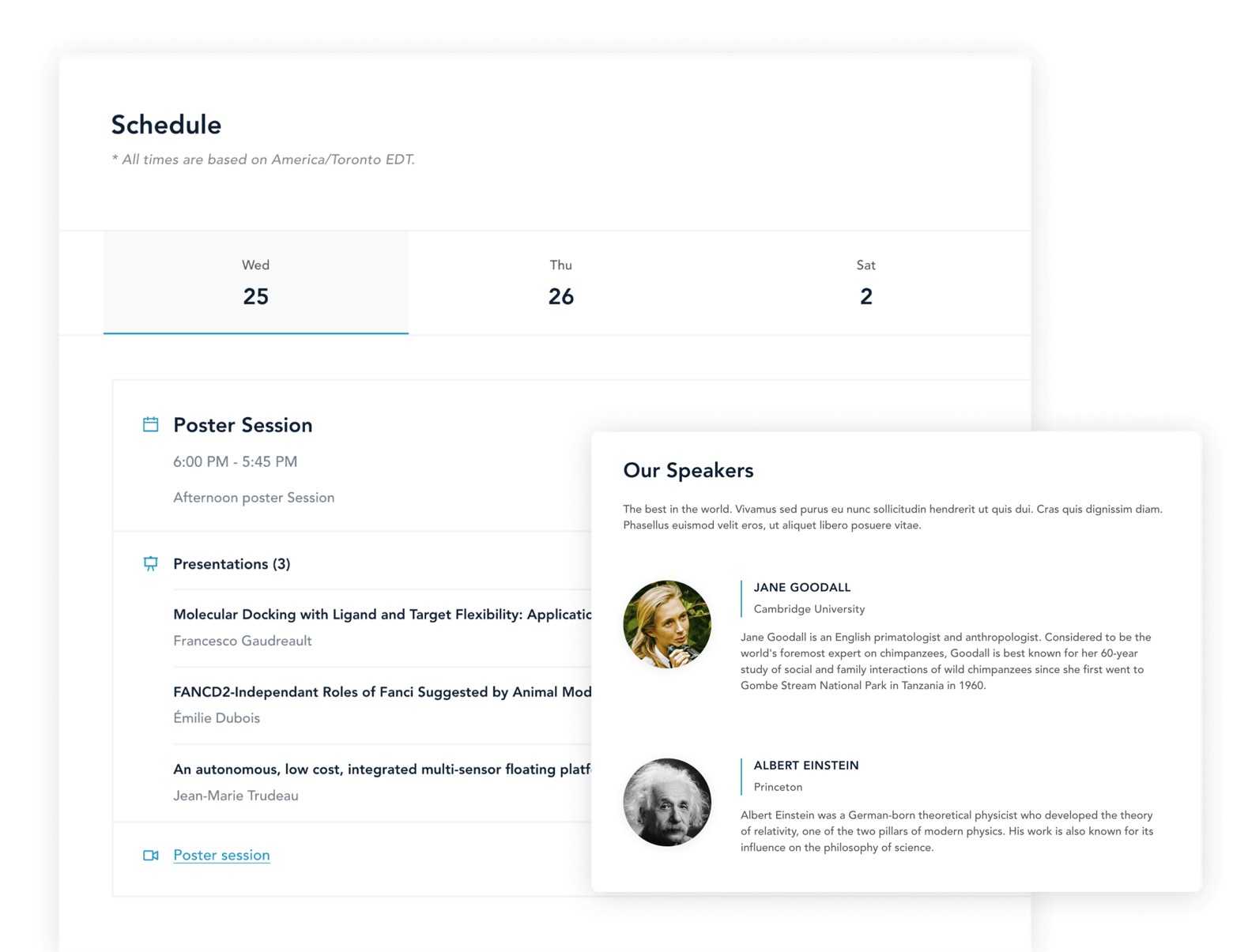 9. Secure conference sponsorships
Grab the attention of potential sponsors with attractive, tiered packages that offer a variety of options for visibility and benefits. Conference sponsors can include companies, research institutions, government agencies, or even individuals. And remember, sponsors aren't just ATMs—they're partners who can add value to your scientific conference in a myriad of ways, so keep them in the loop and cater to their needs. Follow up with sponsors regularly to ensure their questions are answered and their contributions are acknowledged.

10. Set up your conference registration system
Set up an online event registration system to collect attendee information, process payments, and issue registration confirmations. Consider segmenting registration fees based on attendee categories, such as early bird rates, student rates, or group discounts.
Once you've opened registrations, keep a watchful eye on registration numbers and remember—creating a sense of urgency (i.e. "Just a few tickets left!") can trigger a flurry of last-minute sign-ups.

11. Create an event website

Develop an event website to provide attendees with information about the conference. Include details such as the conference theme, dates, location, registration process, abstract submission guidelines, and important deadlines. Once you've determined your program, upload this to the event site as well.
Make sure the website is user-friendly, visually appealing, and mobile-responsive. Using a tool like Fourwaves can simplify the process of making an event website and allow for seamless registration and abstract submission.
12. Arrange other conference logistics

From ensuring the availability of necessary facilities at the venue to organizing catering and transportation, efficient logistics management is key to a successful conference.
Coordinate with the chosen venue to ensure availability of lecture halls, breakout rooms, audiovisual equipment, and Wi-Fi. Arrange catering services for meals, snacks, and beverages during the conference.
Organize transportation options, if necessary, for participants traveling to the conference.
Plan for accommodation. Research and negotiate with hotels near the conference venue to secure room blocks at discounted rates. Provide clear instructions on how participants can book accommodation within the room blocks.
These small and easy-to-overlook details can often make or break the conference experience for your attendees.
13. Promote your scientific conference
Effectively promoting your scientific conference is crucial for attracting attendees and ensuring its success. Utilize various marketing channels, including social media, email newsletters, academic networks, and relevant mailing lists. Create compelling content that highlights the conference's unique features, keynote speakers, and session topics. Encourage speakers and attendees to share the event with their networks (On their Linkedin for example). Leverage partnerships with professional associations and research organizations to extend your reach.
Additionally, consider offering early-bird registration discounts, organizing webinars or panel discussions related to the conference topic, and reaching out to media outlets or academic publications for coverage. This way you'll reach as much as the scientific community as possible.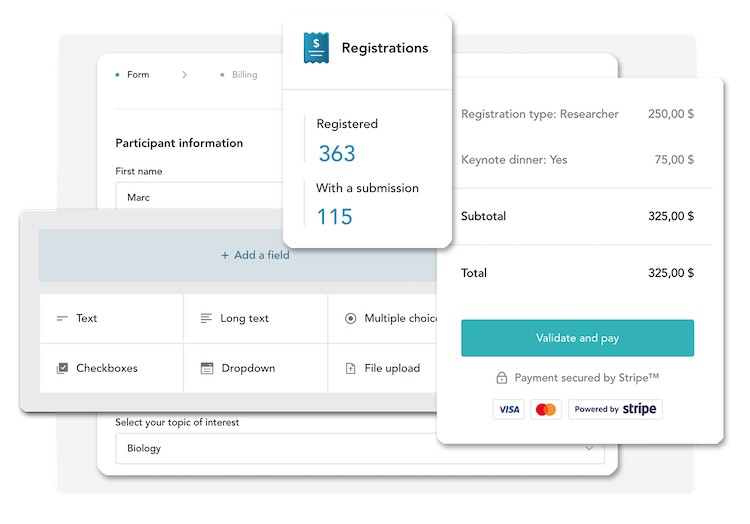 Get started planning your scientific conference today
Embarking on the journey of planning a scientific conference might seem daunting. So start by taking it one step at a time and giving careful attention to each part of the process. Set yourself up with the right resources and tools, and you'll be well on your way to organizing an event that provides a valuable platform for knowledge exchange and networking within your field.
To help you get started, Fourwaves event software includes a suite of features tailored for scientific conference organizers. We're an experienced, enthusiastic partner that streamlines your planning process and we support you in hosting an event that leaves a lasting impact. So, what are you waiting for? Get started planning your scientific conference today!
Book a 1-on-1 demo to discover how you can use Fourwaves for your scientific conference, or try it yourself.