With prices rising on everything from transportation to food to manufactured goods and with the new event format, many event organizers are rethinking their pricing strategies, to maintain accessibility while not incurring losses.
Setting prices is one of the most important decisions academic conference organizers have to make.
For all conferences, there are two factors to consider – the conference costs you will incur by hosting the event, and the revenue you plan to generate. Every cost and revenue generated should be tracked in your event budget and communicated with your organizing committee through regular updates.
In this article, we will dive into the details of both conference costs and revenue and provide a method to help you determine how much you need to charge participants for your academic conference. An accompanying Excel spreadsheet is also provided for free.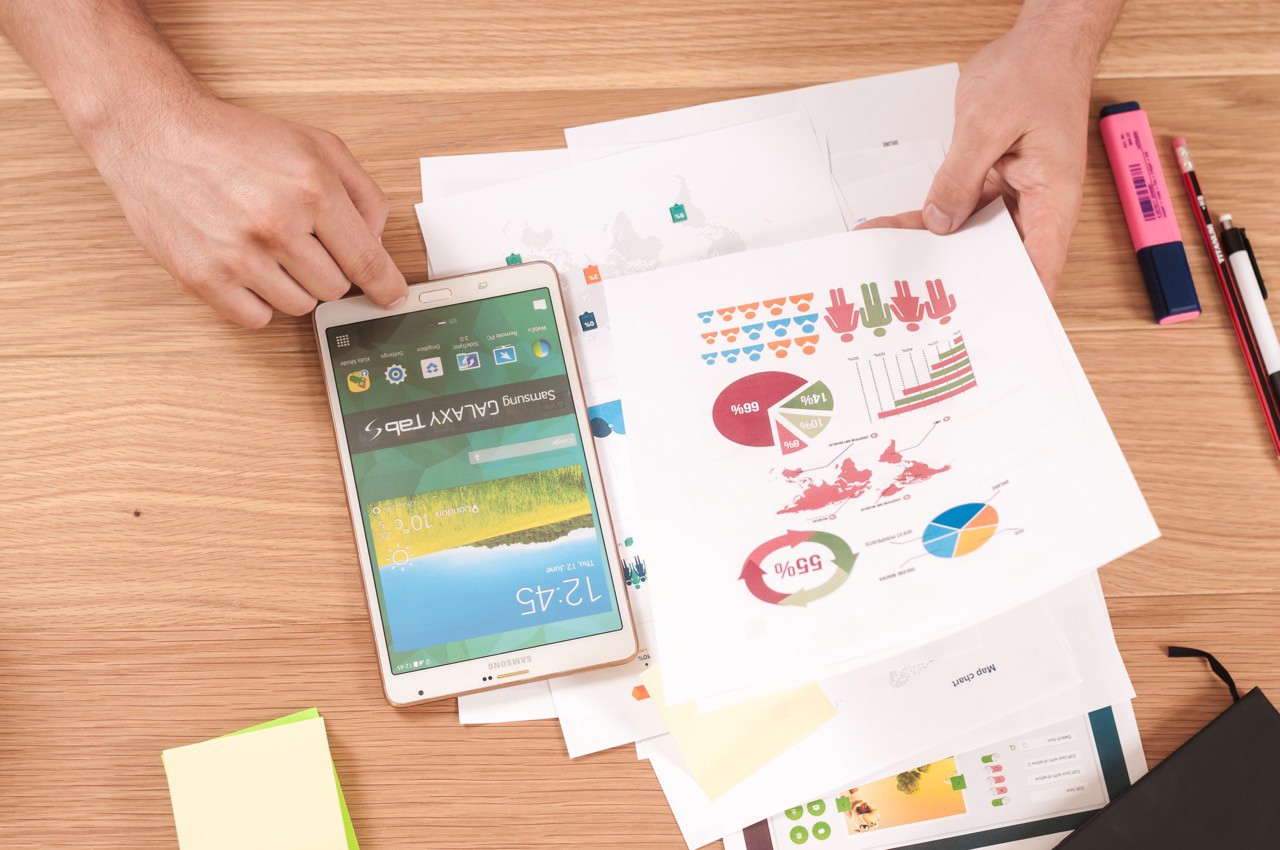 1. Calculate your Costs
The first thing that any conference organizing committee needs to do is calculate the average costs associated with hosting the conference.
To do that, bring together each chair of your event committee, with specific focus on the finance chair and marketing chair. Each should be prepared with a list of expenses they expect to incur throughout the event planning process.
Before these expenses can be estimated, it's important to know whether the event will be in-person, virtual, or hybrid as event costs will vary significantly based on the chosen format. For each cost detailed below, find the unit cost per participant when relevant. This will allow you later to create different attendance scenarios.
In-person event costs
The primary costs associated with in-person events are related to the conference venue, the equipment, and catering. 
What does the venue include? 
When choosing your event venue, it's important to know what the rental includes. On top of the fee for renting the space, does the venue charge extra for audio/visual equipment like speakers, microphones, projectors, screens or are these included in the price? Does the venue provide tables, chairs and podiums, or are these items that you'll need to rent separately?
Knowing if you'll have parallel tracks will be helpful as the cost can double if you have two parallel tracks.
Will you provide food and drinks? 
Most in-person events provide a refreshment table with coffee, tea and baked goods in between sessions. Some offer a selection of food and drinks for lunch as well. Check with your venue to see if this can be included in the venue rental. They often have preferred suppliers and costs.
What will poster sessions or networking activities cost? 
One of the main reasons that researchers attend academic events is the networking opportunities they provide, including poster sessions. In-person networking sessions usually mean additional costs for poster boards, refreshments, giveaways or transportation.
Others
Consider other elements like conference travel, particularly for international conferences, such as speaker transportation (airfare), lodging, on-site staff, printed materials (conference proceedings and name tags) How many days is the conference? (A 2-day conference can double the costs), will you do social media marketing, ads? etc.
A more complete list of costs with an Excel template is available in the Conference budget template article.
Virtual costs
Much like you need to secure a venue to host the in-person event, you need to purchase software in order to host a virtual or hybrid event. This software will be the main interface that virtual participants will interact with.
Decide with your committee on your requirements. Will you be needing only Zoom to livestream presentations? Do you require additional features for networking or virtual poster sessions?
What should your software include? 
Before choosing a software, find out what functions and technology are included in the platforms you're considering.
Some software solutions not only provide features needed for the live virtual event, but also to manage everything around it: publish an event website, collect registration and payments, manage abstract submissions, peer reviews, publish the program online, poster session, have a registration form, a FAQ, and more.
To avoid paying a separate fee to multiple vendors and make your job easier it's best to get an all-in-one solution to provide a cohesive experience for your potential participants and speakers, as all of their tools were built to work together.
Good software that is reliable, easy-to-use and multi-purposed like Fourwaves can make the difference between a smoothly-run virtual event and a frustrating one.
Fourwaves was created specifically for academic conferences and seminars, with features such as:
Learn how you can make your next academic event a breeze
Book a demo
Hybrid costs
Hybrid events require a more sophisticated on-site audiovisual team in charge of live-streaming talks and sometimes recording them to make them accessible online after the event. A post-production service can be required to cut the talks and add text overlay to make the final recordings with a professional quality.
An event app can also be useful to allow participants in-person to network with virtual attendees.
2. Estimate your Revenue
The second step is to calculate the expected revenue from sources that exclude the conference registration fees. There are two main sources for this, detailed below.
Sponsorship revenue
Registration fees will likely be the primary source of revenue generated by your event, but sponsorship revenue can be a big help in covering the costs you incur and potentially generating a profit, depending on your overall goals.
Approaching potential sponsors early on in your planning process will help give you a reasonable estimate on the amount of sponsorship revenue you can expect, which is an important piece of information needed to set your registration fees.
Leftover funds from last year
If this isn't the first year you've hosted this event, like an annual conference, there may potentially be funds remaining from last year that have not yet been spent. These can contribute to the revenue section of your conference budget and help offset some of the new expenses you incur if you are switching formats or adding an additional format to create a hybrid event.
How much should you charge?
After deciding on your event format (in-person, virtual, or hybrid) and mapping cost and revenue items mentioned above, the question remains: how much should you charge? 
In theory, the answer is simple: take all your costs, subtract the revenue sources (excluding revenue from registration). This will give you the net amount your registration fees need to cover. Divide by the number of participants you expect (that same number that was used to calculate the variable costs).
In practice, it's a bit more complex. First, hybrid events, in-person attendees will cost more and so their registration cost will be higher. This is why separating your costs for in-person and virtual attendees can help to determine the right ratio.
Second, the number of attendees in each category will be unknown until registration ends. Some events do a survey or preregistration to know how many want to participate in person and virtually.
Third, the financial goals of your committee should be considered. Are you attempting to make a profit from this event? Is your goal simply to break even? Aiming to generate some extra funds is always a good idea – this will help cover unexpected expenses, and it can always be passed along to next year to cover expenses.
There's also a few marketing tactics you can use to boost registrations that would have an impact on the registration rates.
Early bird discount: You can discount the price of tickets for people who register sooner than most.
Non-member VS member price: You can have a member registration fee which would be lower than the non-members of your association, academia, university and such.
Last-minute deals: Just before the end of registration you can offer a discount which would reduce the registration fees but boost registrations.
The price for exhibitors, keynote speakers, or other event participants can also vary and should be taken into consideration.You should also take into account the potential cancellations and make sure you have different types of payments available on your event website such as: Paypal, credit card, etc.
The Excel template
To help you, we created a simple Excel template. This is not meant to be a complete conference budget file (see here for this), but a sandbox to play around and evaluate different scenarios.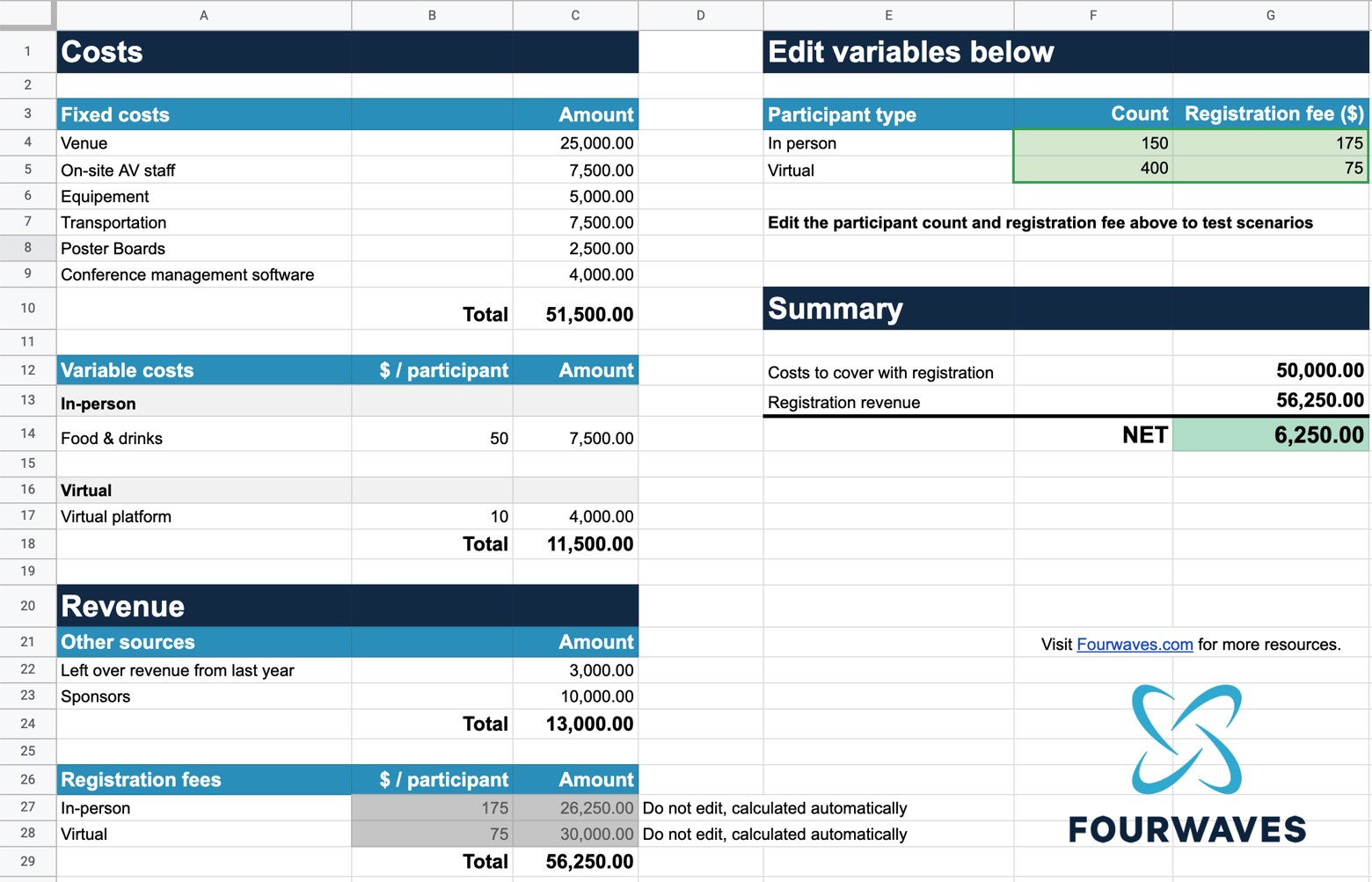 How to use the file
The file is accessible here. Click on File -> Download or File -> Make a copy. This will allow you to have your own editable file.
List Costs
On the left section, enter any fixed and variable costs for in-person and virtual attendees. It is recommended to use rounded amounts. The goal is not to create your conference budget here, but still to have a good estimation of your real cost. For variable costs, simply enter the cost per participant in column B, the total will be calculated based on the variable you enter (see below).
List revenues
List any revenue sources (left over from the last edition or sponsors). The registration fee revenue is calculated automatically using the variables you enter on the top right section.
Play with registration cost scenarios
This is where the fun begins, enter the number of virtual and in person attendees you expect and the registration fee for each.
See if it works
The summary section shows you the costs that need to be covered by the registration fee as well as the registration revenue and the net amount (in green if positive, otherwise in red).
Conclusion
While there's no clear-cut answer to the question of how much to charge researchers to participate in your conference, we hope this article helps you determine the steps you need to take in order to set a reasonable registration fee that will encourage participation while meeting your financial obligations.
Feel free to contact us if you have any questions and to share this resource with your colleagues.