While there are many definitions of success when it comes to planning and executing an academic conference, adhering to a predetermined budget is part of every successful conference.
A detailed, well-organized conference budget is a vital element of conference planning. Without this centralized location for tracking all of your income and expenses, it's easy for the financials to get out of control.
Ensuring the conference planning committee follows that budget and communicates any situations where the budget is not followed is a primary responsibility of both the Conference Chair and Finance Chair.  
In this article, you'll find the following resources to help you prepare your budget:
How much should you budget for a conference?
Our In-Person and Virtual Conference Budget Templates
How to Plan a Conference Budget in 8 Steps
How much should you budget for a conference?
There are many factors that will influence the budget needed for a conference. For in-person conferences, the cost will typically be around $15.000-$50.000 for smaller events and $100.000-$500.000 for larger ones. Small virtual conferences will be around $2.500-$10.000 and larger ones $20.000-$50.000+ for a multi-day event managed by a virtual event production company.
The main costs to consider when setting the budget for an in-person conference will be related to the venue. These include the venue rental and setting it up. It also includes audio/visual equipment, food and beverages, swag or conference giveaways, tables, chairs, linens, cleaning staff, serving staff, and more. 
The budget for a virtual conference will prioritize software-related expenses. While conference organizers don't have to worry about venue costs, you will need to consider the costs associated with event planning software that will be needed to execute the conference.
The functions of this software go beyond just registration, to also manage live streaming and breakout 'rooms' for instance for networking or virtual poster sessions. The costs associated with this software can be far more significant than those needed to manage submissions, peer-review, and registration processes of an in-person conference. 
Ideally, using a software that helps you manage everything in one place is best, this way you don't pay extra for 3-4 different tools. You can also streamline your event management and save a lot of time. A free tool like Fourwaves enable you to manage:
Networking and communication
Mass emailing and more
For virtual, hybrid and in-person events
Fourwaves can streamline your conference management
Let us show you around
Other factors to consider when determining your conference budget include:
The final budget from last year's conference (if this exists)
If this is the first year for this conference, seek out historical information on the budget of a similar conference that has passed
The percentage of your expenses that are fixed vs variable
Whether you qualify for government grants, rebates, or tax exemptions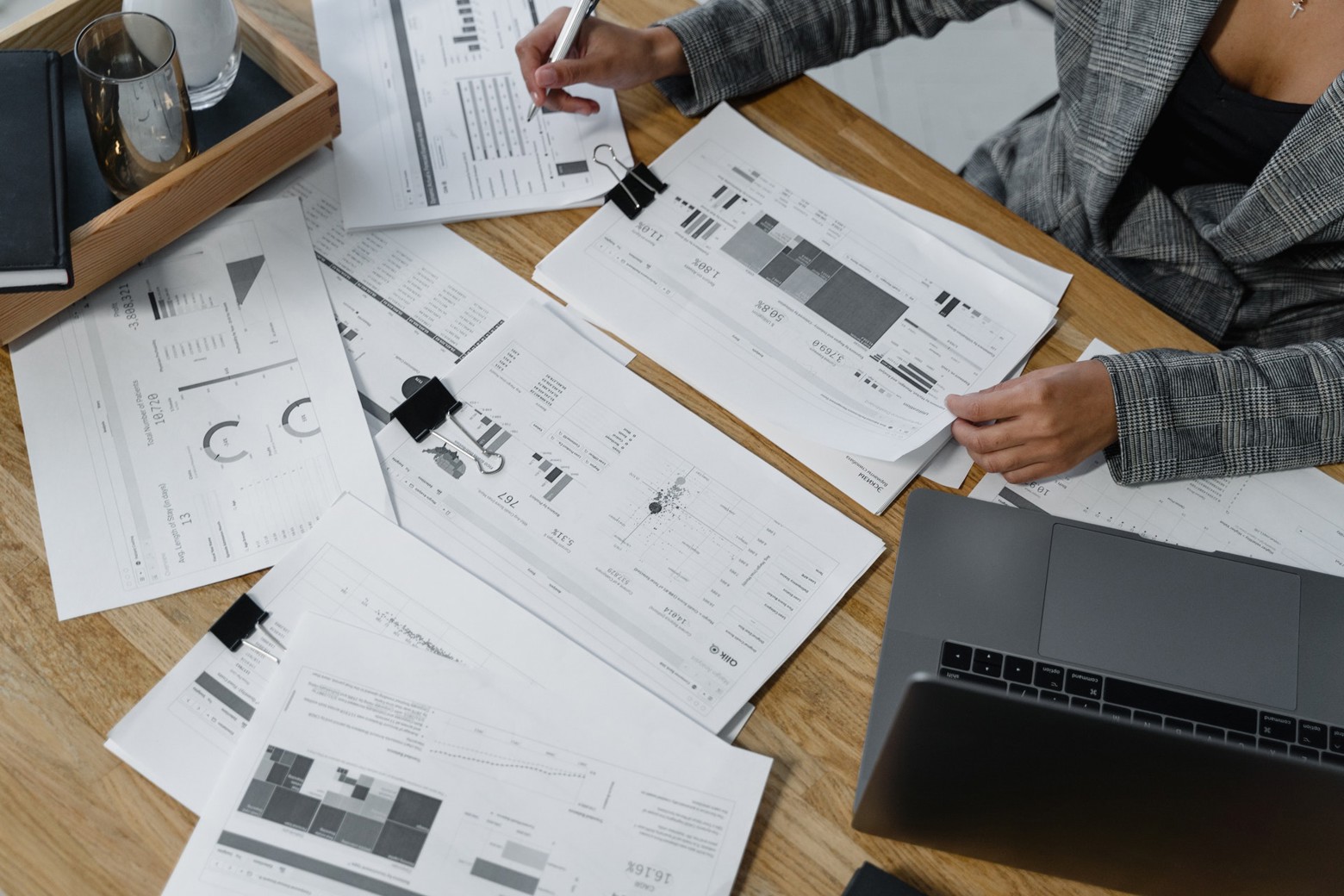 Our Conference Budget Template
We're providing you with a conference budget template to help make things easier for your conference planning committee's finance sub-committee.
There are many budget templates available out there. Here's what sets this one apart:
It pre-populates the most common expenses and revenue sources specific to both in-person and virtual conferences
It comes pre-set with the formula you need to add revenue, subtract expenses, and calculate net profit
It allows you to sort variable and fixed expenses, which is important in ensuring your committee sticks to the budget and does not let any expense items slip through the cracks. Fixed costs are based on overheard – they are static and will not change. Variable costs are based on volume – these will change depending on the number of people registering to attend or present at the conference. 
You can see a screenshot of our conference budget template below, or download the Excel file here or access it via Google sheet.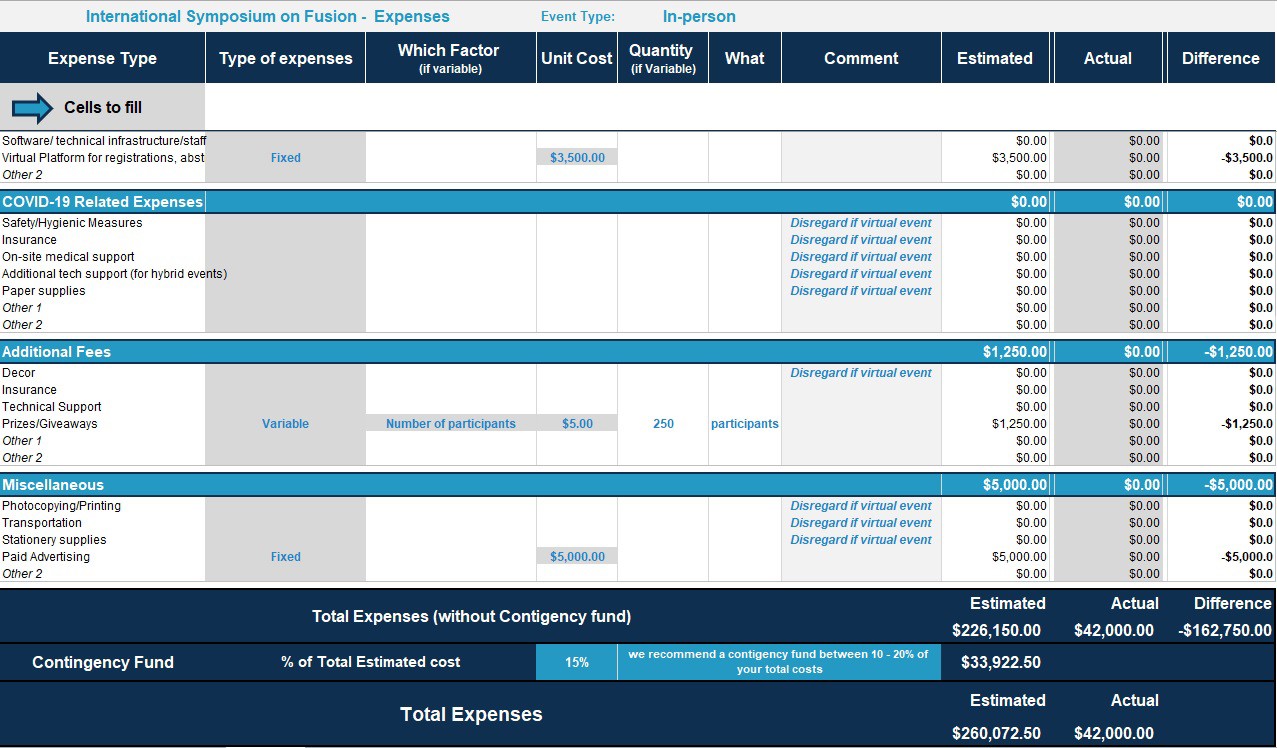 How to Plan a Conference Budget in 8 Steps
1. Select a Finance Chair for your organizing committee
This person will be responsible for working with the Event Chair to set up a Finance Sub-committee to set an event budget and request regular updates from the other sub-committee chairs on where things stand in terms of event revenues and expenses.
2. Determine if the event is in-person or virtual
Expenses incurred for in-person events are vastly different from those for virtual events. While in-person events need to consider things like a physical venue, food and beverages, equipment rental and decor, virtual events have significantly more extensive software requirements and tech support to plan for.
Both event types will require abstract submission software and registration software, as well as line items like marketing and entertainment. 
3. Choose your venue and determine the price
Venue rental is one of the main fixed costs associated with an in-person conference. In order to set an accurate budget that helps your committee project real potential conference revenue, this decision should be made as early as possible.
4. Choose your software partners and determine the price
Software that allow your organizing committee to call for papers, execute a proper peer-review process (a very important step to differentiate your event from a predatory conference), and manage event registration are all budget lines for both in-person and virtual events.
However, virtual events require more advanced software that actually runs the events in real-time, creating a seamless experience for conference-goers who have registered for a pre-arranged agenda of presentations. This can add a considerable cost to the expense line of your budget.
5. Choose your vendors and determine the price
For in-person events, the vendors you select to provide your audio/visual rentals, food and beverages, and decor can vary substantially in terms of costs. Consider how much you want to spend on these budget lines and consider vendors based on how well they fit your budget.
6. Determine your various registration costs
Whether an event is virtual or in-person, there are costs associated with pre-event registration, as well as registrant sign-ins on the day of the conference. Consider each and every expense that will come into play here and work closely with your organizing committee to ensure that all registration-related expenses are accounted for in your budget.
7. Estimate the number of registrants based on your knowledge of the field being researched
Take a look at past conferences related to the same subject-matter focus of your event. Is this a large field, or a smaller, niche market? This information can help give you an idea of how many registrants and applicants you will receive for your event, which will help you choose which software to buy, the size of event space you need, and the volume of food, drinks, marketing material and entertainment. All of this information is important to help you plan the expenses and revenue generated by your event. 
8. Create an accessible budget
Now that you've considered all the line items that you'll need to include in your budget, it's time to actually get the ball rolling. Create your budget using one of the templates provided above, and make sure it's saved in a space that is easily accessible to all committee members. This is easy to do through Google Docs and Sheets, but you can also set up shared drives containing the most recent Excel or PDF versions of your budget. 
Conclusion
While the main goal for most research conferences is to share new findings in a particular field and provide academics the opportunity to share their work and solicit feedback, no one ever wants to run out of money. 
A simple, easy-to-update conference budget combined with regular committee updates on where things stand in relation to that budget are crucial to executing a well-organized, profitable research conference. 
It's easy to make mistakes when setting a conference budget, and it's difficult to start from scratch. That's why we've provided these handy tips, tricks, and templates to give you a solid starting-out point and help you focus on what you do best – organizing a successful, engaging research conference.
And if you need help with the management part of your conference, take a look at our easy event management software. You can try it out yourself for free or book a demo so we can show you around.