The evolution of scientific conferences over the past five years has been remarkable. From packed auditoriums to virtual meetings and webinars, the academic community continually adapts its means of disseminating knowledge. The latest trend in this realm is the hybrid conference. In this article, we'll delve deep into understanding what a hybrid conference is, its advantages, its challenges, and how best to organize one.
What is a hybrid conference?
A hybrid conference blends the traditional in-person conference model with a virtual component. In essence, it's an event where participants can attend in person, physically interacting with peers, or log in remotely from any part of the world, accessing the conference content digitally. This format merges the tangibility and intimacy of in-person meetings with the reach and convenience of online formats.

As events reopened after the pandemic, many scientific conference organizers turned to hybrid meetings as a solution to hosting larger events while large group gatherings were still limited. This research paper on a 500+ person event from 2021 is an example of one of these early hybrid conferences. And, this collection of tips from conference organizers highlights a few more great examples of hybrid events.
The Pros and Cons of Hybrid Scientific Events
It can be easy to think of hybrid conferences as "the best of both worlds." However, they come with a unique set of benefits and challenges. If you don't plan them well, they can easily end up being more of a hassle than they're worth. Keep the following pros and cons in mind when considering if a hybrid model is right for the event you're planning.
Benefits of Hybrid Conferences
Wider Reach: Hybrid conferences can accommodate attendees who are unable to travel due to various constraints, such as budget, health, or visa issues. This potentially means a more diverse and global virtual audience. A wider reach also means more access to speakers from around the world - increasing the diversity and value of your conference content.
Flexibility: Attendees have the choice to attend in person or virtually. This allows them to choose the format that suits their needs and schedules best. And, in the event of an unexpected barrier to hosting the in-person portion, the event can easily be flipped to run fully online. 
Environmentally Friendly: With fewer attendees traveling, there's a reduction in carbon footprint, making hybrid events a greener alternative to in-person conferences.
Extended Lifespan of Content: Most sessions and keynotes at a hybrid conference can easily be recorded and accessed later, allowing for a longer shelf life and post-conference engagement. It's also great to ensure all time zones have access to the event content. 
Challenges of Hybrid Conferences
Technical Difficulties: As with any digital venture, technical glitches can occur. Streaming issues, mobile app or virtual event platform downtimes can hinder the experience if they're not tested in advance.
Engagement Issues: Ensuring that both in-person audiences and online attendees are equally engaged can be challenging. Connecting these two audiences with each other? Even more so.
Increased Complexity: Organizing a hybrid event often requires more coordination for the event planners, from managing in-person logistics to ensuring smooth online broadcasts. With more things to plan, there's also more components that could possibly go wrong.
Reduced In-Person Attendance: Offering a virtual option can lead to fewer attendees showing up in person. This not only impacts the event's revenue but can also dilute networking opportunities and affect the overall atmosphere of the conference.
Cost Implications: Initial setup for a hybrid event, especially quality audiovisual equipment and streaming services, can be costly. You're essentially planning two conference experiences in one, and your budget will reflect that.
How to Organize a Hybrid Scientific Conference
If you approach your hybrid conference with diligence and creativity, you're not just organizing an event; you're curating a comprehensive experience. Take a glance through these tips to figure out how to effectively bridge the gap between the physical and digital realms.
1. Define your event objectives and budget
Before you dig your heels into the hybrid, ensure it's the right format for your event. It can seem like a good idea to run a hybrid conference, but make sure you know why. Will this type of event align with your goals? Will you have a better ROI as a result? Would a virtual event work just as great to attain your goals?
Every conference starts with an objective, but hybrid conferences often have unique goals compared to traditional ones. As an event organizer it's crucial to ascertain your event strategy. Are you transitioning to a hybrid model to increase global reach, to make the event more inclusive, to cut down on venue costs, or any other specific reason? Your objectives will determine a significant portion of your planning, from budgeting to technology selection and marketing strategies.
For example, if your primary goal is increased accessibility, you'd prioritize a user-friendly hybrid event platform and ample accessibility features, from closed captions to multilingual support. Clear objectives will help to guide decisions and design as you move forward through the conference planning process. It will also ensure that you're not opting for a hybrid conference when you really need an online event or live event instead. 
It's also crucial to determine your budget ahead of time, we've written a guide to help you build your event budget, with a template so you can start now.
2. Choose the right conference management platform
During a hybrid scientific conference, the virtual component's success largely depends on the conferencing platform's reliability and capabilities. Research thoroughly, and select event management platforms that cater to large audiences, provide seamless streaming, and offer interactive features such as Q&A, chat rooms, and breakout sessions. Ensure the platform you choose can integrate well with other tools, has a user-friendly interface, and provides adequate data security.
Conference management platforms like Fourwaves are great for in-person, hybrid and virtual events alike. It enables you to gather submissions, peer-review them, have an event website, manage registrations, host virtual poster sessions and much more.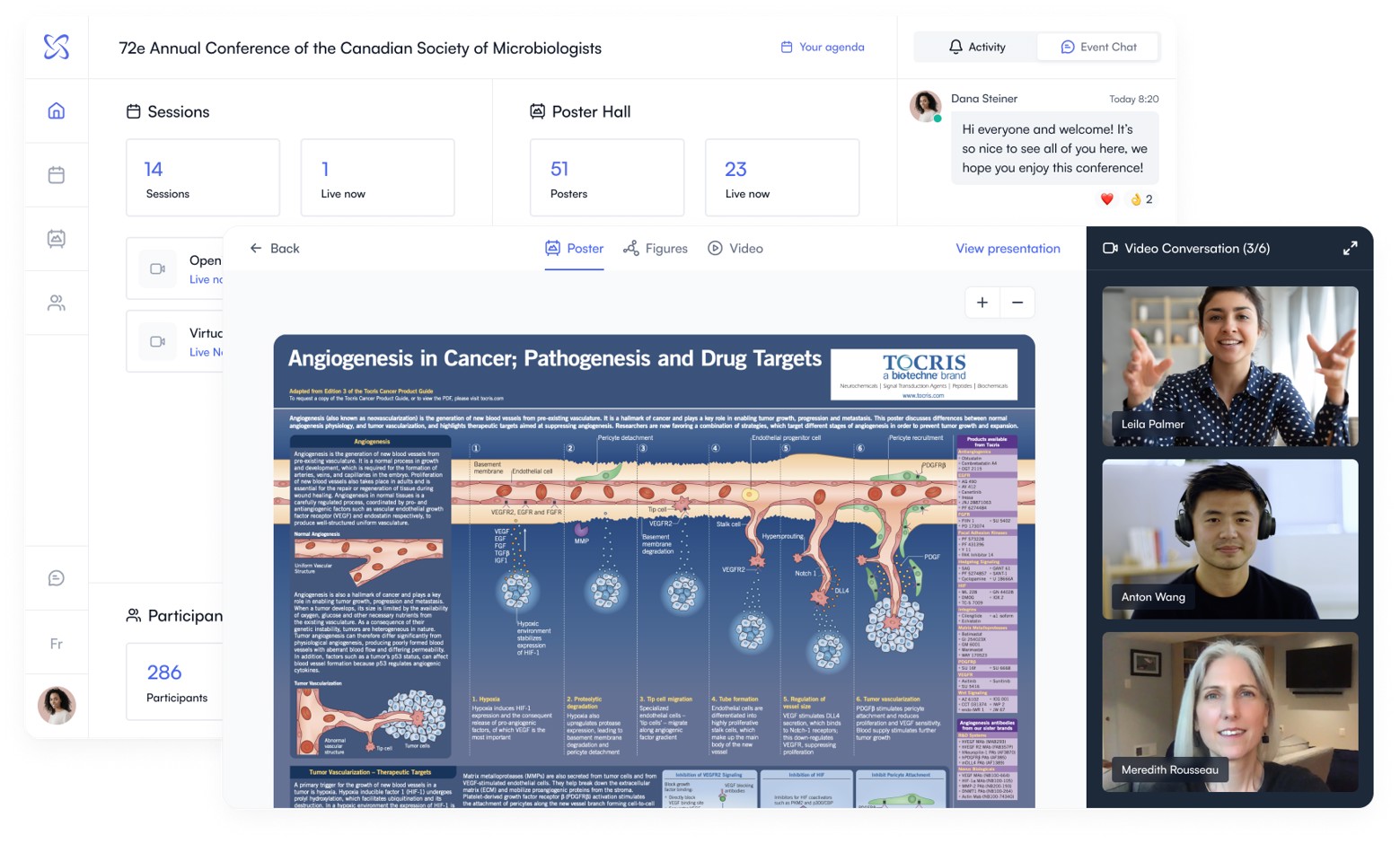 Fourwaves is designed specifically with scientific events in mind - meaning it's better at everything from accepting papers to facilitating discussions about up-and-coming research. So, if you're planning a hybrid conference for an academic event, be sure to consider a platform that supports that goal.
Book a demo or try fourwaves for free.
3. Test your event tech (then test it again)
A flawless event is often the result of rigorous behind-the-scenes testing. Prior to your event, schedule multiple dry runs with all the technical equipment. Engage speakers, especially those who'll be presenting remotely, in these tests to ensure they're comfortable with the technology. The objective is to identify and resolve potential glitches beforehand, making sure that the real event runs seamlessly.
If you're working with a good conference platform supplier, they'll likely have a list of advice for tech run throughs before your event. Reach out to their support team or read through their blogs and resources to pick up tips specific to the platform you're using.
4. Split your team into dedicated conference subcommittees
Managing a hybrid event means you're essentially running two events simultaneously: one physical and the other virtual. In addition to the core conference committee roles, it's highly recommended to have separate teams or sub-teams focusing on each component. While the on-site team handles venue logistics, seating arrangements, and physical equipment, the virtual team can manage streaming, online attendee engagement, and virtual Q&As. This ensures enough focused attention is given to both components. It might even be worth appointing a "bridge manager" to handle merging the two experiences into a connected event.
5. Engage your in-person and online audiences equally
Maintaining equitable engagement levels between in-person attendees and virtual attendees can be a challenge. Tailor sessions that cater to both groups by leveraging tools like live polls, interactive quizzes, or simultaneous breakout sessions. Consider involving online participants in on-site discussions through video links or finding ways to prioritize their questions during a portion of any Q&A sessions. Ideally, you should be planning interactive sessions that cater to both online and offline audiences.
Take a look through our blogs on best practices for virtual conferences and advice for in-person conferences to pick up a few extra tips that will help you design engaging event experiences for a variety of audiences.
6. Prioritize clear communication with event attendees
In the realm of hybrid events, there's no such thing as overcommunication. Well in advance, make sure attendees have clear instructions about schedules, platforms, log-in details, and more. Regularly update them on any changes. This not only minimizes confusion but also sets clear expectations, ensuring a smoother event.
During the event, it's best practice to appoint two (or more) people to be on communications duty. Have at least one person managing virtual questions and another onsite for in-person queries and comms.
7. Cater your content to suit a hybrid conference
Elevate the hybrid experience by offering unique sessions or perks for both online and offline participants. This could be in the form of exclusive interviews, behind-the-scenes content, or special interactive sessions. By giving each group its own set of exclusives, you enhance the overall value of the event.
If you want to charge the same price for virtual and in-person attendance, you can also consider just offering exclusive, virtual-only experiences to make up for the perceived value gap. Some options for virtual-only exclusives could include interviews with thought leaders, on-demand video content, or panel discussions with industry experts.
8. Weave feedback opportunities into the fabric of your event
Continuous improvement is the hallmark of a successful event. After key sessions or at the end of each day, gather feedback from both online and offline participants. Understand their pain points, what they enjoyed, and where improvements can be made. This real-time feedback can be instrumental for ongoing adjustments and real-time course correction during multi-day events. It can also be used for future event planning.

The biggest benefit of integrating feedback opportunities into your event schedule is that attendees are more likely to give accurate, detailed responses while they're actively involved and engaged with the event. The longer you leave the feedback request, the less likely people are to participate in it.
9. Leave plenty of room for varied networking opportunities
One of the key values of scientific conferences for attendees is the networking opportunities. At your in-person event, ensure plenty of downtime and special activities that promote networking. For your virtual attendees, be sure to recreate this experience with virtual networking lounges, dedicated chat rooms, or scheduled video networking breaks. This ensures that even those attending from afar can forge valuable connections.
Regardless of the type of networking events you're planning, it doesn't hurt to give your attendees a little nudge to promote interaction. Sending out a list of networking tips for scientific conference attendees can help new grads and introverts prepare themselves and get more out of the conference experience.
10. Keep the ball rolling with post-conference content
The beauty of hybrid events is the potential for extended engagement. With recorded sessions, attendees can revisit content they found valuable or catch up on sessions they missed. Additionally, you can leverage this content for wider dissemination, reaching potential attendees who might be interested in future events or promoting the success and value of your conference to a broader audience.
Get started planning your hybrid scientific conference
Hybrid scientific conferences are only going to become more common in the future. They offer the best of both in-person and virtual worlds, accommodating a wider audience while providing the intimacy of face-to-face interactions. By understanding the unique challenges and planning meticulously, organizers can ensure a rich, seamless experience for all attendees. As technology advances and the world becomes more interconnected, hybrid conferences may well become the norm, setting new standards for knowledge dissemination and global collaboration in the scientific community.
Interested in organizing a hybrid scientific conference but not quite sure where to start? Reach out to our team at Fourwaves for more tips and tricks (and possibly even a test run of our all-in-one conference management platform).
Happy planning!