In today's digitally-transformed world, virtual conferences have gained significant popularity within scientific communities. They allow global attendees to gather, share, and discuss cutting-edge research without the barriers of geographical distance. If you're planning a scientific conference, it's likely you've considered hosting it online. 
Why host a virtual scientific conference?
There are so many great reasons to host an online event. The special advantage of these types of events lies in the ability to bring together global audiences, offer flexible participation, and use technology for heightened engagement. Here are just a few reasons to take things online the next time you host a scientific conference…
Accessible (in more ways than one): Physical conferences often require extensive travel, which might be a barrier for potential participants. Virtual settings, on the other hand, allow attendees from all corners of the globe to participate (as long as they have access to a stable internet connection). In addition, a virtual scientific conference has the potential to be significantly more accessible for attendees with disabilities or family considerations.

Cost-Effective: When done right, hosting a virtual scientific conference can be significantly less expensive than a in-person event. There's no need to book venues, cater meals, pay for speaker travel, or organize accommodation.

Easier to Plan: Without the need to coordinate physical logistics, your event planning can be more streamlined (it just means a bit more work up front to set up a good virtual system that will save you work later). Plus, on the day of the event, any changes or updates can be communicated instantly to attendees.
Safer & More Flexible: In uncertain times, like during global health crises such as a pandemic, virtual conferences ensure the safety of all participants. They also offer the flexibility to be rescheduled with relatively less hassle compared to physical or hybrid events.

Environmentally Friendly: Virtual scientific conferences have a significantly lower carbon footprint compared to physical ones. You can emphasize this eco-friendly aspect in your promotions and partner with organizations that promote sustainability in science.
How to plan a successful virtual scientific conference
So, already convinced to host your event online? Take a look at some of these best practices to ensure your virtual scientific conference is a roaring success.
1. Start by setting your virtual conference goals
Just as you would with planning an in-person research conference, you should start by laying out your goals for the online conference. Why are you hosting this event? How does the virtual environment create an advantage (or barrier) in relation to those goals?
As you move through the planning process, keep your goals (and potential barriers) top of mind during all decision-making. This will help guide you to an outcome where success is defined by your organization's priorities (and not random metrics that are irrelevant to you).
2. Don't underestimate the value of good content
Good content is key to keeping your attendees engaged. When you host a virtual scientific conference, you don't have a captive audience in a lecture hall. Instead, your sessions are competing with distractions in your attendees homes and with every other piece of entertainment they could access on their devices with a simple switch of a browser tab.
Think about how you'll deliver high-quality insights and facilitate conversation that keeps your audience tuned in. Choose the right keynote speakers, and emphasize to your speakers the importance of storytelling in science. If possible, offer them resources to help with slide design and audio/video streaming set-ups.
3. Choose the right virtual event software
There's no use having great content if your tech doesn't support sharing it. With rapid advancements in technology, it's essential to stay informed about the latest virtual event platforms and tools designed for virtual scientific conferences. This ensures you offer the best virtual experience to your attendees.
Pick a scientific conference platform tailored to your needs. Depending on your conference goals, you'll likely want to look for software that supports large audiences, offers reliable streaming, and provides tools for interaction (i.e. during live sessions, features like hand-raising, audience reactions, and real-time polling can significantly enhance engagement).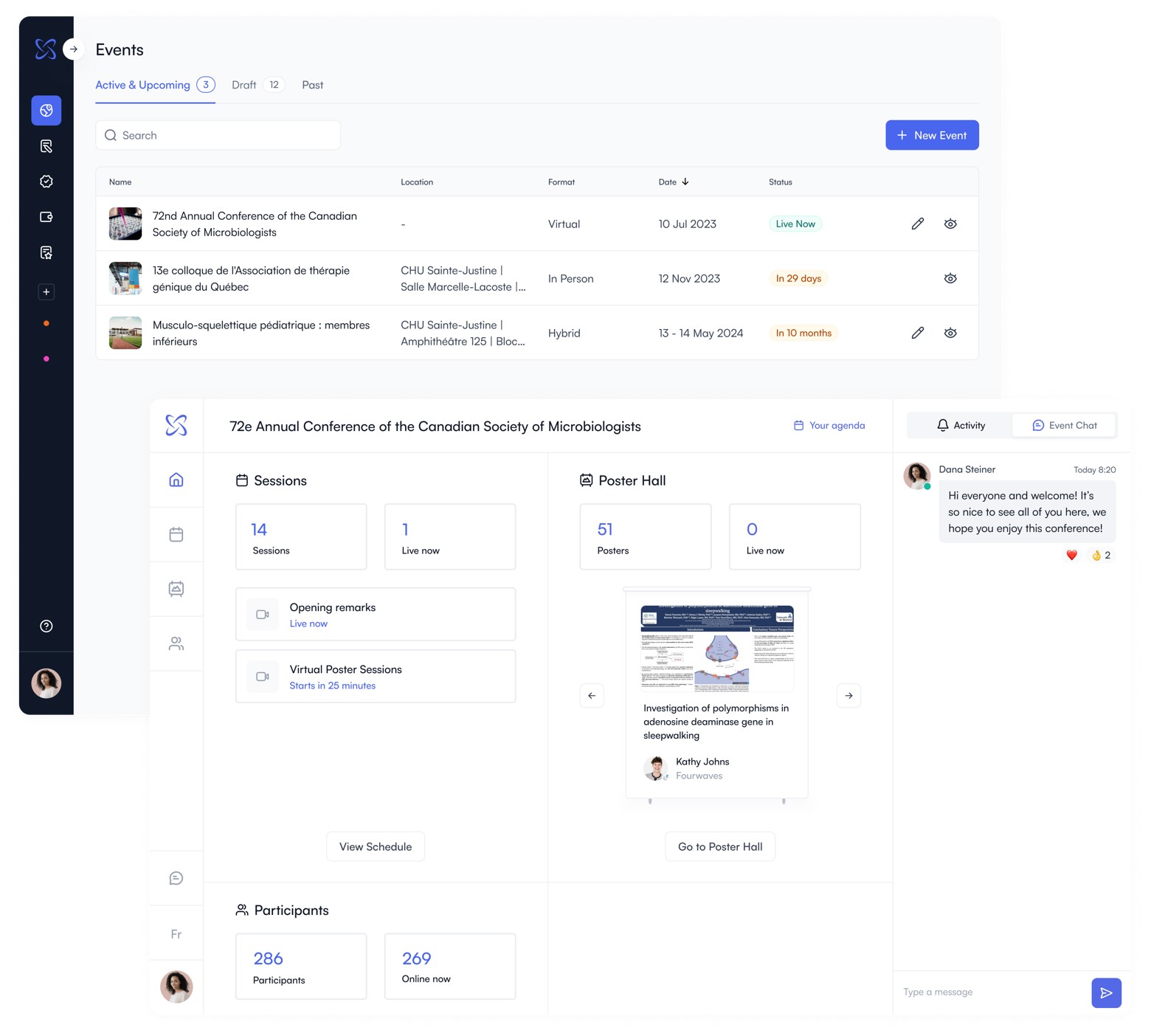 4. Make your virtual conference accessible and inclusive
Check with your software provider to understand what options they offer to improve accessibility at your virtual scientific conference. Live captions and translations can make your conference more accessible to attendees from different linguistic backgrounds. It's also important to ensure the platform is compatible with screen readers and other assistive technologies.
Offering content in various formats is another way to improve accessibility if your tech options are limited. Providing audio descriptions or written summaries of sessions caters to different needs and gives you easy, on-demand resources to share long after the conference day.
Finally, when deciding on the date and time you'll host your event, keep the diverse time zones of potential attendees in mind. Consider hosting sessions at different times or repeating sessions to accommodate global participants.
5. Get the bones of your event website up early
As soon as you have your event theme and dates defined, it helps to have a basic conference site set up. In particular, launching a simple webpage to start allows you to centralize your call-for-papers or drop a teaser for eager, early registrants. This also gives people a consistent, branded link to visit to keep up-to-date on conference developments and share with their network. 
Just because your program specifics aren't fully defined doesn't mean you should hold off on launching your event website. Here's some things you should include in the first version…
The date and time of the virtual conference.
A link to your submissions platform for prospective speakers/authors.
A registration or ticketing link (or a note saying when registration will open).
The general event agenda (specifics not necessary until closer to the event).
Information about your organization and event (eg. mission statement and goals).
A page for sponsors with information on tiers and opportunities.
If you want to use the site to drum up early interest, include pictures, videos, and testimonials from past years events.
To create your website even faster, you can get a free event site with customizable pre-filled AI generated content. You can try it for free here.
6. Promote your scientific conference across several channels
Effective promotion is key to hosting a successful virtual event. Use academic networks, social media (Linkedin), email marketing campaigns and partnerships with relevant organizations to promote your conference and attract a wider audience.
Collaborate with universities, research institutions, and scientific journals to co-promote the event. Introduce discounted registration for early registrants to encourage timely sign-ups. Use teaser videos, interviews with key speakers, or behind-the-scenes content to create anticipation.
7. Plan for a tech test run
Found the right scientific conference software that meets your needs and is user-friendly? The tech gauntlet doesn't end there. Make a plan to test your software, event app and systems before the day of the event (with your speakers onboard as well). It's not just about ensuring your main event goes smoothly; testing allows presenters to familiarize themselves with the tools and their own setups, reducing potential hiccups during the conference.
A few other event tech best practices to keep top-of-mind…
Have any presentations, videos, or documents ready and accessible. This includes ensuring compatibility across multiple platforms and devices.
Before the event, send attendees a guide or video tutorial, acquainting them with platform features and conference systems.
Try to have a contingency plan for major technical disruptions (i.e. a backup speaker, pre-recorded sessions, or alternative streaming channels).
Include designated IT help people on your event team for last minute questions or technical issues. That way the moderators can focus on the interaction and flow of the live sessions instead of stressing about helping confused attendees.
Always have a communication channel open (like a chat support or helpline) for attendees to ask questions or report technical issues.
8. Engage your event audience with interactive tools
A simple virtual meeting on zoom likely isn't enough.
Make use of polls, Q&A sessions, poster sessions, and live discussions to increase attendee engagement. Integrating breakout rooms into certain sessions can also promote effective interaction in smaller groups.
Take opportunities to gamify the event experience. Introduce quizzes, icebreakers, puzzles, or challenges related to the conference theme, offering rewards for participation or correct answers. You could even give points to encourage attendees to share their thoughts or summaries on social media (using a dedicated event hashtag of course). Gamification doesn't fit with all types of conference so make sure it works for you.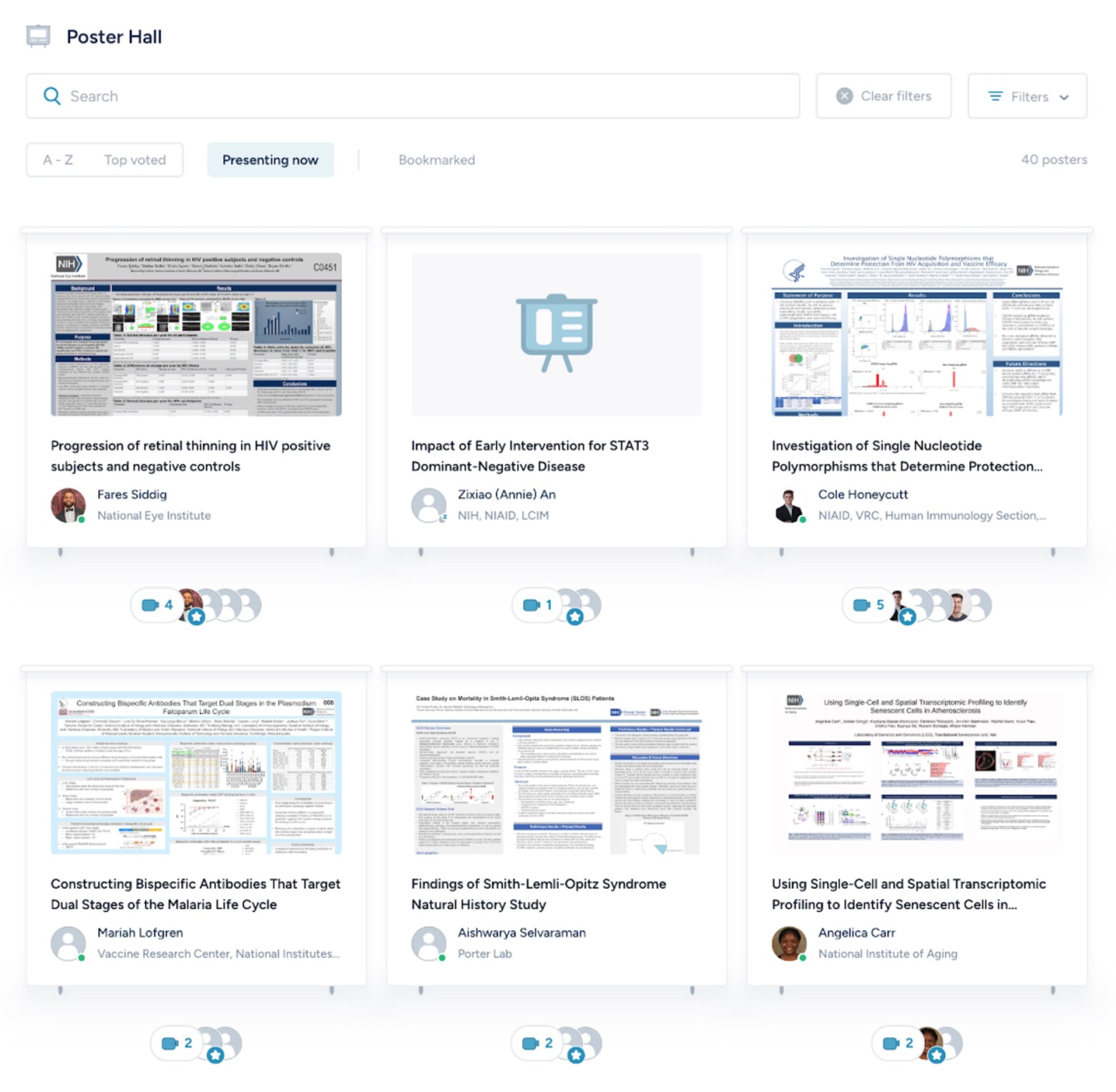 9. Ensure access to your scientific conference is secure
With potentially sensitive information and serious topics being discussed at your conference, security is important. Implement safety measures to maintain a professional and safe environment for all participants. Passwords, secure links, and chat moderation are the best way to prevent "zoombombing" or other unwanted intrusions. Finally, ensure the platform you choose complies with global data protection regulations, safeguarding attendee information.
With Fourwaves, you can decide which information is available to participants, which content is public, and have different access levels among participants.
10. Enable easy networking and discussions
Scientific conferences are as much about networking opportunities as they are about sharing knowledge. When choosing a platform, check if it has features like breakout rooms, discussion forums, and private messaging.
Just as in-person conferences have coffee breaks, make sure there are short intervals in your schedule for attendees to rest, recharge, and network. Use virtual lounges or chat rooms where attendees can mingle, discuss the presentations, or initiate collaborations. You could even consider introducing structured networking sessions (eg. 'speed networking' where attendees can meet multiple participants in quick succession or topic-based discussion groups).
And, don't forget to include other breaks for lunch and coffee that aren't networking focused. You don't want people to have to choose between eating or meeting other attendees.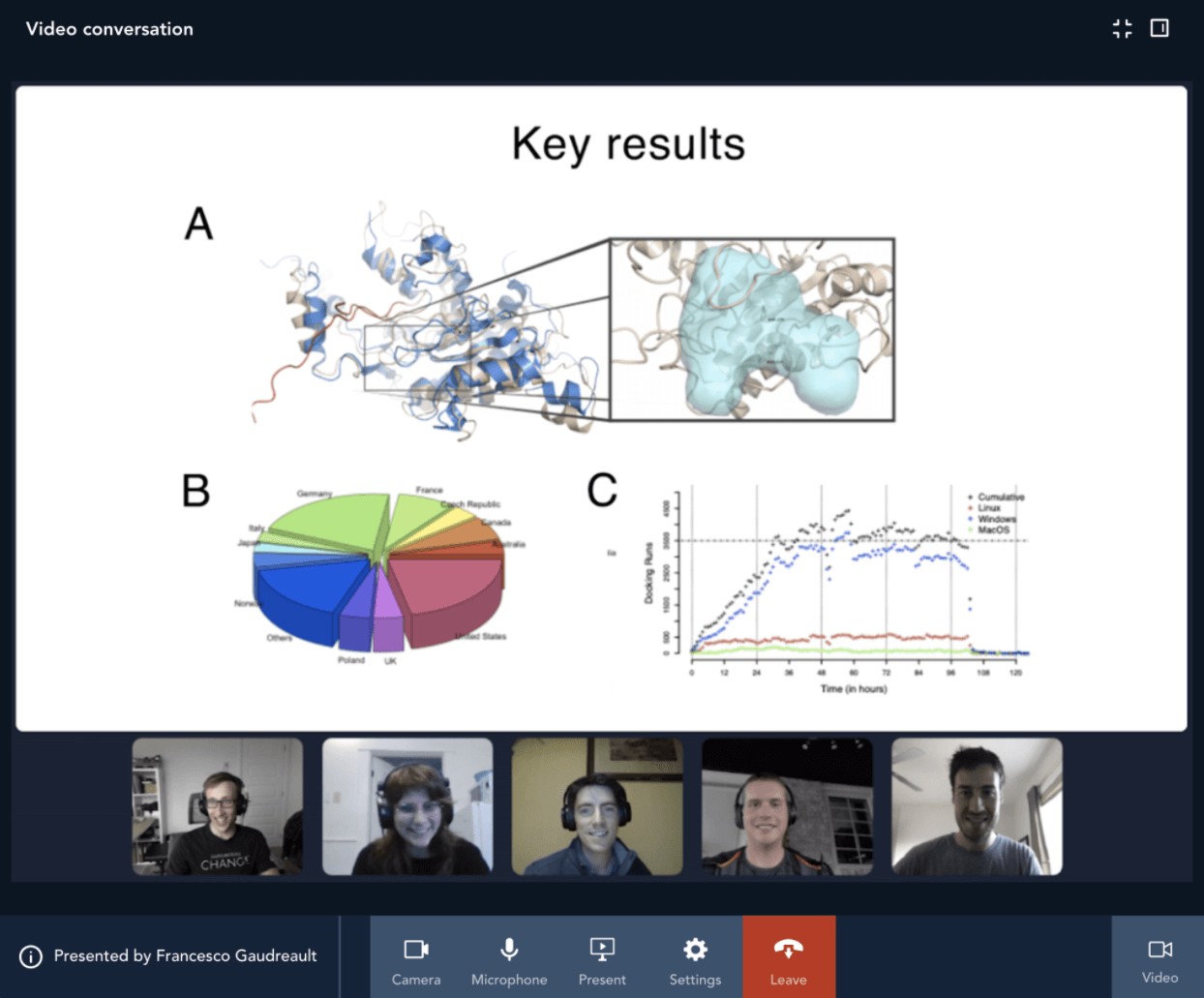 11. Offer certification and recognition for event attendees
Providing e-certificates for attendance or participation can motivate attendees and give them something tangible from the digital event. Along with e-certificates, offer digital badges for attendees to showcase on their online profiles and enhance their professional credibility.
During the event sessions, publicly recognize active participants, top contributors, or discussion initiators to boost engagement. This can be done through competition prizes or with a simple comment of appreciation for their contribution to the conversation.
12. Provide on-demand content to continue the conversation
Recording sessions (with the presenter's permission) allows attendees in different time zones or those with conflicting schedules to catch up on what they missed. It also gives attendees the flexibility to revisit their favourite sessions at a later date.
Post recorded sessions, related papers, and supplementary materials in an organized digital library for attendees to access post-conference. It's a great way to keep the conversation going.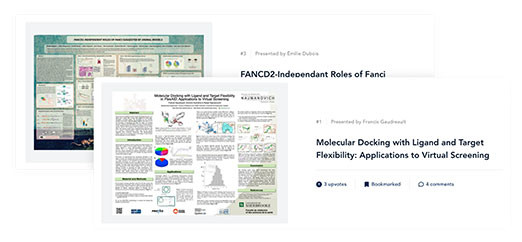 13. Make a plan for your post-conference activities
Post-conference feedback is a goldmine. It lets you know what worked, what didn't, and how you can improve for next time. Most event organizers send out post-event feedback forms (for good reason), but be sure to consider more than just that in your post-conference plans. Look into…
Hosting follow-up webinars - Organize smaller sessions post-conference to delve deeper into topics that generated significant interest.
Engaging the audience through extra content - Share articles, studies, or news related to the conference theme, keeping the conversation alive for your target audience.
Building a community forum - Consider setting up a dedicated connection point on your platform where discussions can continue long after the conference ends.


The future of virtual scientific conferences
Online events offer unparalleled advantages in our increasingly digital age. While they might not entirely replace the traditional live event experience, their benefits are undeniable. By following these virtual scientific conferences best practices, you can create an engaging, impactful, and memorable event for your community.
And, if you feel like you could use a little extra support from the experts, pop over to our website. Explore how Fourwaves can help you manage the load that comes with planning a virtual scientific conference or book a 1-on-1 demo.