Choosing a good peer review software is an important part of planning a research conference. High quality review management tools help you select better applicants faster and save you weeks worth of administrative work.
With the growing popularity of online conferences and communities, there are new opportunities to integrate your peer review software with the other tools you need. But, finding the right solution to accomplish your goals can be tricky, especially if you've never used peer review software before and aren't sure where to start.
What is a Peer Review Software?
A peer review software is a tool that streamlines the process of judging a researcher's submitted work based on reviews given by their professional peers. It is most commonly used to simplify the process of abstract management at conferences: allowing organizers to collect submissions, manage peer review, and accept or reject authors who want to present at the event.
In other cases, peer review software may be used by grant providers, scientific publishing houses, or professors managing peer review in large group or classroom settings.
Regardless of your intended use, it's important to review the options for peer review software before you settle on one. Every peer review tool on the market has its own set of benefits and downsides, but some are better than others. To help you find the tool that's right for you, here are a few of our top peer review software picks for 2023.
Fourwaves is a leading end-to-end conference management software with a submission and peer-review module that is fast to set up and easy to use.
The platform has an intuitive, drag-and-drop form builder that allows you to create a submission form suited to your needs (like adding fields and categorizing submissions by topic, presentation type, or track). Authors can log in to Fourwaves to edit their submission up to the deadline and add supplementary material like slides, posters, figures, and videos at a later stage.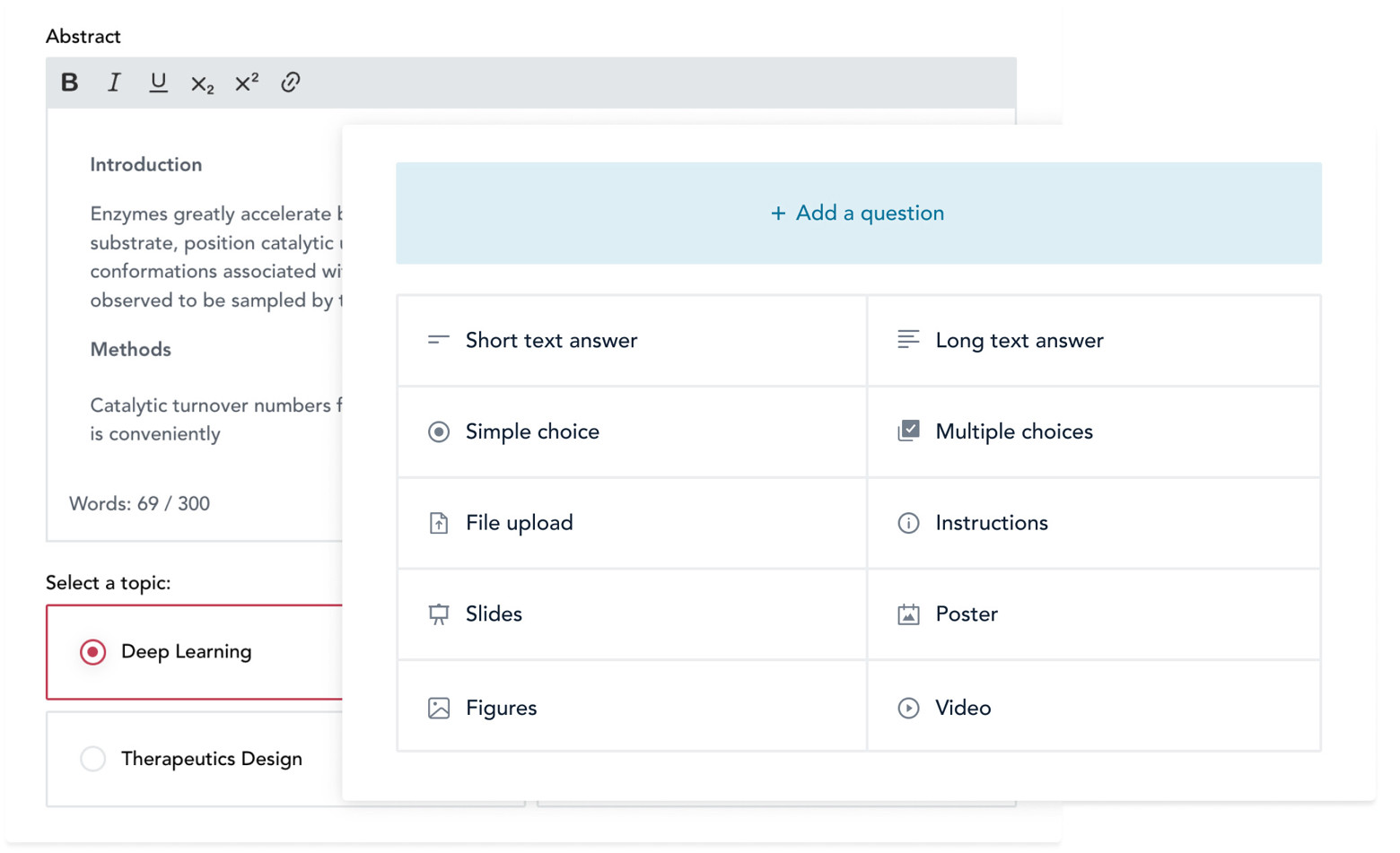 Try Fourwaves for free or Book a 1-on-1 demo
Within the Fourwaves platform, the reviewing form can be customized with quantitative and qualitative fields. Submissions can be manually or randomly distributed to reviewers (respecting a specified number of reviews per submission).
Session chairs have a birds eye view of all the submissions under review and can communicate with reviewers and authors directly through the platform.
Submissions can be sorted by score to help chairs classify them as accepted or rejected. This makes it simple to accept or reject submissions by acceptance categories (i.e. oral, poster).
Finally, the content submitted can be seamlessly integrated into your conference website and detailed online program, complete with a search function and custom filters.
Participants who access the content before or after your event can even interact with presenters through private messages and discussion boards. And, if there are awards that require judging during your conference, the peer review feature can be used for this as well.

You can also export a uniform booklet containing all accepted submissions. You can customize which fields you want to export and because it is exported in Word format (.docx) it's easy to create your custom conference proceeding.
Another upside of Fourwaves, is it's connected to a whole suite of conference management tools so you can centralize your whole conference in one place.
While the peer review system is powerful, Fourwaves does not have an automated reviewer allocation engine to automatically pair submissions to reviewers, at least not at the moment. If you're running a large conference with thousands of submissions, you'll have to filter submissions by topic before you assign to specific reviewers. Also, the system doesn't yet have the ability to share review results to authors, but personalized mass emails can be sent. You can insert variables in those emails, for instance the first name of the corresponding author, the submission title, which is quite useful to share the acceptance notifications. Plus, all review data can be exported to Excel easily.
Fourwaves. Best for… small to midsize research conferences (100-700 submissions) with single-round peer review or judging.
The best peer-review software for your needs
Streamline Your Peer Review Process With Fourwaves.
Book a demo
2. Ex Ordo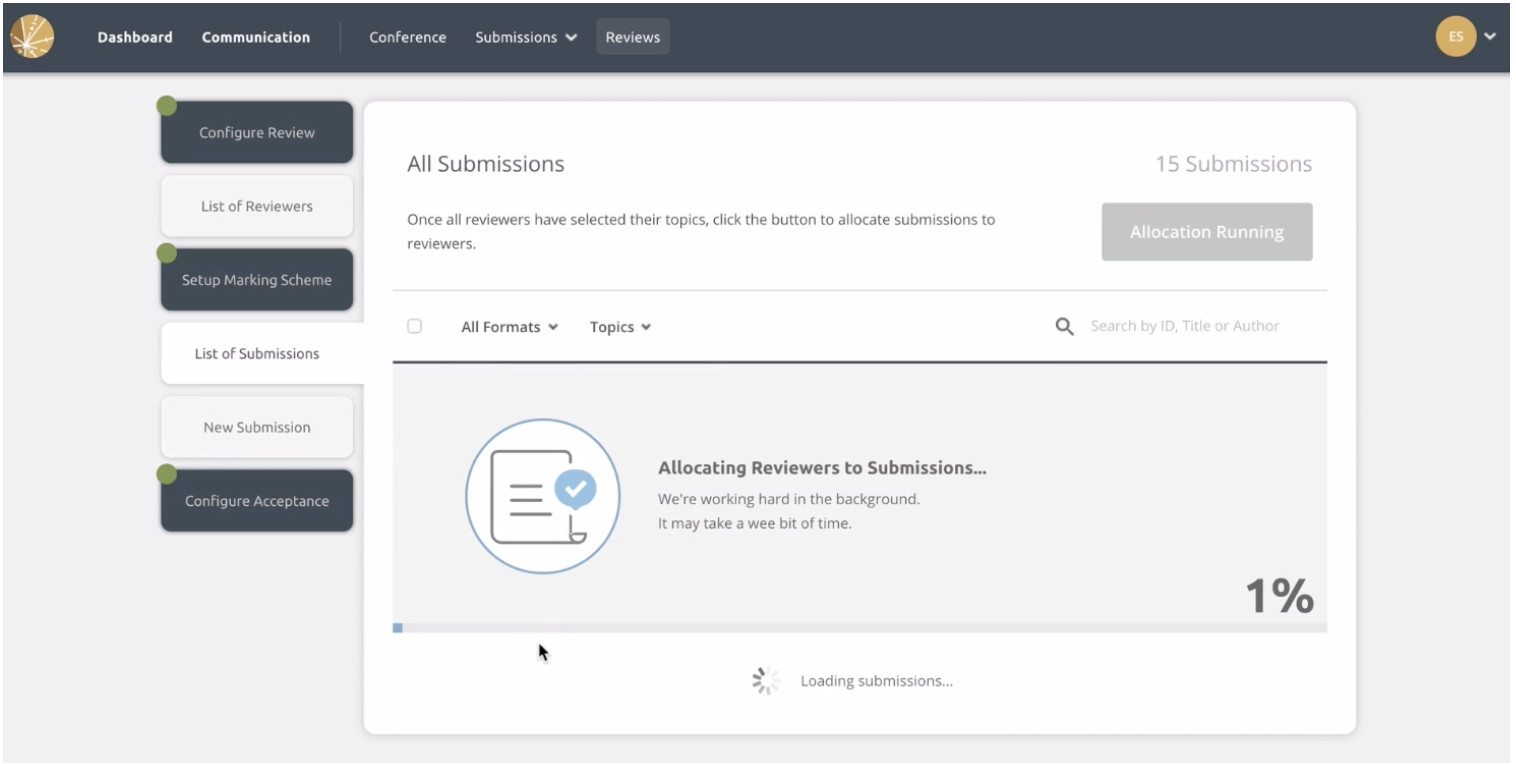 Like Fourwaves, Ex Ordo is a connected peer review and conference management system. It allows research event organizers to collect abstracts, manage peer review, and notify authors if their submission was accepted. In addition to abstract management, Ex Ordo offers other features (at an additional cost) for managing registration and conference scheduling.
The core feature of Ex Ordo is its reviewer allocation engine that pairs submissions with reviewers automatically based on topic. It also supports multi-stage peer review processes with multiple tracks. This makes it ideal for large conferences with multiple topics and thousands of submissions.
Unfortunately, Ex Ordo does not offer a limited, free trial option for prospective users. And, with that complicated review system built into their core product, you're going to be paying big bucks for even their most basic license. So, if you don't have a multi-stage review or if you're trying to keep to a tight budget, the spend required for this platform probably isn't worth it.
Ex Ordo. Best for… high-budget conferences with complex, multi-stage peer review.
3. EasyChair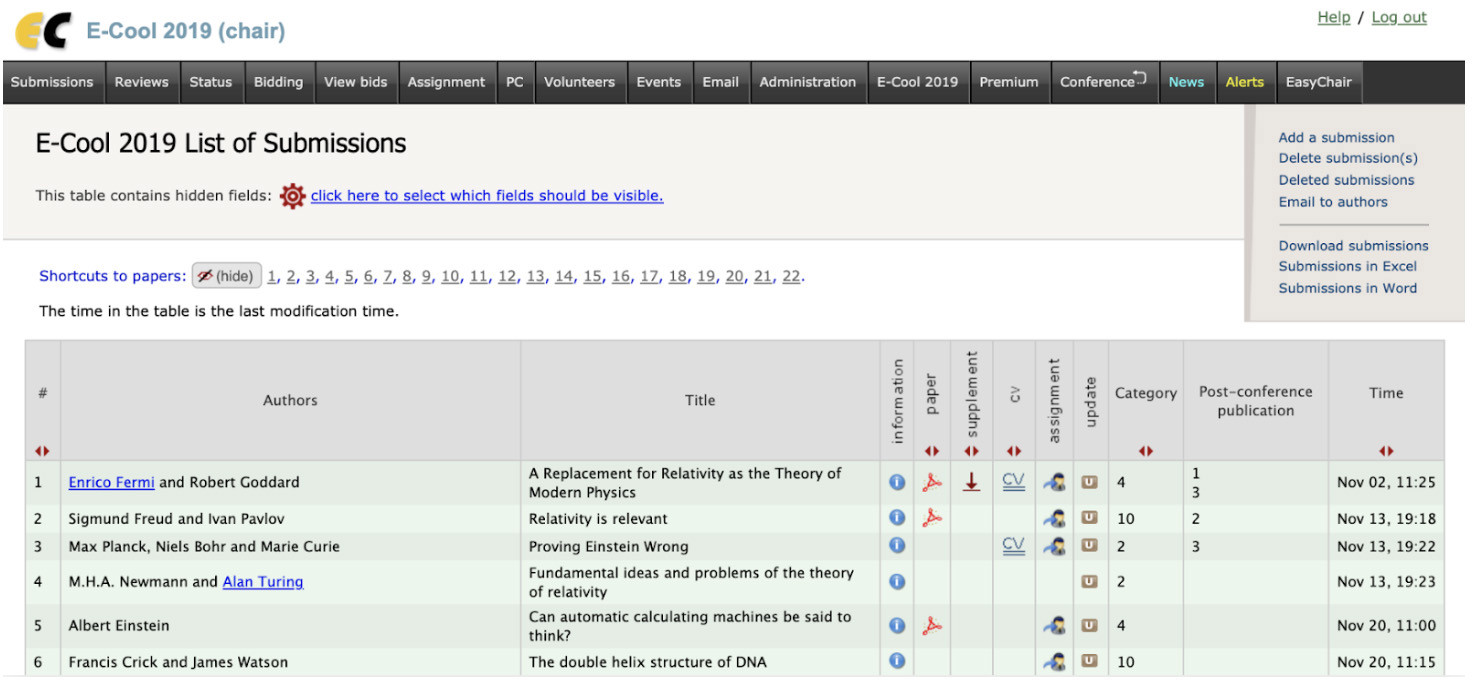 Another conference management system, EasyChair, offers some of the same features as Fourwaves and Ex Ordo. They have a collection of connected tools that allow research event organizers to send out a call-for-papers to their audience on Smart CFP. This is supported by features for abstract submission, reviewer management, and email communication.
A unique feature of EasyChair is its program editing and publishing software. They offer fast and flexible scientific publishing services that range from computing to health sciences. This makes EasyChair a good option for large organizations and associations that like to publish journals/collections in addition to managing their research conference content.
While EasyChair has a variety of high-quality functions, its visuals are known to be quite dated, damaging the overall user experience. Since your peer review software is one of the first interactions people will have with your conference brand, it's important to make a good impression. EasyChair also has no free version available for prospective users. So, you're paying a steep cost for software that may be more complex than what you need.
EasyChair. Best for… organizations with a focus on publishing research collections.
4. PeerStudio
Unlike some of the other software on this list, PeerStudio is a comparison tool that supports classroom peer review environments. It makes peer feedback easier for instructors to manage and helps students learn from participating in the peer review process. While its main focus is classroom support, it can also be used for review in other small group settings.
The core feature of PeerStudio is its AI-backed system that streamlines a comparison-based peer review process. Reviewers use a provided rubric to rate each submission alongside an example submission that is pulled from the submission pool. The system offers guided reviewing using interactive popups. It can also be set up to automatically detect poor reviewing.
PeerStudio does a great job at helping instructors teach their students about the peer review process. However, its use is mainly limited to the classroom setting. It doesn't have additional features to connect for managing events or research publishing. 
PeerStudio. Best for… small group or classroom submission and peer review.
5. OpenWater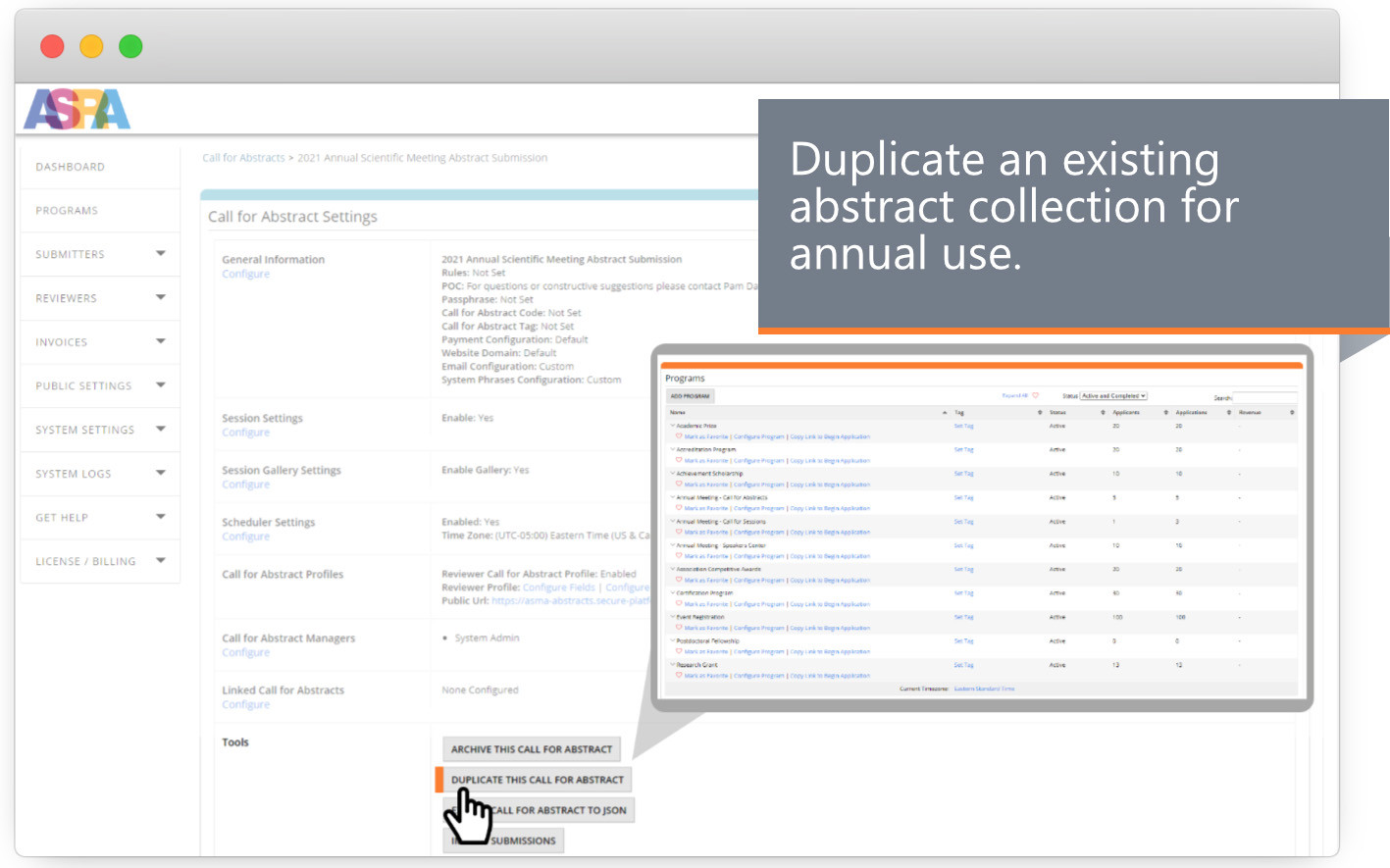 A common use of peer review software is to manage award programs. OpenWater is a software platform designed to streamline and simplify that process. It can also be used for grants, fellowships and anything that requires an application or judging process. This platform's biggest advantage is the ability to integrate with a variety of association management and sales systems (like Fonteva, Personify, and MemberClicks).
While OpenWater has expanded their software to support academic conferences, it was not built for them. When using their Event Cloud, the interface is complicated and the learning curve is higher than for other software designed with academic conferences in mind. Plus, at a steep starting price, you want to double-check your budget and take the time to make sure this software suits your exact purposes.
OpenWater. Best for… high-budget, grant and award program management.
6. Submittable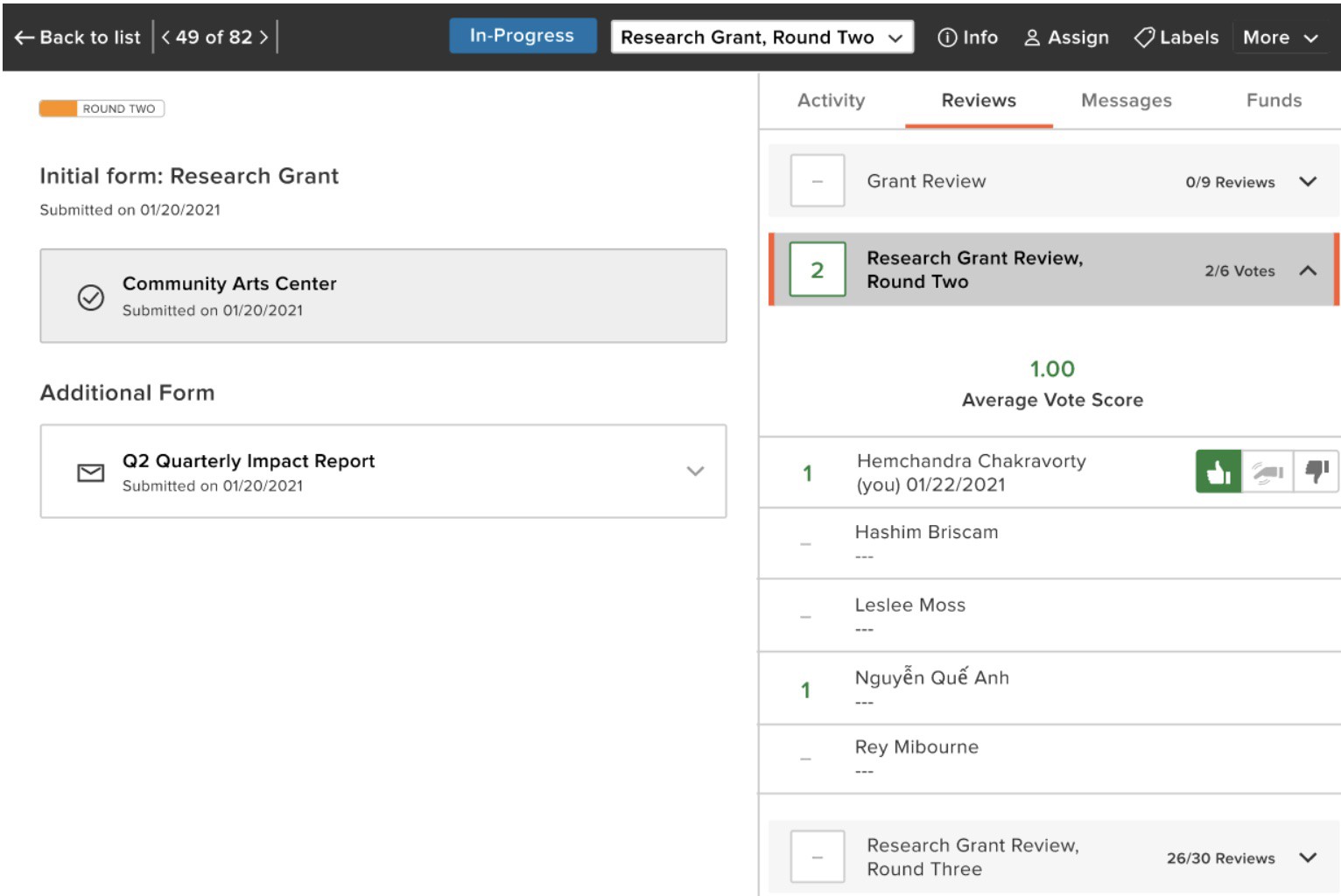 Submittable is a grant management system that supports social impact programs for governments, foundations, and corporations. Their peer review feature allows program managers to accept and review grant applicants. Later, connected tools allow managers to communicate with applicants, create social impact reports, schedule payments, and track their program budgets.
While Submittable's peer review software works well, it isn't the core function of their platform. And, because it's focused on the social programs space, there's no connected conference software. So, Submittable is best for organizations that want to manage and track the impact of their social outreach and grant programs (with a bit of peer review functionality on the side).
Submittable. Best for… managing grant applications and social impact programs.
Which Peer Review Software is Best?
Choosing the right peer review software to suit your purpose is an important step. Finding the best option for you will depend a lot on your budget, your end goal, and the specific features you need along the way.
It's also helpful to select a peer review software that integrates seamlessly with the other tools you need (like a conference management or grant management system).
If you're organizing an academic or scientific conference, we can help. Book a demo with us to learn more about how Fourwaves can support your event.