Most researchers will organize at least one conference during their career, and sometimes many. Successfully orchestrating the meetup of hundreds of researchers, sometimes from across the world, to present their work and exchange with their peers is one of the most gratifying experiences.
Seeing the vibrant interactions during poster sessions, participating in lively constructive discussions after a keynote presentation or doing social activities in a new city are all memorable experiences that graduate students and researchers enjoy.
The organization of such conferences is often a long, complicated process filled with surprises. It's a huge task with lots of moving parts that can be very time consuming, especially if you're not well guided.
To help you stay focused, we prepared a comprehensive checklist to help you organize your in-person or hybrid event. Some items of this checklist are also applicable to the planning process of virtual events.
The steps are presented in the chronological order in which they need to be addressed. Keep in mind that many elements affect each other and sometimes a few items must be tackled in parallel.
Checklist for organizing a conference
1. Set up an organizing committee
Small one-day virtual conferences or webinars can be organized alone. Larger in-person or hybrid events will require multiple committee members to which tasks are delegated for efficiency.
If your event is hybrid, it is recommended to have one team for the on-site and one for the online experience. This will avoid problems on the day of the event since organizers will be able to focus on their area of expertise without being confused between the on-site and virtual attendees.
2. Do a kick-off meeting will all committee members
Kick off the event organization with all members and make sure everyone is aware of their responsibilities. Share a list with all members, including their role and their contact information. Set up a Slack channel to communicate if necessary.
When should you kick things off? There is no common lead time amount required to organize a conference. It depends on the specifics: do you have a call for abstracts with a peer-review process? Do you expect a large number of participants? Do you need to book a large venue? If the answer is yes to the previous questions, you will need more lead time. Smaller events can be organized in 3-4 months, while larger ones can take up to 18 months.
3. Select an exciting theme
A theme will add a sense of cohesion to your event. Do you want to bring attention to a specific topic? Do you want to highlight the applications of new technology?
You can find inspiration from other conferences, but be careful not to cover the same topic as another conference in your field. Look at the topic from past editions, recent publications in your field, or ask experts for ideas.
4. Find an event name and hashtag
One thing to decide at this point is if you're organizing a Conference or a Symposium, then find a name for the event.
Define a hashtag that you will use on social media platforms such as X or Linkedin, before, during and post event.
5. Determine your conference budget
List your costs (variable and fixed), which will include: the venue, catering, accommodations, conference platform, the printing of materials, awards, gifts, on-site personnel, on-site equipment, A/V and streaming, and speaker travel expenses. At this point, you don't know how much each item will cost, but you can prepare an Excel sheet and fill in the blanks once you get quotes and start securing services.
List funding sources including sponsors, government or institutional grants. Check if there is any money left from previous editions.
When selecting the venue, hotel, transportation services, airlines, etc., ask for promotional materials packages for large events and always save some funds for last-minute expenses that will most likely occur. All this information influences the registration fees that will be decided at a later step.
We crafted a conference budget template to help you with this.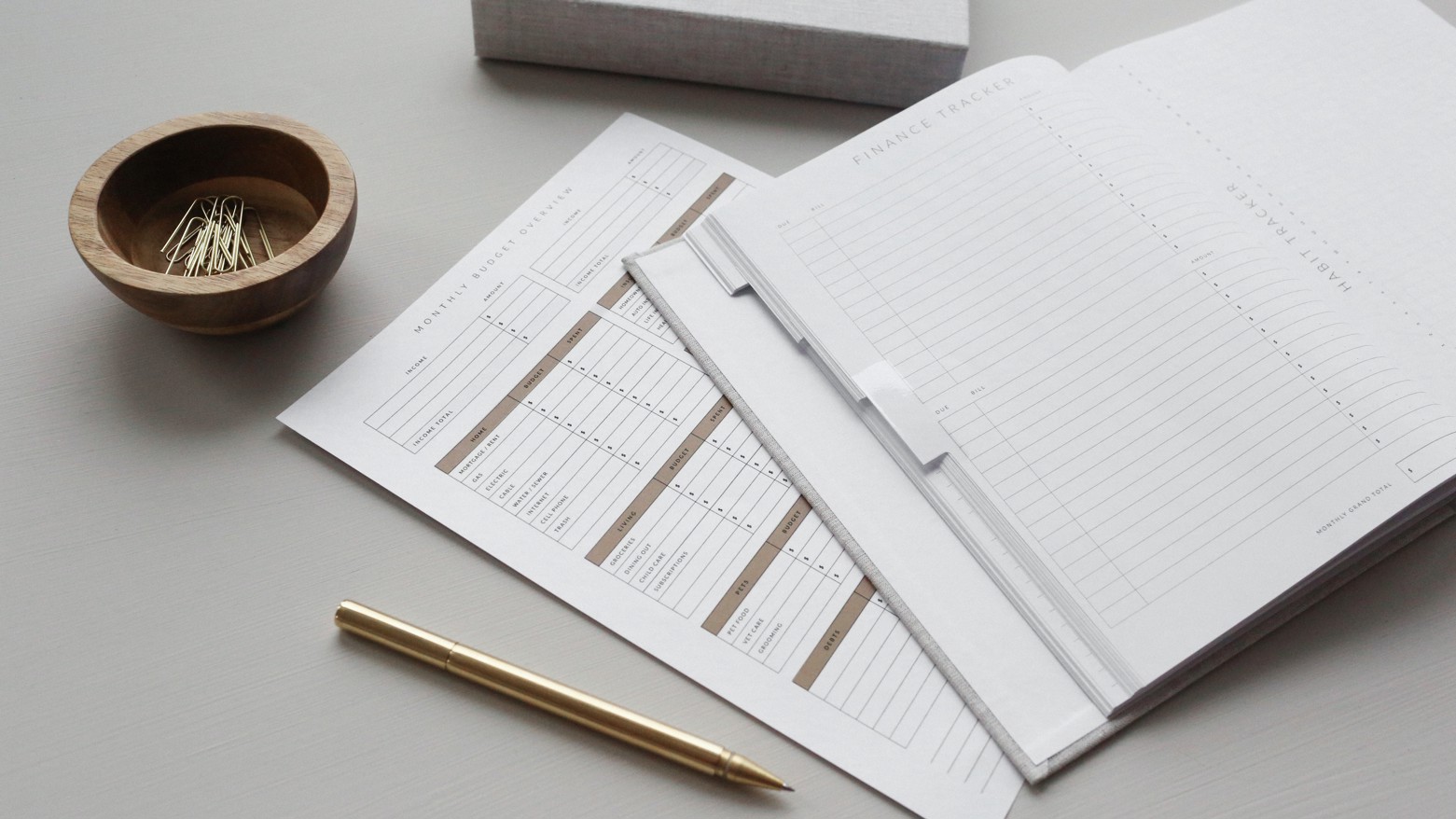 6. Choose the format: In-person, hybrid or virtual
Virtual conferences have reduced costs because you don't need to rent a venue, book a caterer, pay on-site employees and accommodations. You can even run a virtual poster session. On the other hand, networking opportunities among participants is harder to do. It can also be difficult to find a convenient time to bring people from multiple time zones together.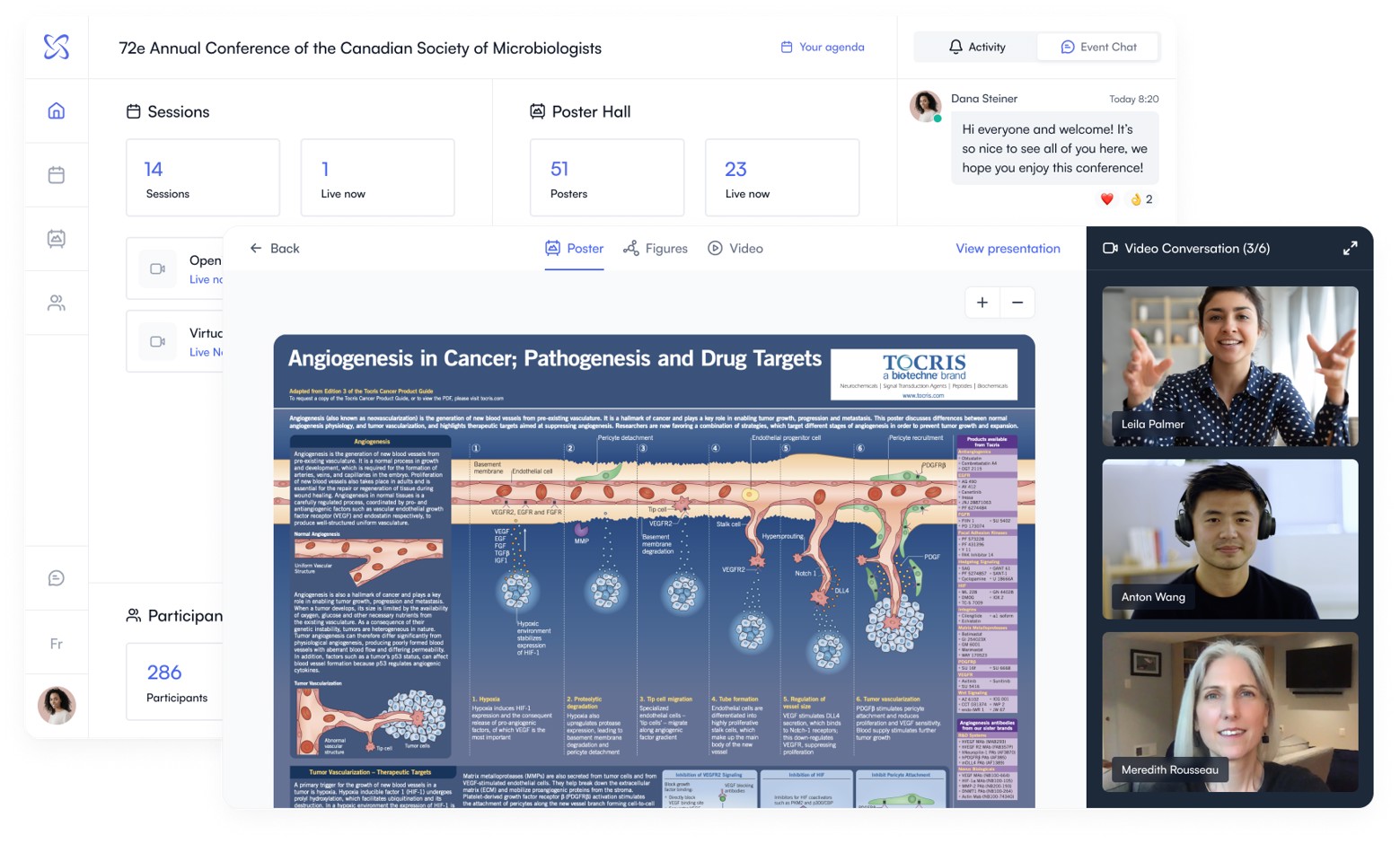 The hybrid format is an alternative that captures the benefits of in-person and virtual events but comes with greater costs and complexity. The asynchronous hybrid format can be a good compromise.
How many participants can you bring on-site safely? Consider this when you think about the event format because larger events are more costly in-person: you need more on-site staff and a bigger venue. High virtual attendee numbers have less impact on your resources. Knowing your budget will help you decide what you can afford at this point.
7. Define your session types
A conference can have:
Keynote presentations
Lightning talks
Panel discussions
Poster sessions
Workshops
Networking sessions.
Choose the session types that fit best with the objectives of the conference.
If you have participants online, have sessions specifically for them. For example, an exclusive keynote presentation for online participants. This will make them feel included. You can also organize networking sessions so they have the chance to talk to each other and catch up.
8. Decide the conference dates
You want to select a date early to send the "save the date" notice to potential conference attendees.
Will it happen over one or multiple days? If it's a virtual event, half-days (instead of long full days) are better, especially for multi-day conferences.
Do your dates coincide with another conference in your field? The dates will often be decided in conjunction with the venue.
9. Book the venue and accommodations
The venue will be one of the largest expenses. Make sure it has enough space, the proper technology (from audio/visual equipment to power outlets), availability of accommodations on-site or close by, distance to the airport (if applicable), catering services provided, parking, accessibility, and more.
In terms of the space, it's related to the format. You need at least one room that can accommodate all attendees for the opening remarks and keynote presentation(s). Additionally, you might need areas for round-table discussions, networking, poster sessions and a keynote dinner. Some of these sessions can happen in the same room if the furniture can be changed.       
Similarly, when choosing accommodations, look at past editions to estimate how many participants might require a hotel room.
10. Contact and secure speakers
Book keynote speakers that can approach your conference theme from different angles. Having speakers from the industry is always appreciated by graduate students who like to project themselves on the job market and know how they can apply their skills.
With hybrid events being more common, it's easier to book prestigious speakers because they aren't required to travel, which will decrease costs. You will need to know the dates before contacting the busiest speakers.
Well-known keynote speakers are a great selling point that will attract potential attendees when you promote the event. 
You should also find sponsorships opportunities that align with your target audience, make sure to reach them well in advance so they have time to take your event in account in their budget.
11. Select and hire vendors
Some services might be provided by vendors that work with the venue like catering or the audio-visual crew. For others, you will need to ask for quotes. When hiring external companies, make sure to ask about their experience for your type of event. It will save you some trouble down the road. You can also ask previous organizers or colleagues for advice.
12. Select a conference management software
Find a solution to manage the event website, handle registrations, payments, abstract submissions, and publish the conference schedule and content.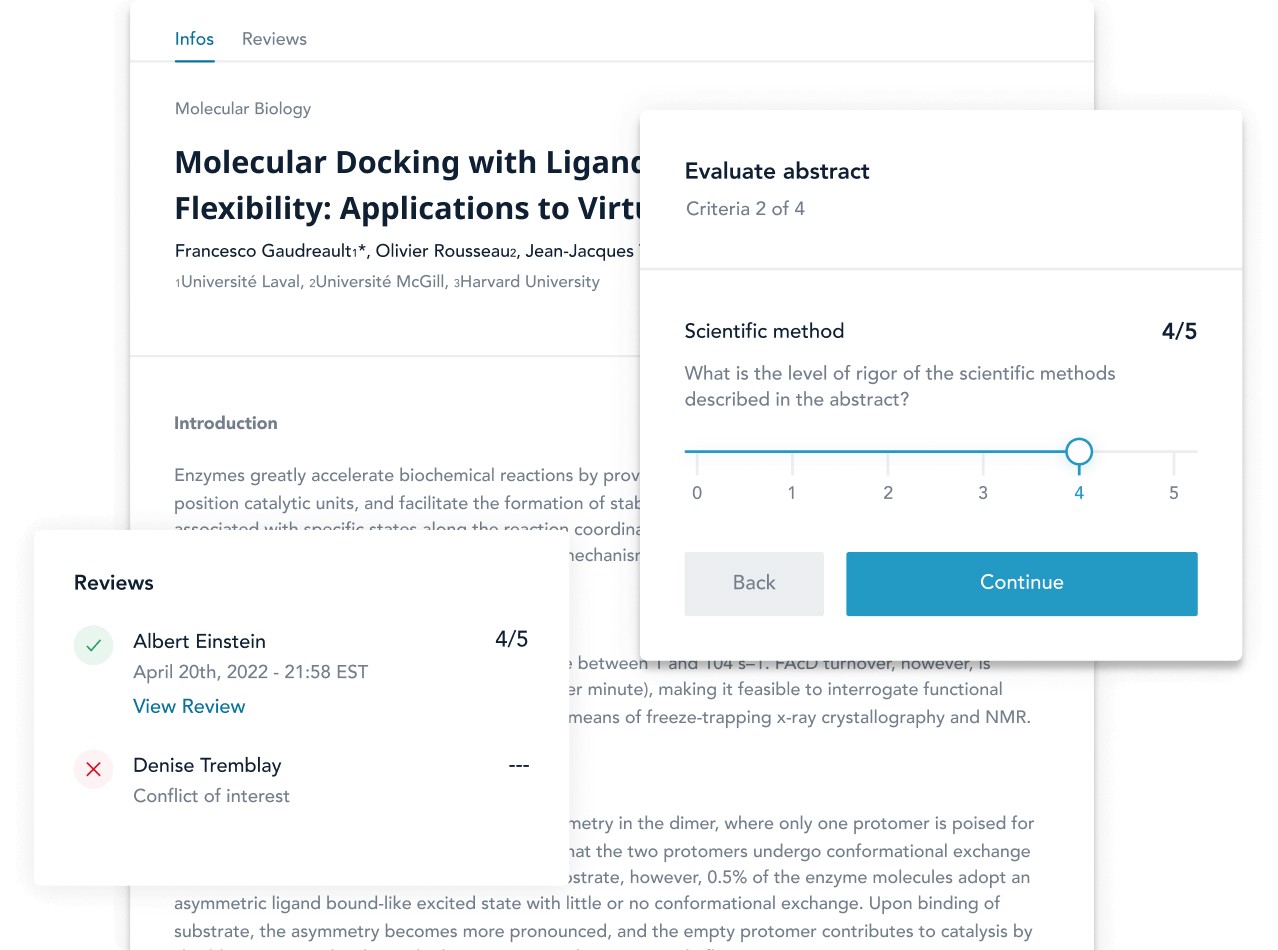 Centralizing the participant list with all submitted abstracts will save tremendous time down the road. Select a platform that will allow you to rapidly switch to a hybrid or virtual format if needed. 
The all-in-one conference platform built for efficiency.
Try Fourwaves
Make sure to keep your event website up to date as much as possible and include the following information:
Dates and location.
Objectives and themes.
Confirmed keynote speakers.
Confirmed sponsors.
Preliminary schedule.
Registration form with online payment.
Abstract submission with clear guidelines.
Specifications for oral presentations (time) and posters (size and format). 
Application process for available awards and travel grants.
Information about visa (if needed), travel and lodging information.
Organizers' contact info.
Make sure to indicate appropriate deadlines.
Check out these examples of well-designed conference websites.
13. Publish your event website
A professional-looking website will add credibility and help attract attendees, respected speakers, and sponsors. Even if you don't have all the details, have a first version online with the basic information.
You can create your website in just a few minutes with Fourwaves' AI generated website builder. All you have to do is enter the topic and you get a complete website you just have to customize. 
14. Find sponsors and funding sources
Sponsors are key to the success of your events. They will benefit from being able to promote their products and services to qualified prospects. Make sure to communicate clearly on your event website and in your communications how you'll promote them during the conference.
You can also reach out to your university, city, or government agency for funding opportunities. 
We crafted a complete guide for event sponsorships for more tips. 
15. Decide on how you will deliver the content for virtual participants
Will the presentations be streamed live or simulated live (pre-recorded then streamed)? You can employ a combination of these modes. Contact your venue and/or A/V partner to make sure they have the expertise required.
16. Define registration costs
Now that you have more information on the format, the number of expected attendees (at least on-site), costs, and funding sources, you'll be able to determine the pricing structure. You should charge more for in-person registrations and you can have multiple tiers, in order to have a more affordable registration for students than for PIs.
Consider having lower registration costs for least developed countries and leverage early bird rates. Knowing the number of on-site registrants in advance can help plan the next steps.
17. Promote your conference
Start promoting the conference through email, social networks, and scientific journals. Reach out to scientific societies and research groups and ask them to announce the event to their members.
You can share important dates, registration fees (with the "early bird" deadline), and links to abstract submissions.
It is a nice professional touch if the same design elements and colors are present throughout your advertising posts, fliers, and on the conference website.
18. Recruit reviewers, judges, chairs
Reach out to respected experts in the field to organize a review panel to select the top submissions. Often those will be presented as an oral presentation. If there are different sessions with sub-themes in your conference, try to match reviewers with the topic they're most knowledgeable in. Avoid matching reviewers with submissions from their own institutions. Ideally, reviewers should not have access to the authors' names. 
Similarly, you might need people to judge and select the best posters and oral presentations, if awards will be given.   
Secure chairs for the different sessions of the conference. They will be responsible for keeping the event on track and avoiding delays. 
19. Finalize the schedule
Think about how much time you'll give to each presenter, including for Q&A periods and discussions. Would you like to have shorter talks from students?
Communicate with the venue's on-site team to see if there is any furniture that needs to be changed from one session to another and the time required. Make sure to give enough time for attendees to move between rooms between sessions.
One trick is to have longer coffee breaks since they act as a buffer to compensate for delays and overflowing presentations.
20. Rehearse with virtual speakers
Take some time a few days before the conference to go through a small practice with speakers that will present virtually. Make sure they can share their screen, that their audio and video work seamlessly. Make sure they have appropriate lighting in the room in which they will present.
21. Prepare on-site materials
Print the conference brochure, the lists of attendees, the name badges, and other material. A conference brochure can be very useful even if you have an event app because participants can quickly access the schedule, find a brief biography of the keynote speaker(s), and take notes next to abstracts. You can ask participants if they want to have a printed brochure or not to limit the use of paper.
Contact the catering service to confirm the menu, food and drink quantities, available cutlery, etc. Make sure it's all sufficient for the number of attendees. Especially coffee!
22. Publish an FAQ section on your website
At this point, you will have received a lot of questions from participants and you will get more coming in as the event approaches. Talk to your team members to know what the most frequent questions are. Add an FAQ section on your event website so participants can find answers without contacting you. Publish them on social media as well and send them through email (see next step).
23. Contact participants just before the event
Just before the event, email your participants to remind them of important information about the location, check-in process and transportation. It's a good time to get them excited about the conference! If you have an online component, remind participants how to log in and how they can get the most out of their online experience.
Make sure they know how to reach you and that you have the resources to help them.
24. Do an on-site final check
Discuss with the venue to select a date to do a final setup of the room(s) that will be used for the conference. On this day, set up chairs, tech (computers, audio/visual equipment), decorations, fliers, direction signs, poster stands (if needed), and all other elements on your conference agenda.
You can collect all the files for oral presentations beforehand, copy them to the corresponding computer(s) and check that they work. Even if some presenters bring a new version of their presentation on the day of the event, it's still a good idea to test this in advance.
25. Make sure the conference runs smoothly
Have staff on-site to guide participants. If you have a conference app, it is a great way to share last-minute information with participants through push notifications.
Organize a sign-in desk to give out name tags and brochures and to get real attendance numbers. Make sure there are enough people working the desk to avoid long lines.
The welcome speech is a good opportunity to briefly go over the schedule and inform attendees on what's to come, as well as generate excitement.
Ensure all on-site staff and volunteers are present and know their assigned tasks and roles, including chairs, judges and others.
26. Keep track of time
A common occurrence in scientific conferences is going off schedule because of overflowing presentations or question periods. Scientists are very passionate and love to ask follow-up questions. Keep in mind these delays create a domino effect that will affect other sessions and presenters. Tell your chairs to stick as much as possible to the schedule, but avoid being too rigid to keep the ambiance fun and to allow discussions. After all, these exchanges are one of the objectives of your event!
Make sure to stay in touch with virtual attendees to make sure they're all set and ready to present when their time comes.
27. Talk to virtual attendees
For hybrid events, it can be easy to forget that you have a virtual audience. In between sessions or during Q&A periods, make sure you make them feel included and take questions from them.
28. Take pictures and tweet
Take pictures and share them in real-time through social media. This material will help as you promote future conferences. Ask participants to use your hashtag.
29. Send a thank you message and share recordings
After the conference, make sure to send words of gratitude to co-organizers, participants, presenters, and sponsors. You can also take the opportunity to share recordings of the different presentations if you have permission from the presenters to do so.
30. Ask for feedback
When reaching out to the attendees post-conference, take the opportunity to get some feedback. You can do that with a survey. Ask them to point out positive and negative aspects of their experience. This is a great tool to improve for your next time doing this.  
General tips
Surround yourself with the best possible team. From co-organizers to volunteers and service providers, trustworthy people that you can rely on and delegate to will make event planning a much more pleasant experience.
Communication is key. Keep all interested parties informed at all times about any change or development. Plan specific dates for monthly or weekly meetings with a predefined topic to discuss at each meeting. Use this checklist to plan those meetings.
Ensure clear and accurate information. Any information you send out, through emails, social media posts, or that you publish on your conference website, should be very clear and verified. Once something incorrect goes out, it can create a lot of confusion. Always have a second pair of eyes looking over everything.
Ask for guidance. People with experience or past organizers might be able to connect you with venues, vendors and sponsors they have worked with before. They can also provide you with important tips.
Have fun. Organizing a conference should be fun, don't forget to keep a smile on your face and make it a pleasant experience for participants, but also for co-organizers and volunteers.
In conclusion
Planning a successful event is a big challenge.
There will always be some hiccups, especially if it's your first time, but even if you're an experienced event planner. The best way to minimize this is by being meticulous with your conference planning process. Start planning very early and give yourself firm deadlines along the way to make sure you're moving in the right direction.
I hope you have a successful conference!