Organizing a successful conference involves meticulous planning, efficient communication, and streamlined management processes. While the EasyChair conference tool has been a popular choice in the academic and research community, it's essential to explore modern alternatives that offer similar and often more powerful capabilities at an affordable price point. In this article, we'll delve into some of the best alternatives to EasyChair.
1. Fourwaves
Fourwaves is by far the best alternative to EasyChair for conference management.
This comprehensive platform offers a wide array of features designed to simplify the entire conference organization process. It is also dedicated to academic and research communities. From abstract submission and peer-review to participant registration and event websites, Fourwaves provides a seamless experience.
Key Features of Fourwaves:
Abstract Management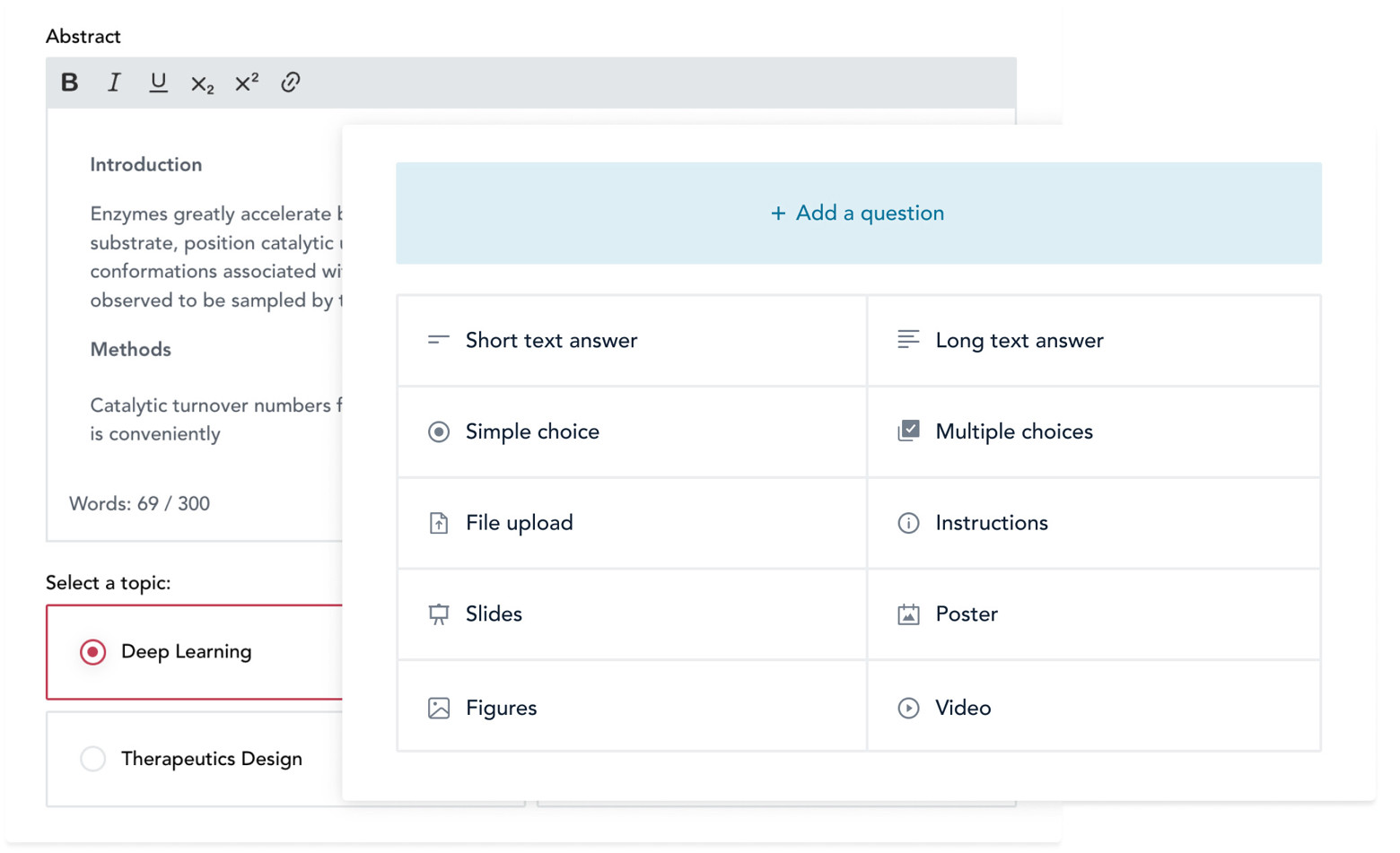 Fourwaves streamlines the abstract submission process, allowing authors to submit their research effortlessly. The platform supports a variety of file formats, making it easy for authors to share their work. 
It's also very easy to customize the abstract submission form so that any fields you need are there.
Peer Review
Fourwaves includes a peer review system that streamlines the review process for submitted abstracts and papers. 
Reviewers can provide feedback and scores directly through the platform. You can also send personalized or bulk emails to applicants. 
Event website
With Fourwaves you have access to a customizable event website with every plan. You can use it to showcase your conference details, its speakers, a detailed schedule, venue information and more. It's also where your participants can register and submit their abstracts through customizable forms. The event website is very easy-to-use for conference organizers as well as for participants. 
You can even create an AI generated website that will be pre-filled with content for you, just try it out for free. 
Registration and Payment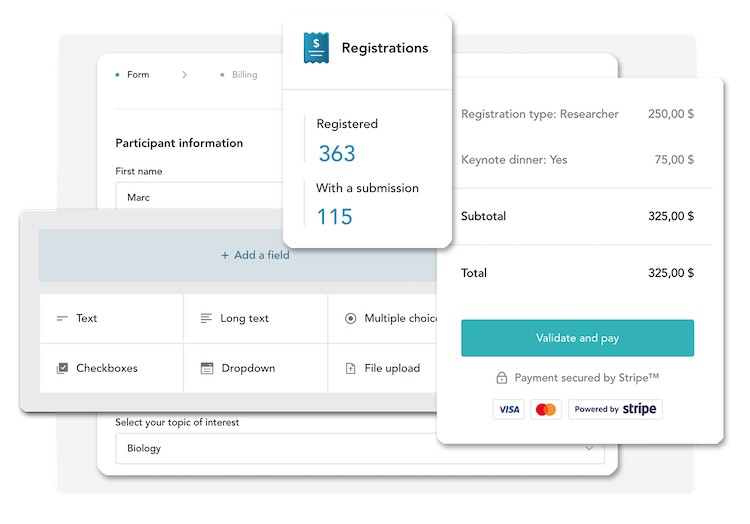 Fourwaves offers an intuitive registration system, enabling participants to register for the conference and make payments securely. Organizers can customize registration forms to gather specific attendee information, such as their degree, industry, role, or university.
Program Scheduling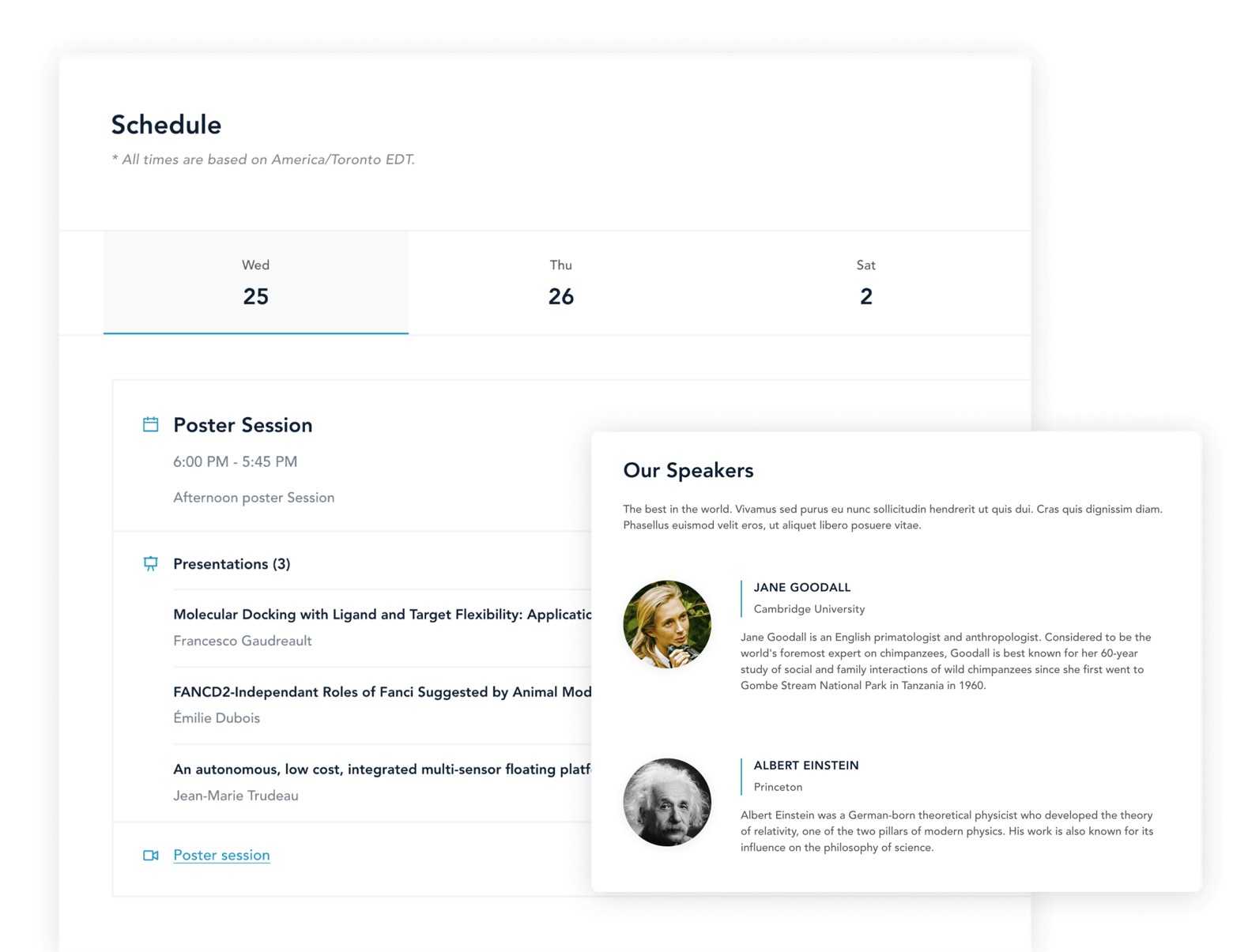 Creating a conference program is easy with Fourwaves. Organizers can build schedules, assign session chairs, and make changes in real-time. Attendees can access the program on their mobile devices for a seamless conference experience.
Virtual Conferences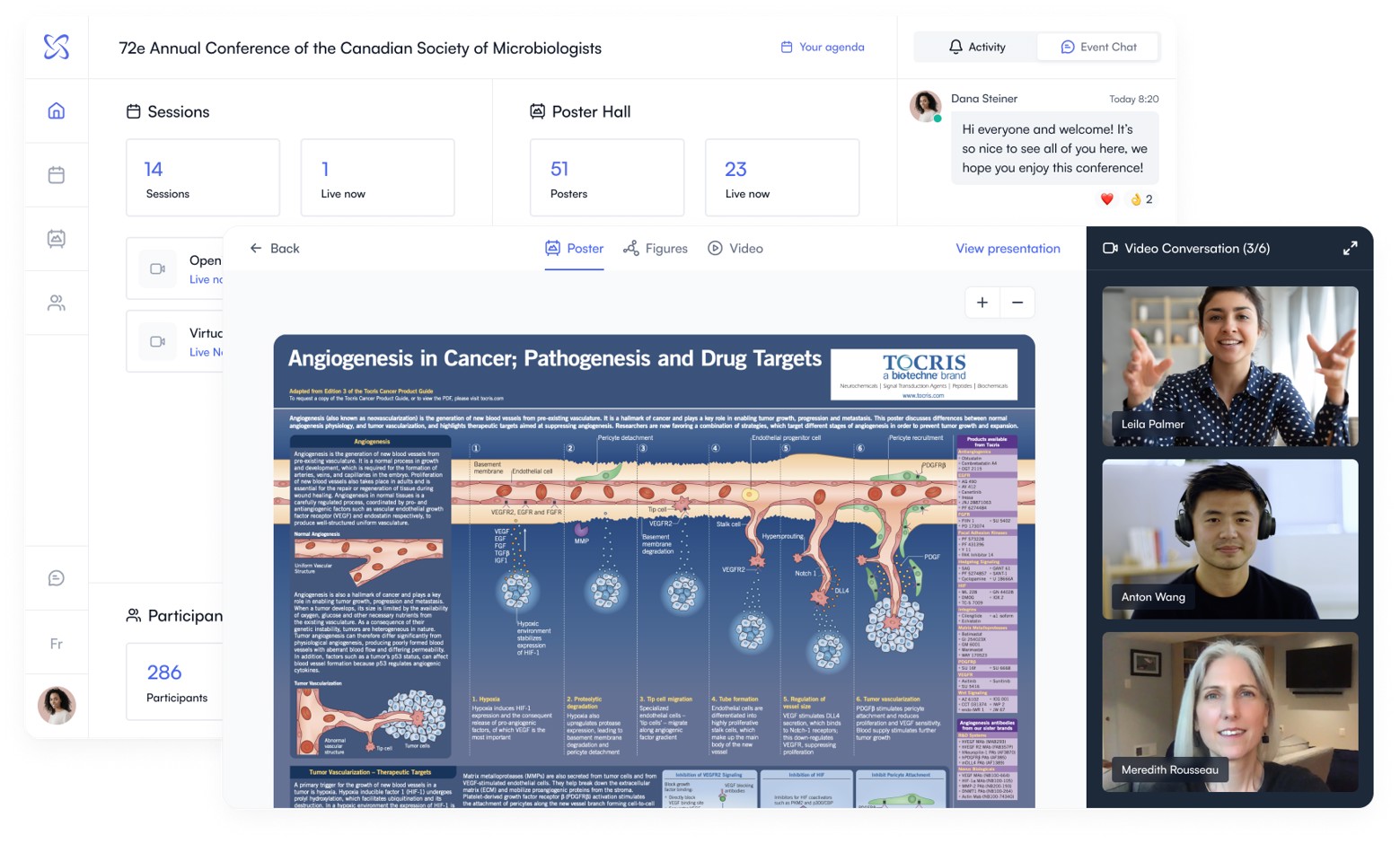 In an era of remote collaboration, Fourwaves offers robust support for virtual conferences. This feature allows organizers to host online events with interactive sessions, including the best virtual poster session experience, live Q&A, an event chat, private chat, and networking opportunities.
Analytics and Reporting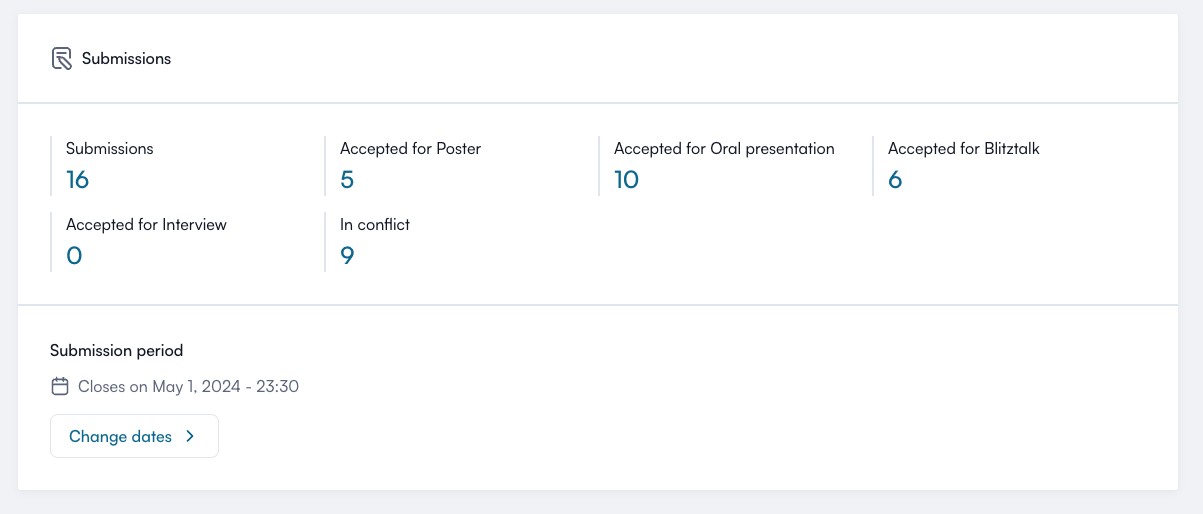 The platform provides organizers with valuable insights through their dashboard. This data helps improve future conferences and track attendee engagement. You can track your number of participants, abstracts status, payments ($), emails sent, and much more. 
Fourwaves is the all-in-one conference management tool you've been looking for.
Let us show you around.
Book a demo
2. ConfTool

ConfTool is a comprehensive conference management system trusted by many organizers worldwide. It offers a range of features to simplify the planning, organization, and execution of conferences, workshops, and events.
Key Features of ConfTool:
Abstract Submission: ConfTool provides a user-friendly interface for authors to submit abstracts and full papers. Organizers can configure submission deadlines and criteria.
Registration and Payment: Participants can register and pay for conferences and workshops through ConfTool. The system supports various payment gateways for convenience.
Program Management: Conference organizers can create detailed programs, including parallel sessions, keynotes, and workshops. The program is accessible to attendees via the conference website or mobile app.
Review and Evaluation: ConfTool's peer review system enables efficient manuscript review with customizable review forms and decision-making processes.
Communication Tools: The platform offers communication tools such as email templates, notifications, and discussion forums to keep participants engaged.
3. Ex Ordo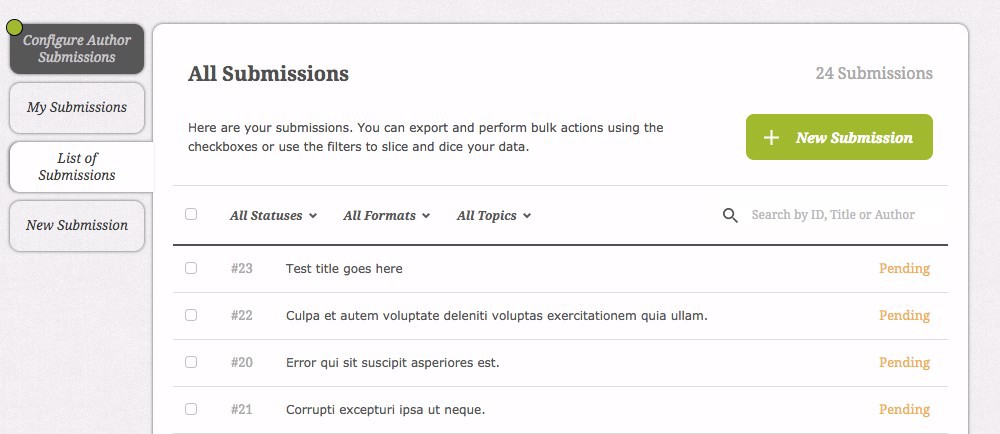 Ex Ordo is another popular alternative to EasyChair known for its user-friendly interface and comprehensive conference management features. It simplifies abstract submission, peer review, and program management, making it a suitable choice for various conference types.
Key Features of Ex Ordo:
Abstract Submission: Authors can easily submit their abstracts, and organizers can manage the submission process efficiently. The platform supports multimedia content and collaborative authorship.
Peer Review: Ex Ordo offers a peer review system that streamlines the review process with customizable evaluation criteria and feedback options for reviewers.
Program Management: Organizers can create and manage conference programs with ease, including scheduling sessions, assigning chairs, and updating program details.
Attendee Registration: Ex Ordo provides a user-friendly registration system, allowing participants to register and make payments online. Customizable registration forms cater to specific event requirements.
Collaboration and Communication: The platform promotes collaboration and communication among attendees, presenters, and organizers. Features like discussion forums facilitate interaction.
Get started!
While the EasyChair system has long been a trusted choice for conference management, it's essential to explore alternatives that may better suit your specific needs. Fourwaves, with its comprehensive feature set, stands out as a top choice for conference organizers. 
However, Ex Ordo and ConfTool also offer robust solutions, making them viable options for paper submission. The choice ultimately depends on your unique requirements and preferences.
If you need an all-in-one platform that's as user-friendly as it is powerful, you can trust Fourwaves. Not sure if it's the right option for you? Let's talk!