Attendee engagement is one of the main preoccupations for online events as the networking part can easily be lacking. To craft an amazing virtual event experience for your attendees, you need the right tools, and some virtual engagement ideas.
So without further ado, here's everything you need to know to increase virtual event engagement.
What is Event Engagement?
Event engagement refers to the level of interaction, participation, and emotional connection that attendees have with an event. It measures how actively and positively attendees engage with the event's content, activities, and other participants. Event organizers often seek to enhance engagement as it leads to a more memorable and successful event experience. Some key aspects of event engagement include;
Interaction: including networking, participation in activities, and feedback. Attendees who connect with other participants, exhibitors or speakers, or participate in social media or online discussions have an overall better engagement.
Emotional Connection: Attendees who feel inspired, motivated, excited, or emotionally connected to the event are more likely to have a fulfilling experience.
Knowledge Transfer: In academic and professional events, engagement can also be measured by the transfer of knowledge. Attendees who actively learn, absorb information, and apply it in their work or studies are considered highly engaged.
Content Consumption: Attendees who engage with event content through reading materials, watching presentations, or exploring exhibits are more likely to benefit from the event's offerings.
Why Have an Event Engagement Strategy?
Audience engagement is, for most event organizers, the backbone of a successful event.
Event attendees can easily be zoned out and not interacting much during a virtual conference or virtual meeting. Since the pandemic, a new term has emerged to describe the phenomenon; zoom fatigue. Virtual event attendees may have their mic and camera off at all time, and act more as passive audience member rather than active participants. It's an event planner's nightmare.
The goal of any event is to have active participants, who engage with the presentations, learn new things, and feel like the event added value to their lives.
Having an event engagement strategy ensures that your event attendees will not only enjoy the conference, but look forward to your next virtual event.
Choose the Right Virtual Event Platform
Event management can take a lot of time, you need to think about your keynote speakers, sponsorships, schedule, registrations and payments, live sessions, Q&A, and much more.
Choosing a virtual event platform that provides all the necessary features and integrations for your event is crucial. We crafted a list of the best virtual conference platforms so you can make an educated choice that fits your needs.
And if you're hosting a scientific or academic event, and have to manage abstract submissions, peer-reviews, and possibly virtual poster sessions, you need a powerful and easy-to-use tool that will help you do all that.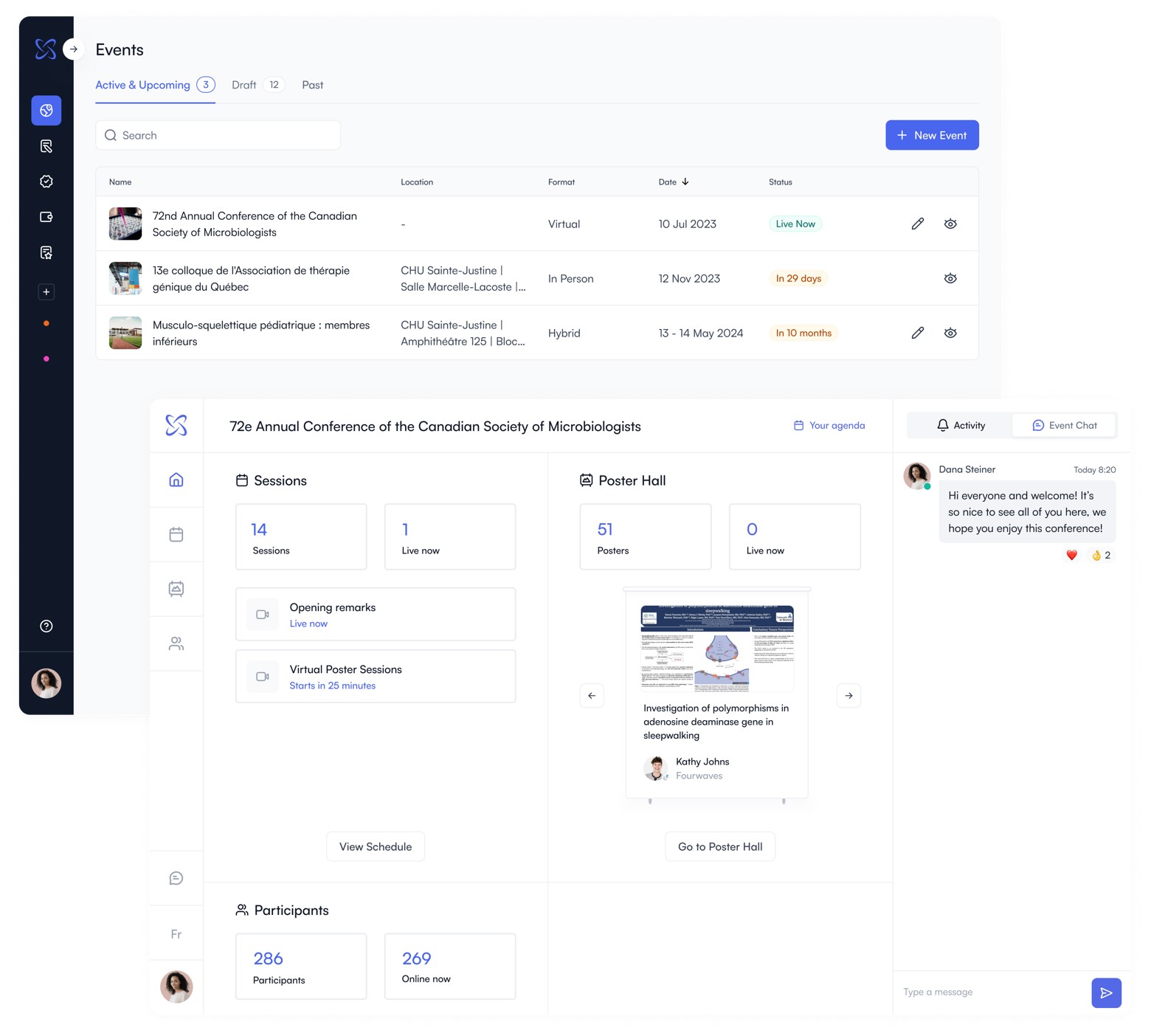 Fourwaves is an all-in-one tool specifically for scientific and academic events, including;
Fourwaves conference management platform.
A complete tool for your academic events.
Get started for free
43 Virtual Event Engagement Ideas
There are a lot of virtual event ideas you can use to increase engagement, from icebreakers to virtual photo booths and giveaways.
Here are a few ideas for academic, scientific, or corporate events that will ensure you boost engagement and host the best virtual event possible.
Before the Event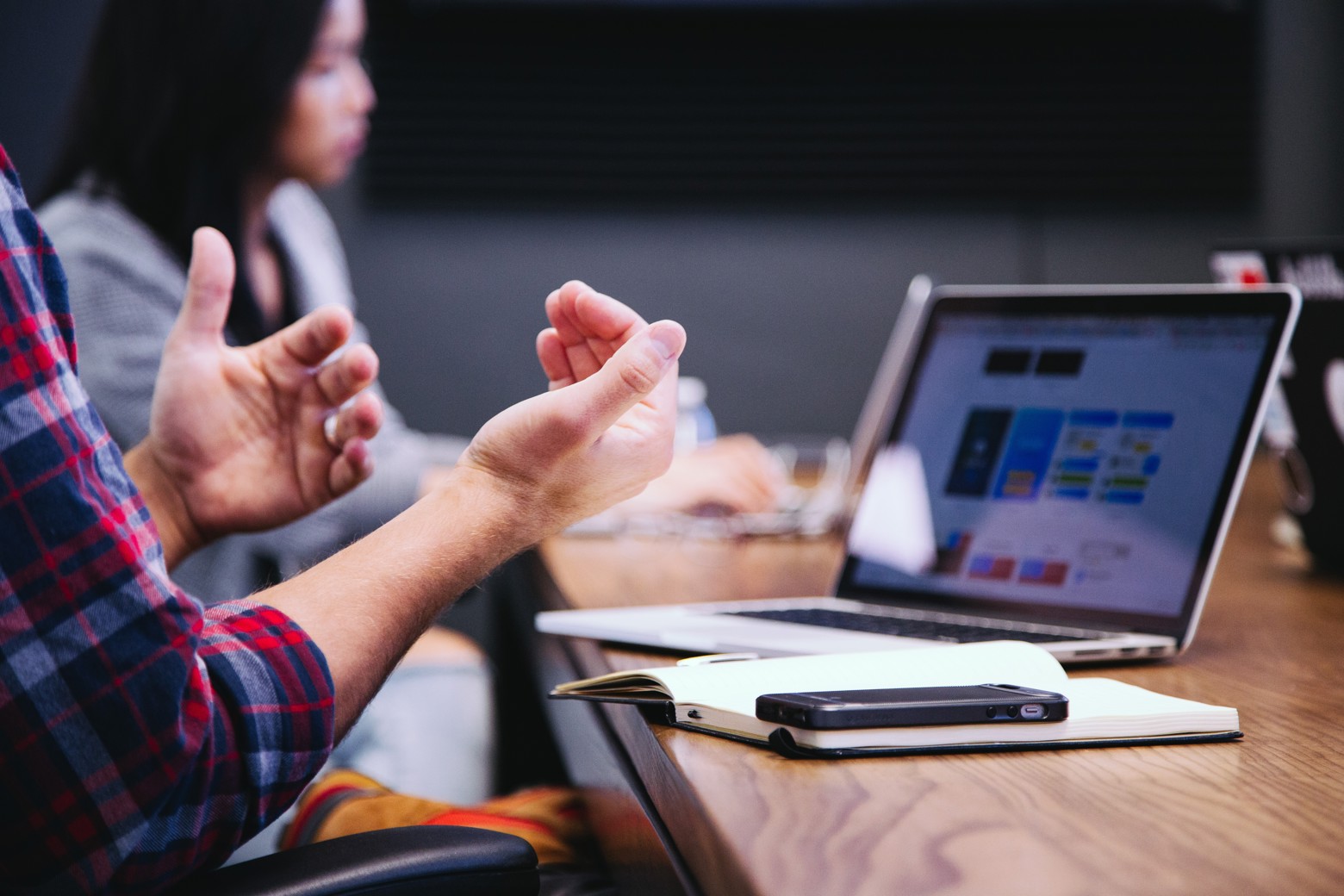 Social Media and Event Marketing Ideas
1. Social Media Campaigns: 
Create dedicated event hashtags and launch social media campaigns across various platforms. Share teasers, behind-the-scenes content, speaker introductions, and event updates to build anticipation and encourage discussions.
2. Countdown and Teaser Videos:
Post countdown timers and teaser videos on your event website and social media channels. Teasers can include short clips of speakers, highlights of session topics, or sneak peeks of virtual event features.
3. Engaging Content Previews:
Share articles, blog posts, or videos related to the event's themes or topics. These can be authored by speakers, organizers, or industry experts to provide valuable insights and generate interest.
4. Speaker and Presenter Spotlights:
Highlight your event speakers and presenters through profiles, interviews, or short video clips. Share their expertise, achievements, and the topics they will cover to attract attendees.
5. Email Campaigns:
Send out a series of engaging and informative emails to registered participants in the weeks leading up to the event. Include session details, logistical information, and personalized recommendations based on attendees' interests.
6. Exclusive Pre-event Content:
Offer exclusive access to pre-recorded content, whitepapers, or research papers related to the event's themes as an incentive for early registration.
7. Community Building:
Establish an online community or forum where attendees can connect, share insights, and discuss event-related topics in the lead-up to the event.
8. Early Bird Discounts:
Encourage early registration with discounted rates and exclusive benefits, such as early access to session recordings or a virtual swag bag.
9. Collaborations and Partnerships:
Partner with related organizations or influencers to promote the event to their audiences, expanding your reach and attracting new participants.
Pre-event Activities
10. Pre-event Webinars or Workshops:
Host pre-event webinars or workshops on relevant topics to give attendees a taste of what to expect during the main event. This can also serve as a platform for Q&A sessions and networking.
11. Virtual Networking Opportunities:
Set up pre-event networking sessions or forums where attendees can introduce themselves, exchange ideas, and discuss their expectations for the event.
12. Virtual Event Challenges:
Create challenges or contests related to the event's themes or topics. Participants can win prizes or recognition for completing challenges, such as sharing event-related content on social media or recruiting others to attend.
13. Personalized Recommendations:
Use attendee data to provide personalized event recommendations, such as suggested sessions, speakers, or networking connections, to enhance the attendee experience.
During the Event
Networking Ideas
14. Virtual Networking Lounges:
Create virtual rooms or lounges where participants can network and discuss topics of interest. You can use breakout rooms or dedicated platforms for this purpose.
15. Gamification:
Incorporate gamification elements, such as quizzes, trivia, polls, or scavenger hunts related to the event's content. Offer prizes or recognition for top participants.
16. Live Chat and Discussion Boards:
Provide a live chat feature alongside presentations, allowing participants to engage in real-time discussions. Additionally, offer discussion boards where attendees can continue conversations beyond the sessions.
17. Virtual Social Events:
Host virtual social events like coffee breaks, happy hours, or themed gatherings to facilitate casual networking and socializing.
18. Event Apps:
Use an event app that offers features like personalized schedules, attendee profiles, and in-app messaging to facilitate networking and engagement.
Virtual Poster Sessions Ideas
19. Host Virtual Poster Sessions:
Set up virtual poster sessions with multimedia elements like videos or interactive presentations. Attendees can leave comments or questions on each poster, and authors can respond live or asynchronously.
20. Have Virtual Exhibitor Booths:
For conferences with sponsors or exhibitors, create virtual booths where attendees can explore resources, engage in live chats with representatives, or access exclusive content. You can use Fourwaves' virtual poster sessions tool to do so. 
Q&A and Interactive Sessions
21. Interactive Q&A Sessions:
Allow attendees to ask questions during presentations or panel discussions. Encourage speakers to answer questions in real-time or dedicate a portion of the session to a live Q&A.
22. Live polls & Surveys:
Create live polls and surveys during presentations. Share the results with the audience to encourage participation.
23. Workshops and Interactive Sessions:
Offer hands-on workshops or interactive sessions where participants can actively engage with the material, ask questions, and receive immediate feedback.
24. Collaborative Note-Taking:
Encourage attendees to collaborate on shared documents or note-taking platforms like Google Docs, where they can collectively summarize key points from sessions.
25. Peer Review Sessions:
Organize peer review sessions where attendees can review and provide feedback on research papers or presentations, fostering a sense of community involvement.
After the Event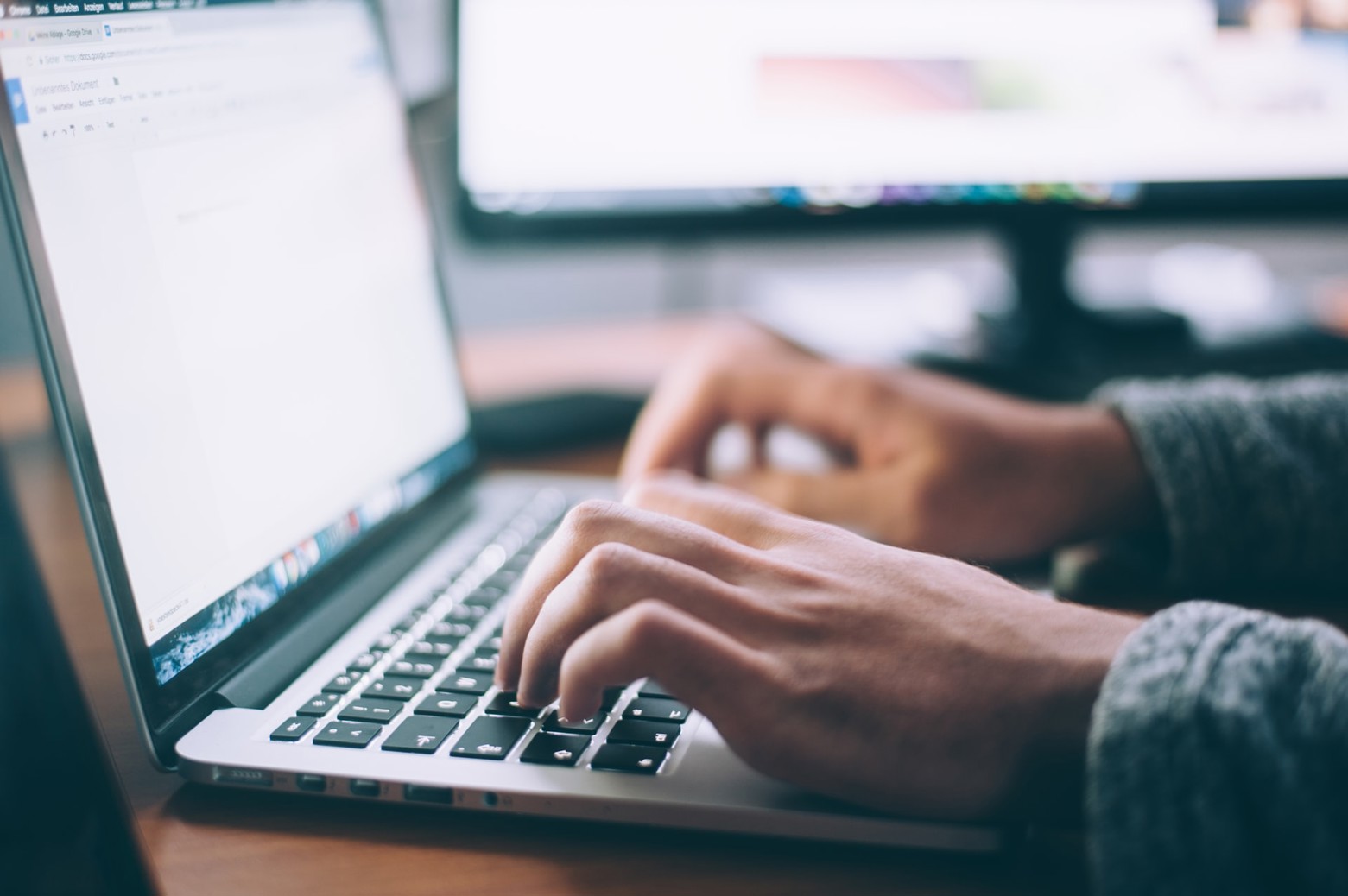 26. Feedback Surveys:
Send out post-event surveys to collect feedback on various aspects of the event, including content quality, organization, and overall satisfaction. Use this feedback to improve future events.
27. On-Demand Content:
Make event recordings, presentations, and session materials available on-demand for attendees who may have missed sessions or want to revisit the content.
28. Follow-up Q&A Sessions:
Host follow-up Q&A sessions with event speakers and presenters to address additional questions from attendees and dive deeper into key topics.
29. Virtual Meetups or Webinars:
Schedule post-event virtual meetups or webinars to continue discussions, allow networking, and provide a platform for attendees to share their takeaways and insights.
30. Resource Hub:
Create a post-event resource hub on your event website or platform, where attendees can access additional materials, recommended readings, and related resources.
31. Networking Opportunities: 
Keep virtual networking spaces open for a period after the event to allow participants to connect and follow up with new contacts.
32. Certificate of Participation:
Provide digital certificates of participation or achievement to attendees, recognizing their engagement and attendance at the event.
33. Content Highlights: 
Share highlights, key takeaways, and memorable moments from the event on social media and through email newsletters to keep the event fresh in attendees' minds.
34. Event Recap Blog: 
Write a post-event blog summarizing key themes, discussions, and highlights from the event. Share this on your website and through social media.
35. Post-event Contests: 
Run post-event contests or challenges that encourage attendees to share their learnings or experiences from the event on social media. Offer prizes or recognition for participation.
36. Community Engagement:
Maintain and nurture the online community or forum established for the event, encouraging ongoing discussions, knowledge sharing, and collaboration.
37. Solicit User-Generated Content:
Ask attendees to submit articles, videos, or testimonials about their event experiences, which you can share on your website or social media.
38. Early Access or Discounts:
Offer early access to registration or special discounts for the next event as a reward for active post-event engagement.
39. LinkedIn Group:
Create a LinkedIn group or use an existing one to foster ongoing networking and discussions related to the event's themes.
40. Plan for Future Events: 
Share information about upcoming events, webinars, or conferences, keeping attendees informed and engaged with your organization.
41. Thank-You Notes: 
Send personalized thank-you emails to attendees, speakers, sponsors, and volunteers to express your gratitude and encourage future engagement.
42. Cross-Promotion:
Collaborate with partners or related organizations to promote post-event content and discussions, extending the reach and impact of your event.
Start Today!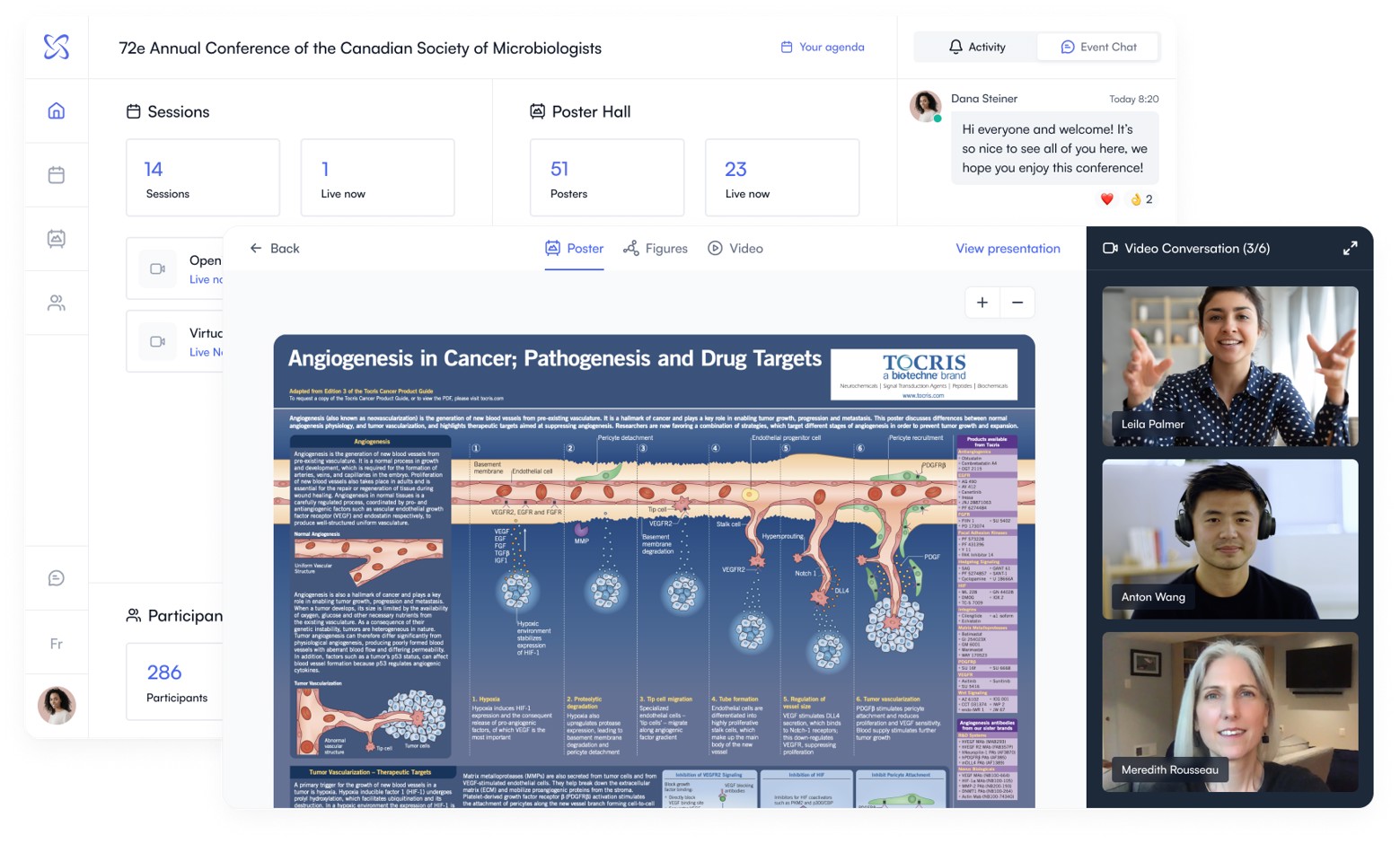 Now that you know all the best ideas to increase engagement for your virtual event, all that's left to do is get started!
And if you need an event management tool for your next academic virtual conference, take a look at Fourwaves. It has everything you need from abstract management to registration and payments.